MS cleans up Holmes Beach at annual beach day
Before indulging in the normal beach day activities that most students are used to, the middle schoolers took the time to clean up the area around them. Read here about their experience and final thoughts on the clean-up.
This fall, before beginning a fun-filled day at Manatee Beach on Anna Maria Island, as part of their annual "Beach Day," middle school students were required to do a quick, 30-minute beach clean-up to help out the community. At first, students weren't thrilled, but the amount of litter that they collected in such a short amount of time completely changed their views.
From an old baby doll to plenty of Capri-Sun straw wrappers, students were appalled at the items left behind by beach-goers. 
The amount of trash collected in the small area was, for some, impressive in an ironic way. But after asking students, many claimed that the most jaw-dropping object found in the quick beach clean up was the number of cigarette butts. 
There were so many that the group held a contest to see which student could guess the correct number of cigarettes.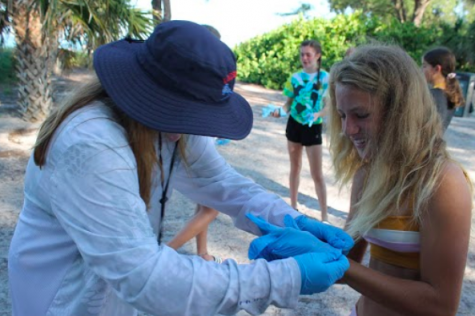 "KK Hart is the one who won, and the grand total was an appalling 1,140," said Dr. Suprenand. 
According to Suprenand, cigarette butts are flicked around because smokers don't realize the effects the butts have on the environment. We were also told that the cigarette butts pile up in a span of weeks. During this time, they emit dangerous chemicals and birds tend to eat them, which eventually leads to them dying.
After our 30 minutes were up, some middle-schoolers couldn't help but continue to clean the area.
The remainder of the day included more exciting activities for everyone and the clean up provided a much cleaner surface to enjoy all of our activities on. 
Leave a Comment