Falcon swim team takes on cancer
This article is a piece of work by our Middle School journalism team.
Students on the middle and high school swim team traveled to Atlanta, Georgia on September 28th to participate in the cancer fundraiser Swim Across America. SAA, as it's known, features three swim races in Lake Lanier. Teams from all across the nation come to participate.
As a result of the yearly trip, the Falcon swim team, coached by Sheri Hart, raised over $20,000 for pediatric cancer research.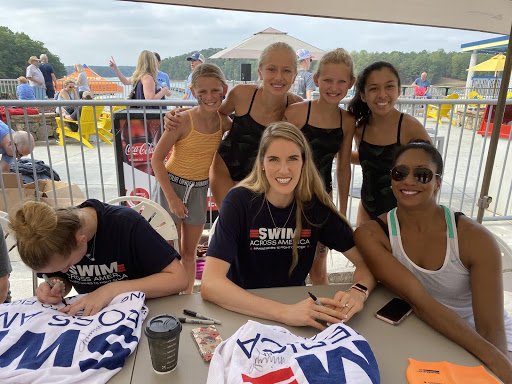 During the journey north, Falcons traveled to Georgia Tech for a college tour before heading to Lake Lanier, an hour north of Atlanta, for their big swim.
Team members dedicated their respective races to people who are fighting or have fought cancer.
Seventh-grader Jackie Rappold, for example, dedicated her half-mile swim to her grandpa, Dr. Pullen, and Mrs. O'Dell.
Senior Nicky Mattheys said he dedicated his swim to "[my] uncle, grandfather, and Karen Shultes to support them and their fight against cancer.
Fortunately, before the races, the team was allowed to practice at Georgia Tech, where the 1996 Summer Olympics took place. The GT pool is one of the premier pools in America.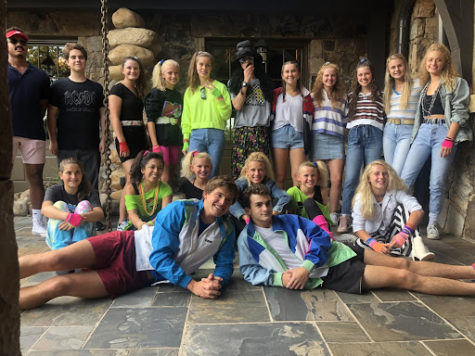 Additionally, while on campus, the team met with a Tech professor who spoke about the experimental treatment that GT is supporting and testing to detect, treat, and prevent injury to the knee or ACL.
The day before the swim, the team went to an '80s themed dinner with current and past Olympians from all over America, including Missy Franklin, a five-time gold medalist.
The day of the swim, athletes swam a 1/2 mile, 1 mile, or 5K. During those races, some of the younger swimmers had "angel" swimmers who swam beside them for support.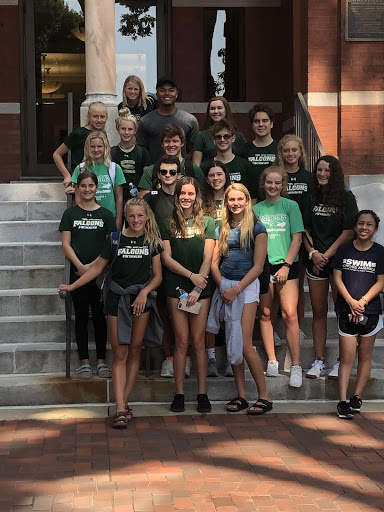 The Olympians, always a big attraction, signed swimmer's towels and swim caps. Isabella Sanchez, when asked about her swim across America experience, said, "It was super cool. Layla Turner and I both swam the mile, and our time was 28 minutes and 55 seconds."
Isabella was proud to dedicate her swim to her Abuela, Karen Shultes, Tammy O'Dell, and Dr. Pullen.
Most of us can agree that swimming is a sport that is exciting and fun. What better way to support cancer research than swimming for the people you care about? Awesome job Falcon swim team!