How a checkbox can change you
Community service can benefit you and the community at the same time. Find the fun in volunteering today by finding opportunities that interest you.
Community service is boring.
This statement is heard commonly among high school students. At Saint Stephen's, students are required to have 100 service hours to graduate. This is a requirement deemed useless by many students within our community, but what if I told you it doesn't have to be…
Community service can be fun.
"How?" you ask. The key is to find your passion. I know I know, I used the word "passion." Many of you probably just got stressed out. Now you're probably thinking, "I don't have a passion" and that's okay! If you believe you don't have a passion then community service becomes even more of a necessity.
Yes, community service is something you have to do, but it shouldn't be something you dread doing. That's why I'm going to tell you about how this checkbox can change you.
Community service does help the community, but it can also help you in return. Try experimenting with various service opportunities and you may surprise yourself— maybe you will find something that captivates you.
This summer I had the opportunity to volunteer at Dream Oaks Camp. Dream Oaks is a specialized camp for children with disabilities. The camp is located in Parrish Florida. It is tucked back in the forest so you get the full camp experience, wilderness, campfires, and the "not a care in the world" mentality. When working at Dream Oaks, you are either a counselor (18+) or a CIT (15-17). Every summer, Dream Oaks runs for seven weeks, and during the year it runs for 13 weekend sessions.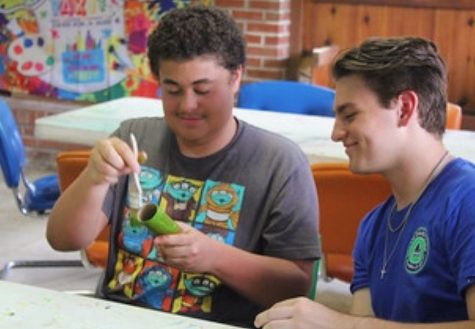 Each week I volunteered at Dream Oaks, I was assigned a new counselor. The counselor and I were assigned two to three campers to care for during the week. From there, I was free to have the time of my life. Campfires and s'mores every Monday, dance parties every Thursday, and ice bucket challenges every day. What's not to love?
You can find ways to make volunteering fun. Volunteer with friends, or make friends while volunteering. If you work with friends all the hard work turns into good memories. While I was at camp, I met the most amazing people. The counselors, CITs, and campers are like no other people anywhere in the world. This goes for everywhere— if you are volunteering at a facility that interests you, you'll find people with common ground. While at camp I had the opportunity to meet fellow Saint Stephen's student Caroline Pope.
I decided to talk to Caroline about her experiences volunteering and how she grew from the experience, and the words she used to describe it were: "Enlightening, enriching, and life-changing." Caroline thought she'd be doing basic work like "helping the kids color and play"; however, Pope soon realized the job came with hardships, such as intense dietary restrictions, full assistance with daily tasks, and navigating behaviors.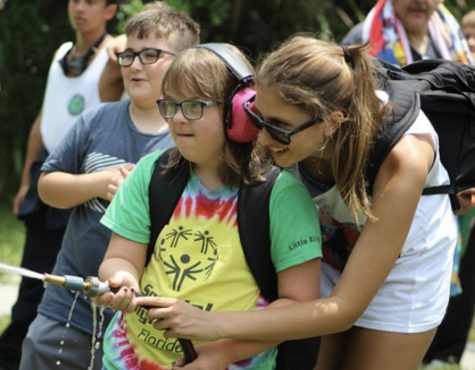 Caroline worked four weeks this summer; when asked to reflect back on the weeks, Pope had only positive words to say.
"It was truly one, if not the best way, to spend my summer.". As you can probably infer, Caroline enjoyed every second she spent volunteering this summer. The experience "changed" her.
Pope added, "Working with the kids was fun on its own, but working with the other counselors was amazing!" She had the opportunity to "meet some really cool people" while working, and "made friends for life."
Caroline had an amazing time at Dream Oaks and she "loved knowing" that she "changed these kids' lives."
As you can see, Dream Oaks left a sizable impact. Do you want an experience similar to Caroline?
Find an experience for you within the Bradenton and Sarasota areas; click here for service opportunities in Manatee County, and here for opportunities in Sarasota County.
I hope that all of you will find an opportunity that will change your outlook on volunteering; just as Dream Oaks changed Pope's life, volunteering can change your life, too. Along with the links above, here are several new links to other service opportunities.
–VolunteerMatch
–ManaTEEN-Volunteer
–Fun4sarasotakids
7