R.I.S.E. presentations coming this Friday
Learn here about Friday's presentations and the pathways to study independently at Saint Stephen's.
On Friday, curious students, parents and teachers who venture into the library will be able to discover what some Falcons have been researching over the past year. I am referring, of course, to the annual R.I.S.E. presentations, an event on Friday, April 28th from 12:40 to 1:20 where students get to showcase their independent research and study.
Features at the event will include Capstone (long-term research projects), Marine Three Ocean Academy, Independent Study, and Art Conservatory and Global Scholars presentations. Event coordinator, Ms. Christina Pommer, promises that the event will be a fascinating insight into how students learn when they can choose their own paths of study. 
But what are those pathways to independent study?
Marine 3 students have spent the past year creating a long term investigative project they've initiated and continued over the course of their class. They can study practically anything, from plastic pollution to crab fight or flight responses. 
Marine 3 scientist, Julia Craig, said her experience in our marine science program was "very beneficial for my college career in this field. It was really helpful to learn how to organize a field research project and write a formal scientific paper, all before leaving high school." 
The sole Capstone presentation from Elaina Bayard demonstrates the unique opportunity of this AP program. Students spend two periods a day developing a well-researched presentation on the topic of their choice, even between disciplines and separate from a dedicated advisor. Bayard chose to study tabletop gaming, but Capstone presentations can range a wide variety of topics.
For the past several years, our Global Scholars have been developing a portfolio of how they've dedicated their time to a global education through community service, class choices and travel. They've earned a special distinction because of their dedication to Saint Stephen's global studies mission. 
Participant Parker Beale believed that by working to develop his portfolio, he "opened my mind to the world and how it works. I absolutely recommend the program if you want that kind of global education."
Independent study may be the most accessible pathway to pursuing your passions independently. Students leave one period in their days open to study a topic of their choosing, developing their own curriculum with assessments while working with a teacher to stay on track. 
Senior Megan Wolfe spent fifth period this year studying material science and she celebrated that "I got to spend my free period studying what I actually wanted to study. It didn't feel mandatory. It felt like my interest."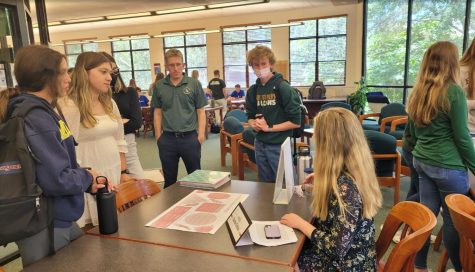 Teachers actively enjoy helping students with Independent Studies. Ms. Wildes, who assisted Parker Beale study anatomy, was overjoyed with how she gets "to work with students independently and help them succeed in their field of passion." 
 At the end of the year, these students' hard work pays off when they can show off their work at the RISE exhibition with a visual aid and answer questions. 
 Director of Curriculum and Research, Mrs. Pommer, finds the most value in these presentations from the fact that "students who are underclassmen can see the variety of paths that they can take at the higher levels."
 She encouraged students to come and support the R.I.S.E. presentations and celebrate the hard work the students have done. Who knows? Maybe you will be inspired to take on independent research yourself.
2