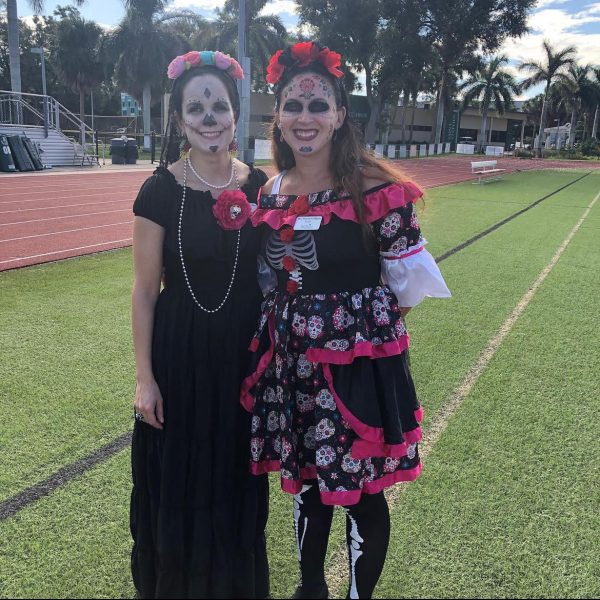 This Halloween, Saint Stephen's saw many a typical American costumes, such as Mario and Luigi, police officers, and pirates. But something was missing… Many of the choices, as is usually the case with Halloween costumes, lacked a background story, a purpose beyond just "dressing up as something else."
However, the upper school Spanish teachers were not messing around with their costumes, which featured cultural references and a cultural background worth knowing about.
Upper school Spanish teacher Mrs. Galligan is in her first year of teaching here, and Mrs. Oller has been at SSES for the last five years. Coincidentally, both arrived on Halloween morning wearing the same costume, referencing the Hispanic fictional character La Catrina, a cultural character originating from Mexico who was created in order to humble the rich who were obsessed with fashion, jewelry, and physical beauty.
Profesora Oller described La Catrina as a symbol. 
"José Posada created La Catrina to make fun of people who lived for money and jewelry. La Catrina is a symbol that means at the end of the day, we will all die and we will all look the same."
La Catrina is one of the most recognizable characters linked to La Dia de Los Muertos in Mexico, and the reason she is so easily recognizable is due to her multicolored face paint, skeletal appearance, and many flowers (especially roses).  Many costumes today lack a historical context or significance beyond what they are.  However, La Catrina seemed to pack a cultural punch.   La Catrina is a Mexican tradition, and though it has been around for many generations, it has not lost its importance or effect on the people of today. According to National Geographic, the legend of La Catrina dates back to 1910.
"Posada's original sketch of La Calavera Catrina [Calavera means skull] was made around 1910. It was designed to be a satire referencing the high-society European obsessions of leader Porfirio Diaz, whose corruption led to the Mexican Revolution of 1911, and the toppling of his regime."
So what is La Día de los Muertos? Well, it is a Mexican tradition that is annually celebrated on the 1st and 2nd of November that explores the ideas of deceased family members returning to earth to be relatives. Many people believe the Day of the Dead is only celebrated in Mexico, however, it is also celebrated in other countries, such as the United States, Brazil, Guatemala, and the Philippines. Mrs. Galligan loves to celebrate Dia de los Muertos. It is very important to her and her culture.  
 "It's a celebration for the dead that have come before us," Galligan said, "and we should not be scared of death since we will all die, but rather celebrate all that life has to offer." 
Many people may agree that although skeletons and zombies are cool costumes and will always be a part of the Halloween tradition, some costumes will simply be more meaningful and impressive when they hold a cultural and historical significance.