Beach Day a big hit with Upper School Falcons
Read a brief recap of Monday's exciting Beach Day.
 Monday saw the return after a four-year hiatus of Beach Day to Saint Stephen's. The long anticipated tradition, discontinued due to Covid, brought a fun break
Students did not bring their backpacks to school, rather, they threw on their swimsuits, slathered sunscreen on and loaded their stuff on the buses to the Manatee Public Beach on Anna Maria Island. From 9:00am to 2:00pm, Upper School students and faculty enjoyed a sunny 83℉ day, free from the red tide that has plagued the area in the past few months. 
The Saint Stephen's Student Council organized the event and planned several Spirit Events as a part of the larger Spring Spirit Week occurring this week. Grades organized their teams for these competitions in order to maximize their Spirit Point totals, with the results of those events as follows. 
The seniors dominated Spikeball, with the juniors, sophomores and freshman following behind. The sophomores skillfully took first place in beach volleyball, with the Seniors, Juniors and Freshmen taking the rankings behind them. Beach Flags saw juniors Caleb Bosek and Ivan Tulupov take the gold, narrowly beating senior Anthony Monetti. The sophomores took third and the freshmen forfeited. In the sand castle building competition, the sophomores' fortress took first with the juniors, even without their own equipment, taking second and the seniors and the freshmen following behind.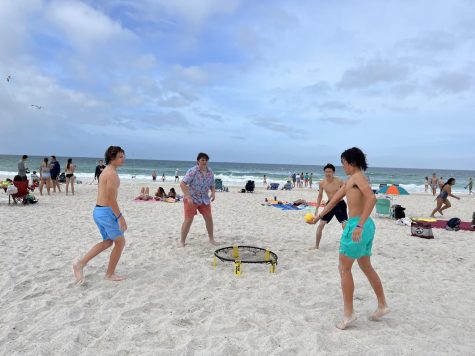 Finally, in the very anticipated tug-of-war game, the seniors pulled their way to a close victory against the second place sophomores with the juniors and freshmen taking the lower steps on the podium. 
At the end of the day, the seniors added 85 points to their total, the juniors 75, the sophomores 80, and the freshmen 25. 
Beyond the spirit events, Falcons enjoyed playing football, volleyball and the Spikeball Club-hosted Spikeball tournament. Students swam in the surf and jumped on skimboards in the tide pools, all while snacking on watermelon, pizza and food from their nearby concession stands. StuCo Representative Paige Liebel was very proud of her group's work and was "excited that StuCo was able to make a fun day that students and teachers could enjoy."
Despite minor cuts and bruises and a potentially dangerous rip current, the general consensus about Beach Day was that it was a major success and an accomplishment for the school and the Student Council. Junior Sofia Díaz really enjoyed the time with her friends and thought "it was a good bonding experience to compete against each other" in the Spirit Events. 
Spring Spirit week continues on with "Anything But a Backpack Day" and "Dress Like Adam Sandler Day.  On Thursday, the upper school will hunt for Easter eggs and Friday, and they'll take to the Moore Athletic Complex for Field Day, so get involved and hyped for the year's final spirit push.