Senior Breakfast celebrates Class of 2023
The annual shared meal with the Senior class allowed for moments of reflection and celebration.
This morning, the Senior class participated in the annual Senior Breakfast hosted at Dr. Pullen's home. Postponed from its original October date due to many Seniors falling ill, the classic Saint Stephen's tradition allowed Seniors to connect over a meal before leaving Saint Stephen's in May.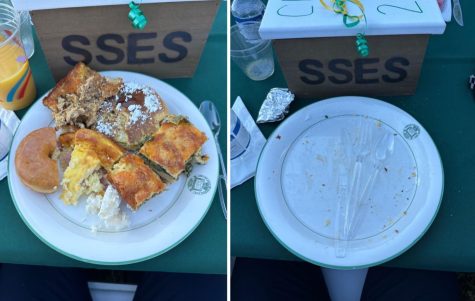 Senior Breakfast has been a tradition at Saint Stephen's for many years, starting with the previous head of school, Mr. Howard, when he invited his senior class of 20 students for breakfast.
Seated at tables on the waterfront lawn, Seniors shared classic breakfast dishes prepared by teachers and administrators including Ms. Wildes's egg quiche and Mr. Forrester and Dr. Pullen's flapjacks.
After eating, Seniors provided their feedback on their favorite school memories, ideas for the Senior gift the class will give at the end of the year, and which speakers to invite for the end of the year events. Dr. Pullen led the class in Saint Stephen's trivia and advisories connected for pictures.
Senior Megan Wolfe loved the Senior breakfast, commenting that it was "really sweet and wholesome" and a great way to "start off the beginning of the end of senior year."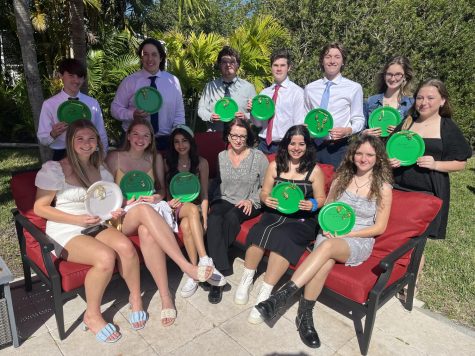 Senior advisor Mrs. Bolotin agreed, enthusiastically noting how it was "a special moment to remember the fun moments they shared together" as they revealed plates with their predicted careers.
This special Senior event is a part of the trifecta of senior meals, with a Senior Lunch and Dinner upcoming later in the spring, capping off the class of 2023's successful senior year. Traditions like these bind the Falcon community together and remind younger Falcons of the momentous moment that lies ahead when they graduate and fly out of the Saint Stephen's nest.
2