Brown twins, Davis, Vining reunite at U of Illinois
Four former Falcons have reunited at the next level, and they're now leading the D-1 Fighting Illini to new heights.
Many longtime Falcons may remember Saint Stephen's football's heated, intense, and memorable back-to-back state championship wins in 2016 and 2017. From those golden years, you'll probably remember four former star players, Chase Brown, Sydney Brown, Dylan Davis and Peyton Vining. These guys were legends, and amazingly, after a few years on different paths, they've come together to play the game they love at the next level.   
The four alums are all playing together as Fighting Illini at the University of Illinois: a Division I football team. Even though they all started out on different paths in terms of college, their journeys led them back to playing for the same side once again.
When asked what stood out the most about his former players, Tod Creneti, their former head football coach, said, "Peyton was very physical. He had been in the program since the 6th grade and he played a lot of different positions."
Regarding Dylan Davis's strenghts, Creneti said Dylan's "size was the most obvious answer, but he was also a ferocious player, great leader and role model on and off the field."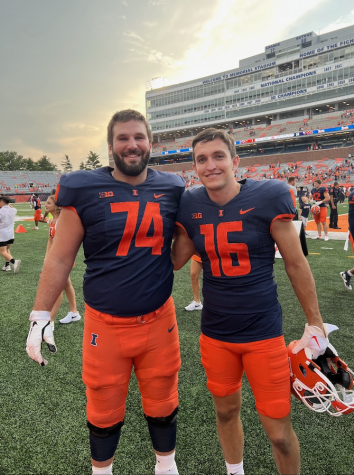 Creneti went on to talk about the Brown brothers.  "For the twins," he said, "I mean those guys are a once-in-a-decade opportunity. I thought our program was hard as it was, but once those two came they brought that hardness and competition to the next level."
While Sydney has been at Illinois since his freshman year, the other three are all transfers. Chase, Sydney's brother, started at Western Michigan, where he performed incredibly well. He started in all 13 games in his first season, with 71 carries for 352 yards. His success at Western Michigan led to his transfer to Illinois, finally reuniting him with his brother. At Illinois, Chase has achieved over 2000 rushing yards, and with that, he's in the running for the Heisman Trophy. 
Peyton Vining, who played for Denison for four years, transferred to Illinois as a senior, where he serves on the special team's kick return squad. At Denison, Peyton had three 100-yard receiving games. On top of that, he returned a 91 yard return against Kenyon.
Last but not least, Illinois' newest member, Dylan Davis, is now a sophomore offensive tackle at the Midwest Powerhouse. After graduating from Saint Stephen's with 150 tackles, Dylan went on to play college ball at Furman his freshman year. After a successful year at Furman, he found himself back with his fellow Falcons at Illinois. 
The Gauntlet had the chance to interview Davis for this piece, and when asked how he felt about being reunited with Chase, Sydney, and Peyton, Davis said: "It's super cool playing together again. It's pretty incredible that a small school like Saint Stephen's could produce so many players that are playing a high level of football."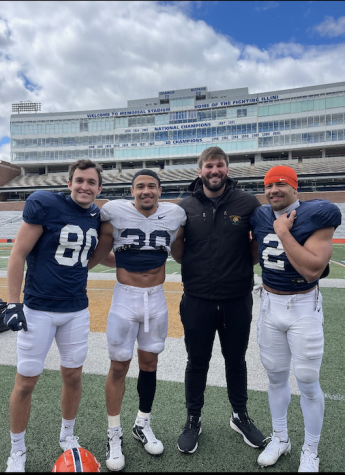 "It's awesome to see the growth all those guys have made," Davis added.  "I think everyone realized we had a great team in high school, but it was truly a special group. Especially since Chase is in the Heisman [trophy] running, Sydney is one of the best defensive players in the country, Peyton is doing a fantastic job returning kicks and he and I are carving out roles." 
Dylan didn't let us go without a reflection on the past that brought him to where he is today. "Coach Creneti and the rest of his staff deserve so much credit for helping us get to this level."
4