Spikeball tournament Monday May first; Neeves brothers prep for victory
With the tourney just around the corner, hopeful teams are readying for the competition.
Hang on for a minute...we're trying to find some more stories you might like.
The upper school Spikeball tournament, a freshmen class fundraiser, is fast approaching, and one team in particular seems to be ready to destroy the competition. Carson Neeves (senior) and his brother, Holden (freshman), are preparing to be the squad that will win the tournament, which takes place on Monday, next week, in the Palm Courtyard.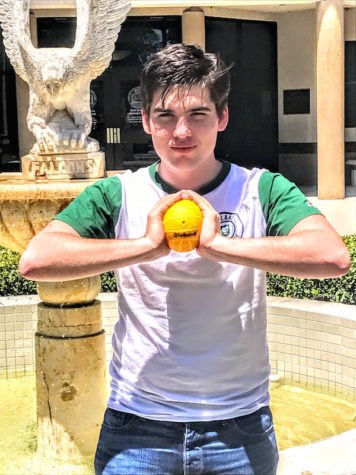 I decided to interview the older Neeves, who is making claims that the family duo will, "Destroy all other teams by at least 5 points."
When asked what experience he has with the sport, Carson Neeves said, "I saw Tommy Pierce and he was very inspiring. I told myself 'if [Tommy] can do it without any hand eye coordination, then I can probably do better." He continued, stating, "All these people are amateurs; I'm undefeated, never lost."
I decided to do some fact checking and I found could not, to date, confirm nor deny this information. However, there is not a single game documented that Carson has played with his brother. I reached out to Holden Neeves for a comment but his attorney said that Holden could not comment because, "He is preparing for the tournament and can not comment at this time."
With the Neeves brothers signed up for the freshmen class Spikeball Tournament, they are certainly the favorites to win the tournament.  Yet there are 6 other teams vying for the title, such as the Goats, lead by Wyatt Sevin, The New Jersey Turn-spikes, made up of Mr. Hoonhout and Ben Tobio, and Zoey + Bailey. If you and a friend decide to join the tournament, you can sign up on the sheet outside Mrs. Paleczny's door. If you just enjoy the game, you can watch it next week in the Palm Courtyard.