Madagascar Jr. debuts at the Falcon Playhouse
The fall performances of the lower and intermediate school production of Madagascar Jr. are under way.
The Falcon Playhouse's fall musical production kicked off Tuesday afternoon with two opening performances, exhibiting the talent of young Falcon actors and actresses. Madagascar Jr, a musical version of the 2005 DreamWorks animated movie Madagascar, came to life on stage as intermediate and lower school students acted out the story of five talking animals from Central Park Zoo finding their place after being stranded on the island of Madagascar.
Led by Director Mrs. Jeannine Elisha and Assistant Director Reverend Cori Rigney, students from Kindergarten to sixth grade have been practicing to perform in the annual musical since the second week of school.
The performers haven't just been learning their lines, but according to Mrs. Elisha, the experience for the children has "really been a learning experience for them." Students learned how a production is run and learned the parts of a performance from blocking to stage directions.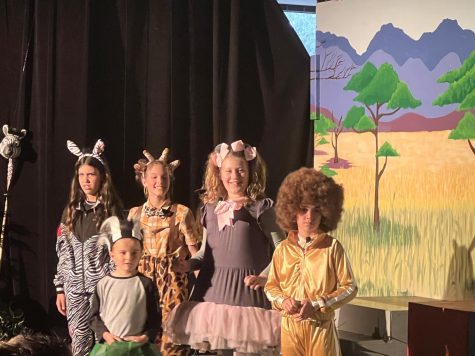 Because of the incredible interest in performing, the group was divided into two casts. Each cast will perform one per day through Thursday. The Green cast started the performances off and led by Alex the Lion (Alejandro Bick), Marty the Zebra (Lillian Gerling), Gloria the Hippo (Lily Plummer), Melman the Giraffe (Gianna Hasbrouck) and Mason the Monkey (Maahi Shah) each performed exciting portrayals of their movie characters and commanded the stage during each of their solos. The cast had a dazzling performance, despite a few audio issues that will undoubtedly be improved as the casts progress through their performances.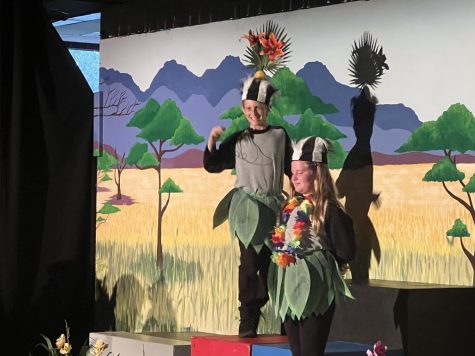 We enjoyed how the younger members of the cast added to their fellow performers during musical numbers with exceptional background singing and dancing. Matthew Perkins' performance as King Julian was brought to life by his fellow lemur troop, exciting the audience with their performance of movie favorite song "We Like To Move It."
Each cast will perform twice more today and Thursday, with the Gold cast performing at 4:00pm today and the Green cast following at 6:30. Tickets for parents and guests are $12.00 and can be purchased at www.saintstephens.org/madagascar. Saint Stephen's students can get their tickets for free by applying the code SSESSTUDENT2022 at checkout. We definitely encourage each Falcon to support their younger friends and family members by showing their support in the audience.
While some theater students including Emma Martin, Isabella Casadevalls, Annika Elisha and Sawyer Girgis got the chance to contribute with scenery and set design, it will soon be the Upper School theater troupe's chance to take the stage with their performance of Footloose. The deadline for audition registration is November 28th, and auditions will be held on November 30th in the Falcon Playhouse. 
1