Falcon Spotlight: Mrs. Elisha
Get to know more about the person who directs all of our school musicals, Mrs. Elisha.
If you've ever been to one of the school musicals, you may know of Theater Director Mrs. Jeannine Elisha, the leader of the fantastic performances that take place in the Falcon Playhouse. But it's possible you don't know the full story of the mastermind behind the up-and-coming Saint Stephen's theatre program.
From the most recent hit musical that awed audiences, The Addams Family, to last year's dynamic performance of Grease, Mrs. Elisha has directed 11 plays and has been a part of 17 of them in total. The first play she produced as Theatre Director was High School Musical, and her favorite play thus far was last year's musical Grease.

"

When I began teaching here, I started assisting Mr. Boyd and Mr. Marshall with the musical productions. Taking over Mr. Boyd's position after he retired was a dream come true."

— Mrs. Elisha
Regarding the legendary show, Elisha said, "Since I love to dance, Grease was probably my favorite show to direct because choreographing and teaching 'Grease Lightning' was so much fun."
So what else is there to our beloved Theater Director?  Mrs. Elisha was born in Tampa, Florida, but moved to Bradenton when she was three. She has taught at Saint Stephen's for 17 years, starting out as the sixth grade English teacher, until she became the theatre teacher in 2014.  Most of the upper school student body has passed through her classes over the years, and a lot of us owe our reading and writing skills to Mrs. Elisha.
Elisha took dance lessons, voice lessons, and acting lessons throughout her childhood. She also performed in many school and community plays.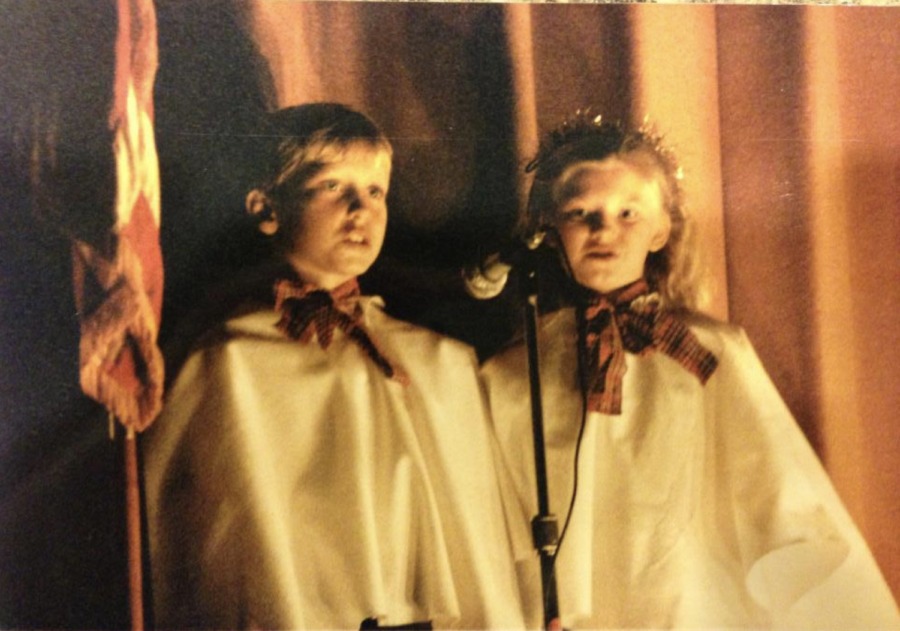 Her favorite play, as a performer, was also Grease. "I performed as Patty Simcox at the professional theater, Theater Works," said Elisha.
Her work as a child actor clearly did not go unnoticed.  She had a professional agent from ages 10-19, and she did print work, commercials, voice-overs, training videos, and was on an episode of Nickelodeon's Welcome Freshman.
In college, Mrs. Elisha taught jazz, tap, and broadway for a professional ballet company in Tallahassee. One year after she graduated from FSU, where she had majored in English  to better her chances of becoming a teacher, she started out her teaching career at Cobb Middle School in Tallahassee. She then started out at Saint Stephen's in 2002.
Mrs. Elisha started at SSES as an English teacher in the intermediate school. As the new 6th grade English teacher, she immediately pursued her passion for theatre.
"When I began teaching here, I started assisting Mr. [Preston] Boyd and Mr. [Jamie] Marshall with the musical productions. Taking over Mr. Boyd's position after he retired was a dream come true."
After teaching intermediate school English for 12 years, it was exciting for her to have a new curriculum to teach, older students, and a new discipline.
Theatre seems to be in her blood. Mrs. Elisha even created a non-profit children's performing troupe when she was a junior in high school. The program was for elementary students and it was called The Hambones.
As far as her personal career as an actress today, Mrs. Elisha says that she would love to perform in a play, but life as a mom, teacher, and a youth group leader takes priority.  With the approaching development of a new performing arts center at Saint Stephen's, the future is bright for Mrs. Elisha and her theatre program.
Leave a Comment