What to do with your boo on Valentine's Day
No idea of what to do with that special someone on Valentine's Day? Have no fear. The Gauntlet has you covered.
Hang on for a minute...we're trying to find some more stories you might like.
Valentine's Day is an highly anticipated time of year, when couples take the time to shower each other with love and build on their relationships. 
If your like most of us, the time has whittled away and you have no clue what to do for your significant other.  Or maybe it's your first Valentine's Day in a relationship.  Whatever the case, The Gauntlet has strategically selected a few of the most romantic ways to make your V-Day perfect.
The Dinner Date
Traditionally, dinner is an important factor on this valentines. There are a variety of local restaurants to choose from in the area, and some even offer special deals for those on a budget.
If you want to go real fancy, you can dine at the Beach Bistro on Anna Maria Island. The bistro is a classic seafood spot where you can eat and watch a gorgeous sunset.  You may want to get on the horn and make a reservation, as the place fills up quick.
Along these lines, there is also The Sandbar and Beachhouse for gulf-view dinging.
Another phenomenal restaurant is the Melting Pot in downtown Sarasota. This is a delicious fondue restaurant where you can get cheese and chocolate fondue, along with a very fancy entree. It is also a lot of fun because they serve you an array of food to dip into the cheese and chocolate sauces.
If you're into more casual grub, there are still plenty of options. If you are into Asian cuisine, you can dine at the Stone Bowl, a Pan-Asian restaurant serving meals from sushi to ramen noodles.
If pizza or pasta is more your style, you can score a fantastic dinner at the Main Street Trattoria, an Italian restaurant in Lakewood Ranch.
If you don't want to go through the hassle of going out to eat on this busy night, a nice home cooked dinner is sure to put love in the air. Set up a table, light some candles, throw a steak or some fish on your grill, and there you go.
Alternate Activities
Maybe dinner isn't your idea of a romantic night. If that's the case, we have plenty of alternate go-to's to make the night special.
A romantic sunset on your local beaches or preserve is always a relaxing thing to do on a cool February evening. Robinson and Neal Preserve are two scenic preserves with lots of trails to walk through. These scenic preserves are a perfect place to take your significant other to watch the sunset.  Don't forget a blanket and picnic to have at a beautiful look-out point along the way. 
The Celery Fields in Sarasota is a must-see and a perfect spot to watch the birds and admire the scenery within the park. It's a great spot to just sit, talk, and shoot the breeze for a while.
Seeing a movie is also a tried-and-true option.
There plenty of  theaters like Oakmont 8 in Bradenton, Regal Hollywood in Sarasota, and Lakewood Ranch Cinema.
The Upside, with Kevin Hart, is a great comedy that's also touching.  Another movie, conveniently coming out the day before Valentine's Day, is called Isn't it Romantic. This is a classic romantic comedy that will make you fall out of your seat laughing.
Maybe a movie isn't your cup of tea.  How about bowling? There are a lot of alleys throughout the area, including AMF Bradenton Lanes and Sarasota Lanes. This won't take long so you should look at the list above for dinner options. Just make sure you reserve a lane so you aren't left waiting around in the lobby for hours. 
These ideas are guaranteed to make your night with your significant other special and filled with lots of fun. If you were wondering what Valentine's Day is like in the Saint Stephen's upper school, check out last years article about that!

About the Writer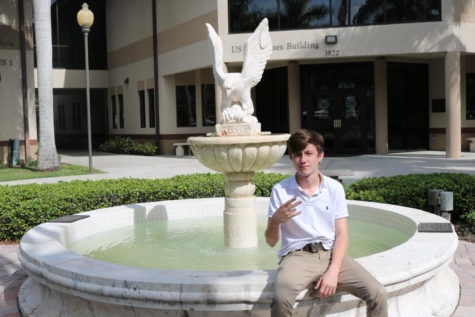 Jack Barnes, Staff Writer
Jack Barnes is new to The Gauntlet for 2018-2019. Jack likes playing soccer in his free time.