Nothing to do this weekend? How about a live Escape Room adventure…
Hang on for a minute...we're trying to find some more stories you might like.
There is one thing that most High School students have in common: they like a good video game. Video games present students with an opportunity to take their minds off of school and other stressful things in their life, and to use their brain in a different and more exciting way. One of the more popular types of video games is the "Escape Room," a style of game which allows players to stimulate their minds in an entertaining way, solving puzzles to escape a room or accomplish a goal. These games are popular due to their flexibility; they can be horror games, mystery games, or almost any other genre of game.  Due to this flexibility, they appeal to a large variety of people.
Therefore, it is no surprise that a new type of escape room has become popular: the live escape room, the real life version of the games. These relatively new live escape rooms are just like the games; participants use clues hidden around a room to solve puzzles and either escape the room or accomplish another goal. These live escape rooms, however, add a new element to the game. Participants can now physically feel the puzzles they are solving, making the game more immersive and more exciting. They are, essentially, the first live video games.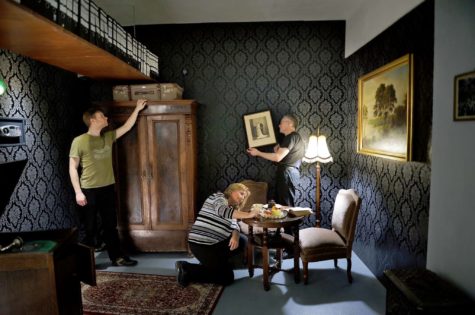 Live escape rooms added a few new elements that are not present in the video games: teamwork and time limits. Most live escape rooms are "played" in teams of at least three people. This adds the element of teamwork, as the puzzles are designed in such a way that the participants have to work together to solve them. This inspires collaboration and cooperation, themes that are not present in the video games, which are usually played alone. The other new element is the time limit; most live escape rooms have a time limit of an hour or half an hour. This adds more suspense to the game and can even inspire competition between teams. These facets add more suspense and competition to the game, making it more fun for everyone involved.
Live escape rooms began in 2004 when "5 Wits" was opened in Massachusetts. 5 Wits was the precursor to live escape rooms, and while it doesn't call itself an escape room, it is very similar. Visitors to 5 Wits can participate in a number of interactive adventures that are full of puzzles and other challenges. This was the first company to start a project that so closely resembles a live escape room. The first "real" live escape room, SCRAP, opened in Kyoto, Japan, in 2007. It was an instant hit, and live escape rooms began popping up all over Japan. These finally spread to the Americas when SCRAP opened in San Francisco, California, in 2012.
Live escape rooms became popular in the Americas very quickly, with more companies like Puzzle Break and Escape the Room NYC opening in 2013. In 2015, MarketWatch published an article called The Unbelievably Lucrative Business of Escape Rooms. This article gave readers the wrong impression that opening a live escape room could earn them a huge profit. Live escape rooms began opening all over the country and growing in popularity. In 2016, there were approximately 1,500 live escape room facilities open in United States and many more open worldwide. This number is continuing to grow, with new escape rooms being opened on almost a daily basis. Escape rooms are now everywhere, and it is almost impossible for someone to miss them, especially if they live in or near a big city.
For people living in or near Bradenton, Florida, there are many escape rooms available to visit. One of these is Escape Bradenton.
"
Escape Bradenton is a local live escape room facility that offers fun live escape room experiences, such as "Blitzkrieg," a World War II themed escape room."
— Kassandra Haakman
Another live escape room facility in Bradenton is The Element of Escape, which offers exciting experiences, such as "The Heist," a room where participants are challenged to steal a precious jewel. There are also many live escape room facilities in Sarasota. One of these is Escape Sarasota, where people can attempt to finish challenges such as "Cabin in the Woods" before the time runs out. One other live escape room in Sarasota is Escape Countdown, which offers rooms like "Jailbreak." These are only a few of the live escape rooms that are open nearby. Tickets usually cost $25-$50 per person, but are definitely worth the experience.
In conclusion, live escape rooms are interesting challenges that are fun for all those involved. They allow participants to exercise their brain while in an immersive environment. They take all the good elements from the video games and add a few new elements, such as cooperation and competition. Due to their growing popularity, it is not hard to find a live escape room near where you live, no matter where that happens to be. I encourage you to try out the experience, as it can prove to be a fun challenge. Although the tickets can be pricey, the experience is well worth the money.