This week, a group of Marine Science students is visiting the Marine Lab in Key Largo as part of a field trip aimed at bringing Falcons outside of the classroom and into the field. We caught up with a few of the future scientists to see how the trip is going.
Day 1 (Sunday): Bright and early, students headed out on a five-hour drive to Key Largo, and when they arrived they were greeted with an orientation and swim test before beginning the activities planned for the day. After completing orientation, students got their swim gear on and headed out for a snorkeling excursion to a mangrove lagoon.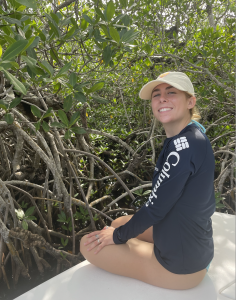 Senior Madison McAvoy described the opening event.
"There was an unbelievable underwater hotel where we could swim down and see all the different species of fish. We saw barracudas, grunts, and even a spiny lobster. It was super cool."
After a long day of being on the water, students finished the day taking part in a microplastic lab, studying the effects of plastics on the ocean.
Day 2: Students began with a 7:30 wake-up and after breakfast, they boarded a designated boat that took them out for a "mangrove snorkel."  While exploring a lagoon off of Key Largo, they were challenged to identify different types of plant life and study the dynamics of mangroves on the ecosystem.
The crew brought several species of animals back to the boat to examine them, identifying creatures like jellyfish, sea stars, brittle stars, lettuce, sea slugs, sea cucumbers, a stingray, moon jellies, and parrot fish along the way.  They finished their water activities with a swim at Grecian Rocks Reef before returning home.  Later, they participated in an invertebrate lab on live tulip snails. The last activity of the day was a fish ID class where they discussed what they saw and learned that day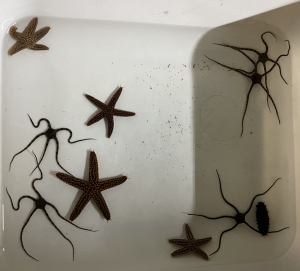 Science teacher Mrs. Alison Misiewicz is happy with the hands-on knowledge the students are picking up.
"They're seeing things we taught them over the years and experiencing it first hand. We definitely made the most of the day."
Day 3: On Tuesday, students headed back out to Grecian Rocks Reef, where they greeted an abundance of jellyfish in the waters and beautiful views.
One core goal of the trip was a focus on conservation, as the Keys' reefs are in danger of extinction.  Junior Ainsley Flint commented on this aspect.
"It was super cool to see how our mangroves help the environment and how we can protect them."
The trip is set to return on Wednesday.
2