Argentinian sister school visit comes to an end
Saint Stephen's was blessed with a visit from our Argentinian sister school from October 23 through November 7. Today, an emotional send-off in the Palm Courtyard saw the Argentinians off. They return to Cordoba today.
Last Wednesday, October 23, eight students, along with their teacher, arrived from our sister school, Colegio Nacional de Monserrat in Cordoba, Argentina. The Estudiantes stayed in Bradenton with their host SSES families for 15 days, spending time at Saint Stephen's and visiting local attractions until Thursday, November 7. 
Their stay here has really been a wonderful, impactful experience for all involved, and the scene of them saying their goodbye's on Thursday morning in the Palm Courtyard was an emotional one.  
In 2018, a group of Saint Stephen's students visited their Cordoba campus during the 2018 IQ week, and now these students have finally come to visit us.  During the two weeks here, they toured the school and experienced the Saint Stephen's community first hand, meeting students of all ages, and interacting with all of the divisions.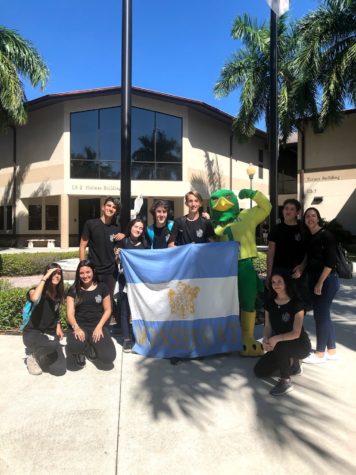 They were treated to a boat trip with the Marine science class, a visit to the Van Wezel led by Mrs. Elisha, and a presentation by the intermediate schoolers, as well as other unique Saint Stephen's experiences such as sitting in on their host students' classes.
On October 29, The Gauntlet asked four of the Argentinian students about their expectations and perceptions of Saint Stephen's and American culture.
Tomàs Palazòn commented that he "didn't think it would be this hot, [he] thought that it would be like [70ºF]. Not this hot or this wet!"
Currently in Argentina, despite it being their summer, the weather is most often cooler than in Florida, with the average temperature ranging around a mild 70ºF. 
Not only is the climate different but also the number of school subjects; Colegio Nacional de Monserrat has considerably more course subjects than Saint Stephen's.
"We have 15 [subjects]… and you only have six," Palazon said.  The Colegio students are required to take Latin, French, Greek, English, Spanish throughout high school for multiple years. 
One of the highlights for the visitors was getting to know the Marine Science program. Marine Science goes on frequent boat trips, exploring mangroves and catching fish in order to perform labs done in the classroom.
"The boat trip [with the marine science group]," Luca Phillipi said, "was the best part of the trip." 
Another academic difference, according to the Argentinians, is that "The quantity of people in each class [is much smaller] there [at Collegio Nacional de Monserrat]," said Susie.
Ludmilla chimed in that "Our [grade] has like 30-35 people and each class has four or five people."
Despite Saint Stephen's being such a small school, it turns out that our Argentinian sister school is even smaller than Saint Stephen's.
While there are many differences between Florida and Argentina, the students said that the parts of Florida that they loved the most were the ocean, the neighborhoods of Bradenton, which are very different from Argentina, and Saint Stephen's campus.
To be a part of the sister school exchange program for their school, these students had to know a certain amount of English, have no marks on their transcript, and they had to go through an interview process. 
Tomàs says that the reason he wanted to come was "to see if things were just like in the movies."
"I wanted to improve my English and share my cultures," added Ludmilla
SSES sophomore Nikole Gaydos, who hosted one of the Argentinian students at her home, said that "it was such a great experience and I got to learn a lot about the Argentinian culture."
Riley Schlick, a freshman, added that "their country is a lot like ours.. [and] they aren't that different from us"
Both Falcons said that the experience was one that they would never forget and they were glad they had hosted students.
Tomàs reflected on the entire experience, and he summed it up nicely:  "It blows your mind. You can meet new people and it's very interesting to find out what they think and how they live."
Advertisements