COVID-19: take it seriously, but don't freak out
An update on the current situation with COVID-19. Is it as serious as everyone's saying? Well, it's serious, but there is light at the end of the tunnel. This may help you cope.
As of Friday afternoon March 13th, Saint Stephen's, along with all of Florida public schools, closed.  Since then, thousands of high schools and colleges around the world have closed as well. And it's all because of a virus called COVID-19.
But how big of a problem is this, how worried should we be?  
This is the biggest pandemic to hit the world since the HIV/AIDS pandemic in the 1980s and 90s and the H1N1 outbreak of 2009.  Currently, health officials are doing all they can to curb the effects and spread of the disease. You should be staying up-to-date, remaining calm, and trying to be as prepared as possible, but on the other hand, a question in the minds of many is, is the global response too much? 
The truth is, one should take pandemic seriously, but there's plenty of reason to not to freak out.
Since December, COVID-19 (the Coronavirus) has spread from the Wuhan province in central China to 120 other countries and it has been declared a global pandemic by the World Health Organization (WHO).
"
We're going to be fine
— Michael Levitt, Nobel Laureate and Stanford biophysicist
Not only have all big sporting events been canceled, but colleges, many of which were on spring break, have shut down and are forcing students to move out and to continue with school online. This move forced many college students to find temporary residence until they're allowed back in school. Various parts of the nation are under shelter-at-home style lockdown, and gatherings of people larger than 10 have now been warned against by government officials. International travel is severely restricted and in some states restaurants and bars are closed.
In a science-news piece out yesterday in the LA Times, Michael Levitt, a Nobel laureate and Stanford biophysicist said that "what we need is to control the panic." In the grand scheme, "we're going to be fine."
Levitt was calculating the trajectory of the virus' spread in China since January, and based on data, he predicted that the total number of COVID-19 cases in China would be around 80,000 with 3,250 deaths.
As of March 16, China had counted a total of 80,298 cases and 3,245 deaths. Levitt's forecast was remarkably accurate.  It seems he based his views on the rate of the virus' spread in terms of "new cases.'  According to the piece, his analysis came from "the fact that new cases were being identified at a slower rate [and that] was more telling than the number of new cases itself."
In some countries like Iran and South Korea, the number of new cases every week is going down, indicating that some countries' outbreaks are slowing down.

Loading ...
However, even in countries that have recovered from the first outbreak, they still have to worry about the spread of infection to and from other countries as there is no promise of immunity once someone gets COVID-19.
Levitt encourages social distancing as well as quarantining because the virus is so new that the population has no immunity to it, and a vaccine is still many months away. "This is not the time to go out with your buddies," he said.
Even as Saint Stephen's was preparing for the inevitable closure of the school, trying to familiarize the students and teachers with Zoom, an online classroom that functions like a group facetime, the order came from the Florida governor, Ron DeSantis, to shut schools.
And as we move into the first week of online classes, that virtual-school preparation was instrumental since it's likely that students won't be returning to campus until the middle of April.
But are all of these measures necessary? While there are some statistics that say technically it's no more dangerous to the average person than a bad case of the flu, there is an increasing worry that it could spread too quickly for health workers to handle and for institutions to have sufficient supplies to treat it with and that it is much more dangerous than the flu to high-risk populations.
These high-risk populations include those who are immune-compromised, those with underlying health conditions like diabetes, hypertension, and heart disease, and the elderly. Further, those who can't afford to take time off work to get better or even pay for medical support are at a severe disadvantage. 
Businesses are shutting down, the stock market is buckling, people are quarantined in their homes, and there's been a nationwide shortage of toilet paper, to list just a few of the struggles that the U.S. citizens have faced this week.
But the main danger that's plaguing the people is misinformation, fear-mongering media coverage, and outright panic.
While yes, COVID- 19 is a problem, being misinformed, thinking catastrophically, and dramatically buying up every single roll of toilet paper and every bottle of hand sanitizer that you can find, is a bit much and doesn't actually solve any problems. 
Instead of freaking out, the CDC (Center for Disease Control) recommends that you follow these simple steps to keep yourself, and everyone around you healthy: Know where to find local information about the virus and stay updated, know the signs and symptoms of the disease, take steps for those at higher risk, and protect yourself and your family. The rest of the steps can be found here.
While you shouldn't panic, being cautious and mindful of those around you is important for the health of our community. If you're sick, stay home and try to quarantine yourself, and if you're healthy try to stay that way. To protect yourself, your family, and the people around you who could get seriously ill from this virus, please listen to the Florida Health Department and avoid touching your face, practice social distancing, and most importantly, wash your hands.
View Comments(1)
About the Contributors
Sophia Berry, Associate Editor
 Sophia Berry is a second-year editor on The Gauntlet. She is a Senior at Saint Stephen's and enjoys drinking boba, hiking, and hanging out with her...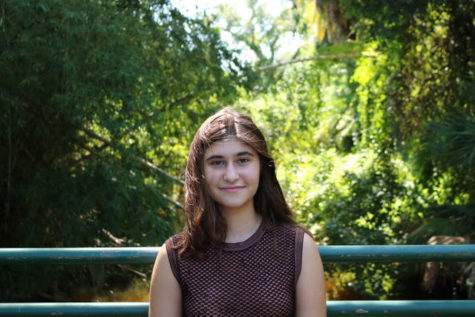 Evanthia Stirou, Creative Director
Evanthia is a third-year Creative Director on The Gauntlet. She is a senior here at Saint Stephen's and likes drawing, playing Genshin Impact, and hanging...