Aly's Column: Bringing back Beach Day was a great decision
An Upper Schooler's thoughts on a favorite tradition.
Just before Spring Break, the Saint Stephen's Student Council hosted a Spring Spirit Week, with activities like Field Day, an Easter Egg Hunt, costume days, and even Beach Day. Beach day is an old Saint Stephen's tradition that was stopped after COVID, and I want to talk about why bringing it back was such a great decision.
On Beach Day, grades 9-12 were brought to Bradenton Beach for a full day of fun. Everyone was free to walk around the beach, visit the concession stand (the slushies are amazing), and the Student Council provided pizza for lunch. My friends and I got a great spot next to the water, and we just laid in the sun and listened to music. As the weather was good and the water temperature just right, we were able to go in and out of the ocean when we got too hot. Parker Beale enjoyed "being all in the same place and having fun together" and added that beach day is "the one day where all of the grades come together, even though [they] compete against each other."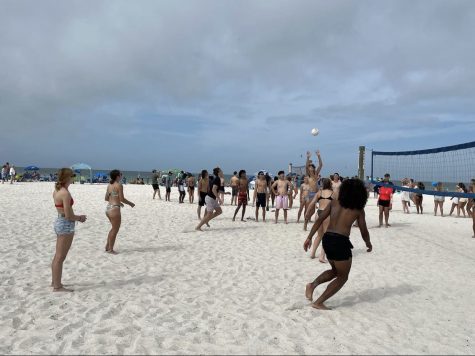 After relaxing for a while, Student Council started up the activities for different grades to compete against each other for Spirit Points. The activities were spread throughout the day, so anyone that wanted to could participate. 
My friend and I went to the nearby beach volleyball courts and helped play for the senior team. All of our other friends went to watch and support us, and the courts were surrounded by cheering students. My team didn't win this activity, but we all had so much fun playing and there was great energy between the different teams. 
Seniors Justin Millican and Joey Uzabel agreed, saying the best part of beach volleyball was "playing together with [their] friends and messing around on the court."
My other friends competed in activities like tug of war, spike ball, a relay race, and even a sandcastle competition.
The majority of the Upper School stood along the sidelines, getting excited for their respective grades. If you want a deeper look into all of the activities that took place during Beach Day and who won, check out co-ed-in-chief Jackson Nealis's article here.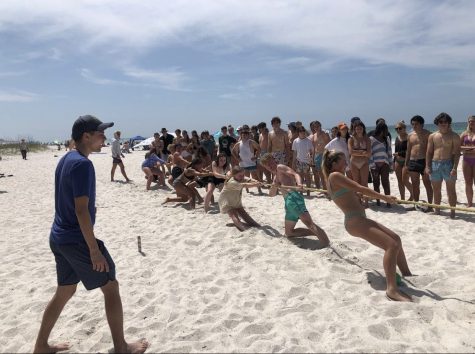 When it was the end of the day, no one wanted to leave. My friends and I actually talked about driving back to the beach after the bus ride to school. Everyone on the buses were sun kissed and tan, with their hair still wet from the ocean, wiped out from a fun day. 
At school the next day, people couldn't stop talking about beach day, and everyone that didn't go was seriously regretting it. My friends and I have agreed it is one of our best memories at Saint Stephen's, and it was a great decision to incorporate it back into the schedule.
But as Noah McCray noted, the scheduling process for the date could be improved, because he had two performances in the school play that day. 
McCray said, "StuCo should be more considerate of other students' schedules" when planning Beach Day. Even though most of the upper school was able to attend, I hope next year everyone gets this great experience. 
Should Beach Day return next year?
Sorry, there was an error loading this poll.