SSES mini-boat "Kestrel" to be launched in Atlantic Ocean
Junior Caitlin Lynch's mini-boat project will be completed this spring.
Hang on for a minute...we're trying to find some more stories you might like.
"
The two main goals of our project are for it to circumnavigate the North Atlantic and to involve as many international organizations as we can."
— Caitlin Lynch
Students are often required to do projects for most of their classes throughout the school year. Teachers usually provide some of the needed materials for their students and help them along the way. Here at Saint Stephen's, some students have used this opportunity to do side projects about the subjects that they're more passionate about.
Junior Caitlin Lynch is currently working on a "mini-boat" project. The Saint Stephen's mini-boat is part of a worldwide, small water craft regatta through Educational Passages. There are about 40 small boats at sea now that were launched by different schools and organizations around the Atlantic Ocean.
According to Caitlin Lynch, "The two main goals of our project are for it to circumnavigate the North Atlantic and to involve as many international organizations as we can. We are already working with Maurick College, a high school in Holland, who originally introduced us to the regatta. We have enclosed information in the drywell of the boat about our small craft itself and what to do for people who find our boat washed ashore or at sea. We have these instructions and information translated into several languages. We have also included souvenirs from SSES, University of Miami, and Biscayne National Park for those who find our boat."
Caitlin Lynch and Mrs. Shields, head of the Science Department, are the main coordinators of the project. They are also communicating with Biscayne National Park (their launch site), the University of Miami (who will be launching a drifter concurrently with the launch of the miniboat) and Maurick College. The mini-boat project is all about international cooperation.
Mrs. Shields and Caitlin hope for those who find the boat to add a note or item to the drywall of the boat and take an SSES souvenir, repair it if needed, and take the boat to a school for other students to see. They also have enclosed instructions for the school who receives the boat for getting it back on its way around the Atlantic Ocean. In addition, SSES and the University of Miami will compare data from the small craft (wind driven) and the drifter (current driven) to learn about how pollutants circulate the Atlantic Ocean.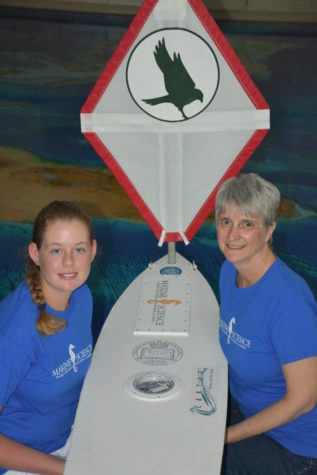 Caitlin said about the amount of time that she has spent on her project: " Mrs. Shields and I spent many weeks in the fall getting our boat ready. This included custom stickers and naming the boat, adding anti-fouling paint (prevents barnacle growth), sanding/gluing the keel, writing the instructions, and communicating with Biscayne, the University of Miami, and Holland. The maintenance department has been a great help in preparing the boat as well. The past few weeks have been been light. Right now, we are trying to find a launch date and we are aiming for late March." She also added: " Mrs. Shields has done a great job coordinating with Biscayne, University of Miami, and Holland, along with preparing the small craft itself for launch day. Through her connections, we are able to use Biscayne as our launch site in the first place."
In the near future, two students from Maurick College will be coming to SSES in April to launch their own boat at Biscayne National Park. Mrs. Shields and Caitlin will be using their experience to help the students from Holland prepare and launch their own vessel.
Saint Stephen's has also supported Caitlin financially and has provided the needed materials for her project. SSES has paid for the small craft, custom stickers for the hull, varnish, anti-fouling paint, and epoxy. The maintenance department has also done most of the painting and gluing.
For the next phase of the project, Caitlin and Mrs. Shields are working closely with the University of Miami to find a time where she can launch the mini-boat and the drifter at the same day. They are excited to compare the courses from two different types of vessels. Biscayne National Park is happy to have them launch there. It will also be part of their 100th anniversary celebration of the National Park Service.
Caitlin's project is a bold example of a successful, scientific side project by a Saint Stephen's student. Saint Stephen's and Mrs. Shields have supported her along the way and have provided this opportunity for her. She has also put so much time and effort in order to do this project as well as possible. Here in Saint Stephen's there are always many opportunities for students to do side projects of their choice and to get recognized for their outstanding effort.