Falcon Spotlight: Alex Long
Read about an up and coming Falcon golfer, dedicated to his self development.
This current Saint Stephen's Junior, has been part of the Varsity boys team, won several prestigious tournaments outside of school, and is currently the 49th ranked junior golfer in the U.S. AJGA rankings with no signs of stopping. This falcon is none other than Alex Long.
Born and raised in Toronto, Canada, Alex moved to Florida his freshman year and has contributed greatly to the growth of the boys' varsity team. Long was a key player in the teams' win in the state championship last year. Currently, he's ranked first in the class of 2024 in Florida for JGS (Junior Golf Scoreboard) and is not slowing down. I had the pleasure to sit down with Long as well as his coach in order to learn more about his golf career.
Alex got into golf at an early age. He was five when he was first inspired by players like Rickie Fowler and Adam Scott; he yearned to be on that level some day. He has always been dedicated to golf, but Long says, "what drives me to compete now is winning. At my current level it is very hard to win, much harder than it was a few years ago."
As every student-athlete at Saint Stephen's knows, balancing sports along with academics is crucial because you are still expected to complete your work on time.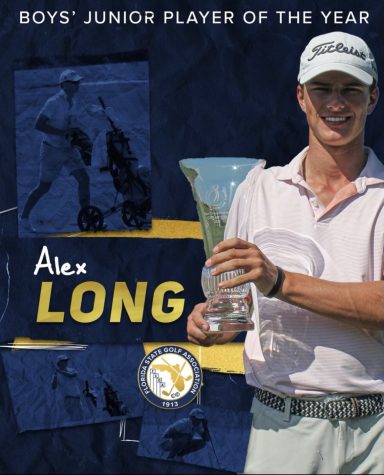 Jillian Long says, "He [Long] plays in 14-18 tournaments a year outside of school (excluding qualifiers or pro events)." It can be hard to manage a student-athlete schedule like this one but it shows his dedication to the game and school. 
Alex comments that "Tuesday through Friday, I get out of school at 12:40 and get to the golf course by 2. I usually practice until 6 or 7pm; then, I go home, workout, and do the usual stuff like homework." 
On the weekends, Long practices from 10am to 4-5pm; sometimes even longer. 
I asked Long what he enjoys most about playing at one of the highest levels of junior golf. He says, "My favorite part of being able to play on such a high level is playing with other great players and being able to win against them." 
So far, Long has won 2 AJGA tournaments this year and overall has 3 AJGA wins in his career. He won the Sergio and Angela Garcia Foundation Junior Open in March and the Inaugural Panama Junior in January.
He was named 2022 FSGA Boys Junior Player of the Year and FJT Tour Champion 2022 for boys 16-18. Other major accomplishments include his win on the West Florida Professional Golf Tour; also, being the youngest player to do so.
Not too long ago, he caddied for his brother, Ben, at the Korn Ferry Tour LECOM Suncoast Classic, which is a professional event. Even though he liked helping his brother, he usually prefers to do the playing himself.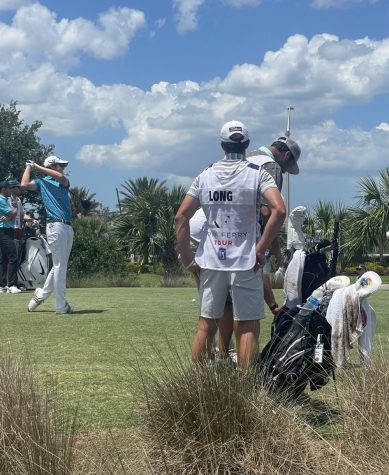 For those still searching to improve at golf, or their area of interest, Long says, "I think just going out and playing as much as you can, and getting reps in, is probably the best way to get better for people starting out. And when you do play, try to play with people who are better than you to learn from them."
He isn't planning on stopping anytime soon. Alex is going to continue to develop his skills and play D1 Men's Golf at Texas A&M University with the hope of playing professionally in the future.
4