Varsity girls soccer rise to #8 in Class 2A
The girls varsity soccer team won the SSAC championship and have risen to #8 in the state for Class 2A.
The Saint Stephen's girls varsity soccer team has had an outstanding season so far. The lady Falcons currently boast a record of 11-3-1 (the best in school history for the ladies!), and they have moved to a #8 ranking in the state for Class 2A. 
With wins over competitive schools like Palmetto, BCS, ODA, Northside Christian, and Universal Academy, this season's success marks a huge improvement from last year, when they finished with a record of 5-9-3. 
To add that, on Saturday, January 15, the girls defeated All Saints Academy in Winterhaven, winning the Sunshine State Athletic Conference championship (SSAC).  The SSAC is a conference made up of independent schools in Florida. This marks the first time the varsity girls team has won the SSAC championship in our history. Hopefully, it will be the first of many to come.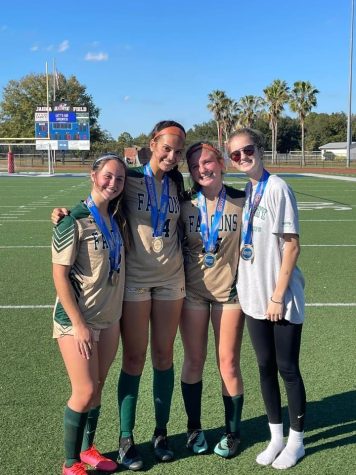 New head coach, Tyler Cotton, said that he has tried to integrate "more technical work this year to try to get each player the ball during the game." Using this method, he hopes to "create a better team atmosphere, rather than a bunch of individuals on the field."
The team has won some competitive games that they weren't favored to win. For example, the girls won against Northside Christian in a game that, as team captain, Sophia Creneti said, "we didn't know if we would win, but ended up beating them  5-0." Sophia is a junior and this is her first year as team captain. She leads alongside her fellow team captain Kate Baran, who has played the most minutes on the field for the Falcons this season.  
Other key players this season are Junior Taylor Vogt, who has scored 12 goals this season, and Sophomore Madison McAvoy, who has ten. The team's main play-style, contributing to their success thus far, is to use high-pressure offense to keep the opposing defense on their toes the whole game. 
Creneti said: "The fact that we have a new coach who really cares about us is a big thing, as well as the fact that the team is really close and we have another year together because we have no seniors. It gives us more energy to work hard as we are very hopeful for the future".
10