Falcon football headed to third straight Florida Bowl
The Falcons took home their third Coral League Championship Saturday to move on to the State Championship game, which takes place this Saturday.
Sully Maley, Director of Visual/Creative Media
November 14, 2018
Hang on for a minute...we're trying to find some more stories you might like.
Last Saturday, Falcon football won their 8th consecutive game to take home the Sunshine State Athletic Conference (SSAC) Coral League Championship for the third consecutive year. Now, they'll have the chance to make Saint Stephen's history by pulling off a three-peat State Championship run.
After dominant victories over Ocala Christian and Shorecrest Prep in playoff rounds 1 & 2, the Falcons faced #3 Mount Dora Christian Academy. Led by UF-bound LB/RB Jesiah Pierre, the Bulldogs came to the MAC after a 21-3 victory over ODA and were held to just a field goal in the Falcons' 27-3 win.
The Falcons' defense has led the way in their last few games, allowing only 15 points in their last four contests. The SSAC's 2018 All-Conference Teams highlighted two of the Falcons' defensive players, with lineman Dylan Davis and safety Calvin Sauerbeck making First and Second teams (respectively). Davis was also named to First Team offense, along with running back DJ Clark and center Dalton Francis.
Head Coach Tod Creneti was also recognized as "Coach of the Year" for the Coral League.
"It's always nice to be acknowledged by your peers, but for me, I don't do this for the awards. I do this because I love working with these guys and that's what matters."
The Falcons next stop is this year's Coastal League Champions, Orlando Christian Prep. OCP steamrolled the undefeated Windermere Prep 44-10 following the school losing starting quarterback Kai Patterson to a broken wrist along with numerous player and coach suspensions resulting from an embarrassing hazing lawsuit.
Coach Creneti is confident his team has what it takes to take home the championship.
"We're gonna play a very, very good football team that's physical and fast, it's gonna be our best test of the year, but we feel very good about our kids and our plan. We're excited to play a good team and have that challenge."
The Falcons will play OCP this Saturday (November 17th) at 7:00 pm in a neutral championship game at The Master's Academy in Orlando. Students and staff are encouraged to come out and support the team at the game. Directions can be found here. Fan buses will also be traveling to the game free of charge. See Mr. Holt for more information and to sign up.
The Gauntlet wishes the Falcon Football team good luck in this weekend's game. Go Falcons!

About the Writer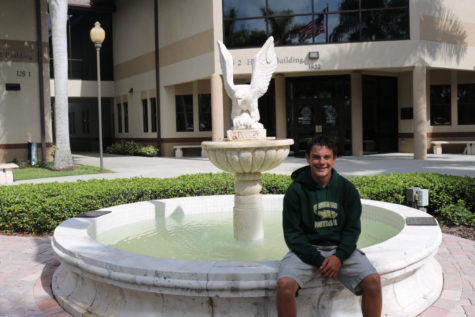 Sully Maley, Design Editor
Sully Maley is new to The Gauntlet for the 2018-2019 school year. Sully enjoys listening to music and playing video games in his free time and is a member...