Top five most comfortable chairs on campus
Every chair has a story, as they say. But you don't have to walk all over campus to find out which one is for you.
If you've ever walked around the Saint Stephen's campus, you may have seen or even sat in some very comfortable chairs. Since we had absolutely nothing better to do, we, your humble, dedicated chair investigators, Danny Dodaj and Jackson Clark, ranked the top five most comfortable chairs in the Saint Stephen's Upper School for your reading, and sitting pleasure. 
At number five is Saint Stephen's very own big brown chair (see the featured image above). Located in the upper school library, this plush seat is named "Mikey's Chair" because it belonged to Mrs. Price's neighbor, Mikey DeDonna. After the chair lost its place in Mr. DeDonna's home and was replaced by newer furniture, Mrs. Price requested it be adopted by Saint Stephen's Sunshine library. "Mikey's chair" has been seating students for more than 10 years now.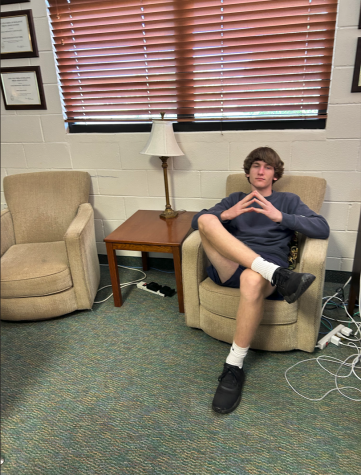 At number four we have the Danish Chairs. These two stylish loungers are located in Mr. Hoonhout's room. Two years ago, Mr. Hoonhout's mom and dad moved into a new condo, where the previous owner had left these amazing, Danish, designer chairs.
Since they fit in neither the condo, nor Mr. Hoonhout's house, he brought them to his classroom where the comfortable Danish seats can be enjoyed by many students every single day.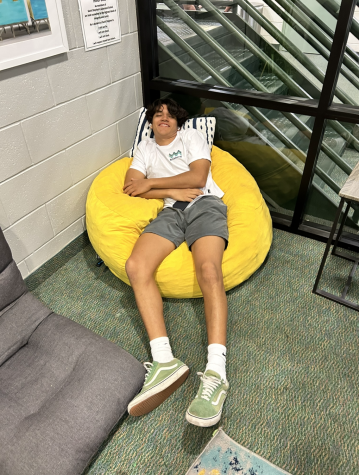 Coming in at number three are the big yellow bean bags that recently arrived in the college counseling room. These bean bags are brand new this year and came along with the remodeling of the college counseling office. College Counseling Director, Mrs. Hasbrouck, told us, "We wanted to make this area much more comfortable and student friendly, so Mrs. Vogt and I agreed that everyone loves a good bean bag, so here they are."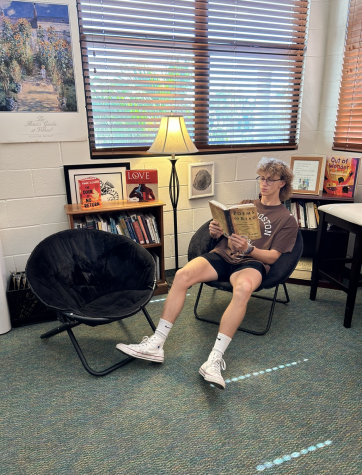 The competition for our top two spots was fierce. Coming in at number two, we have the black, circular chairs that can be found in Mr. Johnson's classroom. Mr. Johnson found them while he was helping empty out IMG dorm rooms. Mr. Johnson said, "I saw this chair sitting, ready to be thrown out. So I grabbed it and then went on Amazon and bought a chair that looks very similar." When he moved this chair into his classroom, he said that it was, "torn and so I had to sew it. You can see where I had to sew it, too, and because of that I keep a sewing kit ready in case it ever breaks because I know students love to sit in it."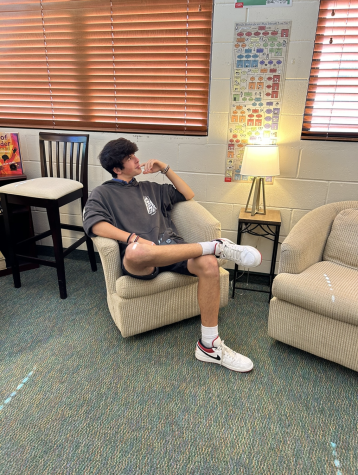 Finally, with careful consideration, the most comfortable seats in the whole upper school are the sensational white rockers that can also be found in Mr. Johnson's classroom. These chairs have been through it all, and we mean it all. Mr. Johnson wanted some more chairs for his room, so he began digging into the dark depths of the Facebook Marketplace, where he found both chairs for only $40.
He gave the guy a call, but when he showed up to the seller's house to buy them, he "had to go out on the back alley of the house where the garage was and there was a Hungarian couple smoking cigarettes by the chairs,"
So Mr. Johnson took them back home, covered them in baking soda, and let them sit on the back porch for about two months until the smell went away. Since then, these astounding world wonders have been inspiring students day in and day out. 
After our investigation on these chairs, we realized that not only are these chairs special for their comfortability, but also because they have a story. So go now, reader, and enjoy the top five chairs of Saint Stephen's. 
3
Leave a Comment