Recycling is Back!
Recycling returns to the Saint Stephen's campus.
Walking through the hallways at the start of this school year, you may have noticed something missing. The little blue recycling bins that brightened the halls were suddenly gone, along with the recycling program.
On June 1st, 2022, the city of Bradenton stopped its recycling program. Due to the lack of drivers and the amount of contaminated loads (plastic that had food waste or is non recyclable) it was difficult to continue curbside pickup. While we shouldn't rely on recycling as our only way to combat climate change, it is an essential link in minimizing the waste stream and fighting for a healthy planet. 
When environmental science teacher Mrs. Misiewicz heard that Saint Stephen's would have to stop recycling unless they came up with an alternative to curbside pickup, she got right to work. With the collaboration of faculty members Mrs. Springstead, Ms. Pommer, Mr. Carlson, and Mr.Krone a solution for a new recycling program at SSES was found. Mr.Forrester and Dr. Pullen supported the proposal submitted by the group and contracted with Waste Pro, a recycling collection company to pick up the school's recycling.
Starting January 13th, Saint Stephen's new, single stream recycling program was put into action. The program will consist of a four step process:
Students and faculty will deposit recyclables in small blue bins located in

every classroom and office.

When the bins are full, teachers will empty them into their divisions' large blue bins. 

When the large blue bins are full, maintenance will empty them in our new recycling dumpster.

Each week, the dumpster will be emptied by a Waste Pro 
By involving every member of our Saint Stephen's community, the program hopes to promote recycling and educate students about how to recycle correctly. In order for the program to run smoothly it is vital that students understand the importance of recycling and how to correctly recycle. 
Putting containers that still have food and liquid in them will cause the recycling to become contaminated and non recyclable. To avoid this, dispose of leftover food in the trash before you throw it in the recycling bin and drain all liquids from containers and cups.  Before you recycle, check the bottom of the container for the recycling symbol, making sure it has a number 1-7 in the triangle. If it doesn't fall within those numbers, it can't be recycled.  
Some common items that are often mistaken for being recyclable are:
Tissues

Paper towels 

Cookie wrappers 

Napkins 

Styrofoam
Although we may not be able to rely on recycling to fix our world, we can try to reduce our plastic usage. However If you aren't able to avoid plastic, taking one extra second to put that water bottle in that bright blue helps minimize our waste stream. Mrs. Misiewicz hopes to "encourage students, teachers, and everyone on campus to recycle right" so that we can foster environmental stewardship and protect our natural world.
View Comments (1)
About the Contributor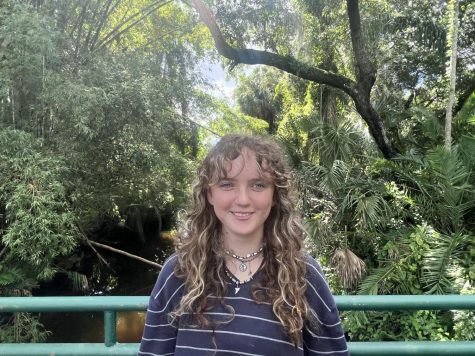 Amelia Sabo, Staff Writer
Amelia Sabo is a first year Staff writer on the Gauntlet. She enjoys surfing, snorkeling, and watching her favorite movie, How to Train Your Dragon. Her...