HONEY, I shrunk the cookies!
With the size of the beloved Otis Spunkmeyer cookies decreasing this year, complaints among the student body are on the rise.
As the advisory break bell rings, students rush to the lunch loggia. The line grows longer and longer with every second that passes…it's cookie break. 
Every day at 10am, Falcons get a chance to indulge in a warm, homemade Otis Spunkmeyer cookie. These delicious treats bring joy to every student and faculty member who bites into them. 
But this year, some students have raised concerns about the size of the cookies.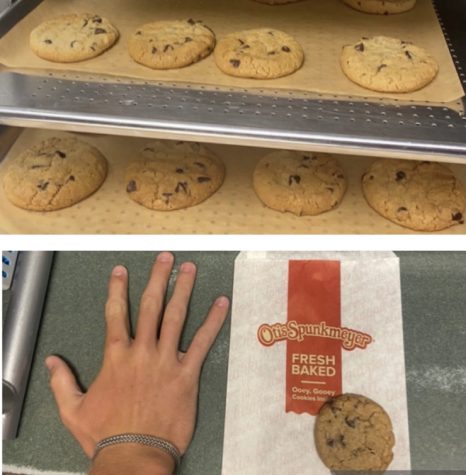 The cookies have decreased in size because of "the supplier," said Lunch Room Coordinator Mr. Ed McAvoy. "I was not able to provide a consistent shipment of the bigger cookies, so to create an equal cookie experience for everyone, we just decided to continue buying the smaller ones."
Historically, the cookies were twice as big, and many on campus aren't staying silent about this change. Senior Amelia Sabo said, "It's an atrocity that they [the cookies] are small." 
Senior Joshua Sket added, "Freshman year, I can remember the size of the cookies for only being one dollar. They could fit the whole palm of your hand." Sket expressed his "disappointment" at the size of the cookie being reduced. 
Falcons depend on the treats for their deliciousness and size to fulfill the role of a snack.
"I buy a cookie because I am hungry," senior Alyson Folkens said.  "I'll eat it [the new cookie style] and still feel hungry. I buy it to get a certain amount of satisfaction, and I am upset that I am not getting that from it anymore."  
Despite the cookie reduction, students still love biting into the warm, chocolate goodness of the Otis Spunkmeyer cookies at break time. 
Senior Julia Craig said, "I enjoy cookie break, it's a good way to keep my day going,"
2