How to survive SSES during a pandemic
Welcome back! Students have returned to campus, so we thought we'd compile some tips and tricks to help you make the most out of what's proving to be a difficult time for many.
After the longest Spring Break ever, it's finally time for school to start again, but this year, schools face quite a twist. COVID-19 has changed the basic structure of daily school life worldwide, and almost everyone has to follow new basic guidelines such as wearing a mask and remaining socially distanced.
But COVID doesn't have to dictate everything about your experience here on campus.  Here are a few hacks for making the most out of life in the Upper School this fall and beyond.  
Lunchtime has had a big change this year. To avoid bringing in more people (and things) from the outside world, the school no longer provides (at least for the time being) its beloved lunches like Chick-fil-a, Jimmy John's, and Ocean Star. So, this of course means every student is responsible for bringing his/her own lunch and snacks every day. 
It's important to bring to pack food that will keep you sustained and full of energy throughout the day, so make sure you pack a nutritious lunch for yourself. This can prove even more difficult since we can no longer use the microwaves either. But don't worry, there are still plenty of salads, sandwiches, and alternative options to prep those meals.  
Lunch is pretty late, so bringing a snack or two to hold you over until lunch is also a good idea. My personal favorites that keep me feeling full for longer are protein bars, PopCorners Flex Protein chips, dried fruit, and regular fruit. So, either find a class with a teacher that allows you to snack on something in class, or take advantage of the school-provided snack breaks whenever you can. 
We all know it's important for us to keep our distance from each other for safety reasons, but finding your space is also an important part of surviving back-to-school time. It's important to make sure you find a place on campus where you can just decompress or relax for a moment, whether that's in a teacher's classroom at lunch, in Mrs. Conn's office, or just on a walk by yourself. School can be pretty stressful, especially after not being here for five months. 
Another way to feel more at ease is to create some kind of to-do list or schedule in your phone or agenda book. Make sure you regularly check your assignment center or calendar on SSESonline and either write it down somewhere or use the site to keep on top of things. Another helpful idea might be to also incorporate any after school activities or sports into your schedule for the week so you have an idea as to how busy you'll be. This seems like a pretty basic tip, but trust me, it goes a long way when it comes to staying organized. 

Loading ...

On the topic of Coronavirus safety, we all know that masks are about as, if not more, important than any other item of clothing now, but that doesn't mean you have to wear the standard blue masks every day. Stores like Shore, Charley's Boutique, Anthropologie, Etsy, or even Amazon all have tons of cuter options when it comes to picking out a mask. 

Hand sanitizer is also a new essential to keep on you at all times. If you're into DIY's or can't find hand sanitizer anywhere in stores, don't worry: you can easily make your own at home! All you'll need is a small container to put it in from somewhere like Target or the Dollar Store, aloe vera gel, rubbing alcohol, and any essential oil of your choice for optional scent. All you really have to do is mix these items together, place them into your container, and you're ready to go. A more descriptive recipe for this can be found here.

The most important thing to remember while adopting this brand new lifestyle is that this is a big adjustment for everyone, so it really is essential that you try your best to remain as patient as possible with friends, family, teachers, and faculty. While I know this can be a pretty stressful time, especially after such a long break from school, it's just as stressful, if not more, for the teachers who had to organize a completely new schedule and try their hardest to keep students safe and healthy while maintaining as much a sense of normalcy as possible. 

Coming back to school doesn't have to be as bad as it may seem, and you can even find ways to make it more fun for yourself like bringing your favorite foods, getting fun new masks, and getting to see all your friends again. So, find your space, keep your cool, and try your best to remain positive about as much as possible.

1
Leave a Comment
About the Contributor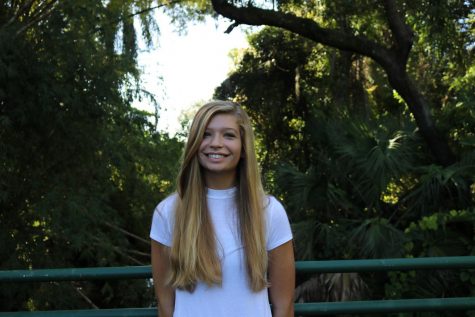 Ansley Morris, Associate Editor
Ansley Morris is an Associate Editor in her third year on the Gauntlet staff. She's a senior who enjoys going to the gym, cooking, and going out on the...