Falcon Spotlight: Technology Specialist Ms. Kelly McCormick
Know anyone that works in tech while simultaneously running a non-profit farming organization? Actually, you do! This is the story of SSES Technology Specialist Ms. Kelly McCormick and the Florida Rescue Farm.
You've probably seen Technology Specialist Ms. Kelly McCormick in the tech lab when you were borrowing a Mac charger, or when you needed help setting up a projector for assembly.
She always has a friendly smile, and she's always willing to help.  However, Ms. McCormick is definitely not just your average computer whiz.
Ms. McCormick works in tech for SSES, designing and programming the school's official website, editing major video productions, and providing tech support to the faculty. Before working at Saint Stephen's she did "freelance web and graphic design for a variety of clients."
But there's another (major) side to McCormick, one you'd never expect (being that she's techy).
When Ms. McCormick finishes up her day at school, she heads home to her farm in Dueett, Florida. But this farm is by no means an ordinary one; it's actually an amazing non-profit organization: "The Florida Rescue Farm."
The fully functioning "animal rescue" farm is home to all kinds of surrendered animals, and the farm is located 20 miles east of Parrish in the town of Duett. Ms. McCormick drives the hour to and from school every day.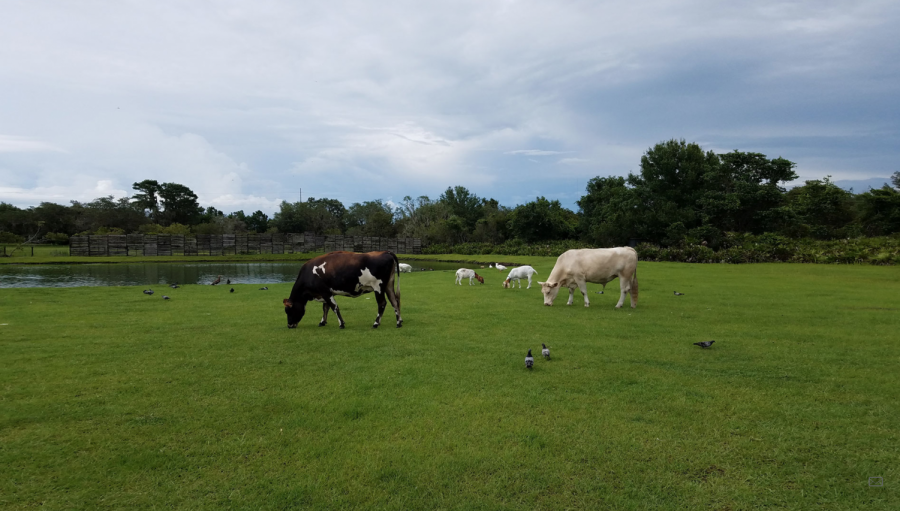 Of the roughly 100 animals on the farm, you can find cows, goats, ducks, pigs, bunnies, and roosters, too. With so many animals and five acres of land to take care of, Ms. McCormick spends almost all of her downtime at the farm. 
Florida Rescue Farm's mission, McCormick said, "is to provide safety, shelter, and dignity to farm animals in need and to educate our community through experience." 
According to McCormick, the main objective is to "take in owner surrenders from elderly people and from other people who can no longer care for their animals. This is really important to the people as well as the animals because it's always scary rehoming an animal that some people would consider food." This is reassuring to someone who has a pet cow who may be worried that by giving it away, they are giving handing the poor cow a death sentence.  
Along with taking animals from people who can't care for them on their own, McCormick and her partner Glen take in animals from local wildlife rescue groups and from the county, as well as animals legally rescued from slaughter situations. 
Aside from rescuing the animals, Florida Rescue Farm focuses on a profound respect for nature and conservation as well.  McCormick said, "We have dedicated almost half our property to a 'non-human zone.' It's an area we don't go into so the wildlife will feel comfortable and have a place to live in. It's only a few acres but it provides a home for tortoises, raccoons, rabbits, squirrels, possums, songbirds, etc." 
Ms. McCormick is the president of Florida Rescue Farm and she runs it with her partner Glenn, along with the help of volunteers and a board of directors.  One of these directors is her colleague and the Director of Technology at Saint Stephen's, Cindy Addison. 
Before starting Florida Rescue Farm, Ms. McCormick had not anticipated what it would eventually turn into. Kelly and Glenn had originally moved to the country in Duett, 20 miles east of Parrish, "with the idea of raising our own food and living more sustainably," she recounted. 
However, "When it came time to kill an animal for food we couldn't do it, and that's when we realized that if we couldn't do it ourselves how could we buy an animal that was slaughtered by someone else."  That's when they started their journey into veganism and wildlife conservation.
At that time, Kelly still worked with many animal rescue organizations and would take in abandoned animals on her own. In 2015, she decided that she needed to expand, and that "just changing my diet wasn't enough; I had to do more to help the animals and to show people what I had finally learned, that all animals deserve respect and compassion." 
In response to this, she decided to found and register Florida Rescue Farm "as a 501(c)3 non-profit."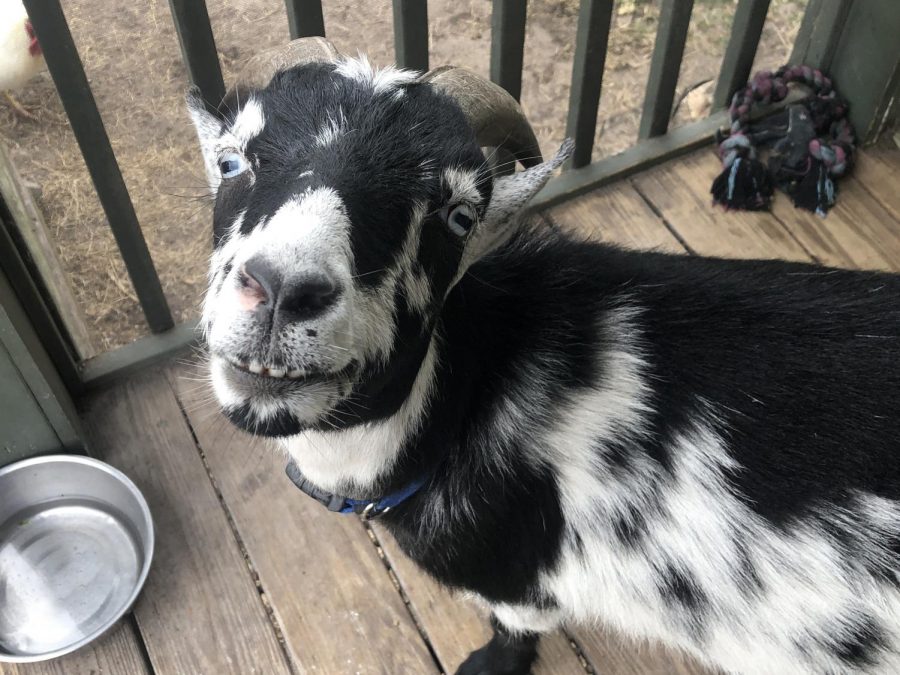 Five years later, the farm is incredibly active with rescued animals, tours, and volunteers. Ms. McCormick said she was "stunned at the public's response." 
Her farm tours are now booked all the way up until October, and they have more volunteers than needed.  Even though they help fund the farm themselves, donations have gone up every year.
Due to the COVID-19 outbreak, Florida Farm Rescue is working to create a virtual tour of their farm so that people can still experience the tour from home. 
On-farm tours visitors are taken to see the land, watch the animals feed, and visit with some of the 100 animals.
When she has a little free time, Ms. McCormick loves to cook vegan meals and said her "permaculture garden is one of my favorite places to spend time." 
Ms. McCormick encouraged the students to schedule a tour if they are interested in a visit to the rescue farm. 
McCormick said that If you're passionate about wildlife and nature conservation, the best way to help out the planet is to try going plant-based. It helps all the animals, not just the ones here."
For more information, visit the Florida Rescue Farm website below.
https://floridarescuefarm.org/
Advertisements