Falcon Spotlight: Mrs. Pommer
You may see her around school, but how well do you know Ms.Pommer beyond beyond her duties in the library?
While you may see her around campus, sitting at her desk in the library, or taking part in one of her many activities (like Academic Team and advisory), Ms. Christina Pommer might not be the faculty member that you know the best. 
Her official title is the Library Director and she's found most often among the stacks of the library, but her presence doesn't just end there. She also plays an important role in many classrooms, offering help to students writing papers or researching topics. Overall, she is a staple of the SSES community.
While Pommer tends to work behind the scenes at Saint Stephen's, she plays a prevalent professional role outside of our school's community as the President of the Association for Independent School Librarians. 
The Association for Independent School Librarians (AISL) is an organization run by librarians that, according to the AISL website, seeks to "provide a means of exchanging information, ideas and best practices among a network of independent school librarians."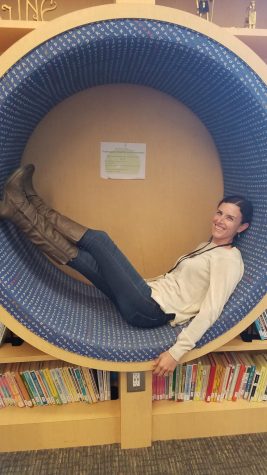 How did Ms. Pommer go from SSES Library Director to the president of a national association? Well, it all started when she was working as the assistant director of admissions at her high school. 
Pommer explained that "after I graduated with a degree in political science and in writing, I wanted to focus more on the writing aspect. After talking with the librarian [who worked] there I realized that he was doing everything that I had wanted to be doing all along." 
And while working with teens isn't something that's for everyone, Ms. Pommer mentioned that it's actually one of her favorite parts of her job. "[I love] the unpredictability of every single day. While you might not always see it in the classroom, teenagers are intensely curious all the time and I like the way they're often exploring ideas or poking at the edges of stuff to see how its put together." 
Some of her favorite parts of her job are the conversations that she has with the students, whether in the library or during Academic Team, the extra-curricular club that she runs after school and during lunch. Academic Team is a trivia team-style competition that Saint Stephen's students have participated in since the early 90's.
For Ms. Pommer, one of her proudest moments was when the 2016 academic team won the state championship. This team was made up of Saint Stephen's students Joe Class, Ethan Leuchter, Hannah Sage, Alex Siegal, and Vanessa Yan as well as one Lakewood Ranch student.
In addition to working with the Academic Team, Pommer also helps out a lot in the classroom.  For instance, she often has a hand in with AP Lang for their month-long project. 
During this assignment, the AP Lang students take an issue in the community and present it to Mr. Forrester, Mrs. Conn, and Dr. Pullen. They are tasked with examining the problem and providing a creative or entrepreneurial solution. 
Take last year's class, where students fought for the creation of a library "study pod" and also proposed a new late-start schedule. This year, both of those ideas are a reality and Ms. Pommer was there to see them both through. 
"[I really liked] seeing how well they did after all of the hard work and preparation… and how their work led to a change in the school and the library,"  Pommer said regarding the creation of the study pod, a soundproofed cube now standing in the corner of the library. 
One of the most intensive parts of her job as a librarian is instructing and assisting in the ninth grader's research paper in Ancient World History with Mrs. Paleczny. This research paper is the biggest project that most students do as a freshman, and it involves a lot of work.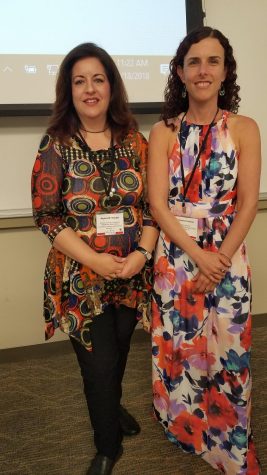 For around four-and-a-half weeks the entire freshman class has to learn how to research, write, and cite all of the information it takes to write an in-depth research paper about a historical topic of their choosing. 
For Ms. Pommer, this project is so important because it utilizes one of the most important skills that anyone can learn: researching, and researching correctly. In the digital age, finding and examining information has changed in the past 20 years and as such, being able to analyze the information that you receive is critical. 
Pommer said that "We need to be cautious about all of the information that comes at us all the time. I think that that's why libraries are valuable, as a space to go and look at all of that information, whether it's in print, digital form, or coming at you on twitter, and to go and question: is this true and what's its purpose?"
While managing the library is Ms. Pommer's main responsibility here on campus, she doesn't hesitate to take part in other activities within the community. NAIS Member Voices' (National Association of Independent Schools) podcast invited Ms. Pommer as a guest speaker this past December.
NAIS Member Voices is a podcast that, according to their website, "features stories from the thoughtful, hard-working individuals who make up the independent school community." This podcast discussed topics such as the way that technology has shaped our lives to what exactly Ms. Pommer does as a librarian. You can listen to that episode here.
A couple of things that Ms. Pommer wants all Saint Stephen's students to know is that EBSCO, an online database, is one of the best resources that the library has to offer and that we should all use it more. 
In addition, she wants everyone to know that she wishes that students should "know that it's not a big deal to come up and ask me a little question or get unstuck with a problem. That's what I'm here for."
Overall, Ms. Pommer has one of the most complex and impactful jobs at our school where she provides not only information to the masses but also teaches the ability to all of us how to find it ourselves.
So, hey, you should stop in and see our local librarian the next time you have a problem, question, or want to hold an interesting conversation, because the library doors are always open.
1
Advertisements