Between the Bells: Mr. Santa Maria
Following the departure of Mr. Peterson, the Upper School English department needed a new English teacher. The Gauntlet sits down with Mr. Santa Maria, who has stepped into his role fabulously.
Hang on for a minute...we're trying to find some more stories you might like.
Last year, the English Department lost some key members of its staff, both Mr. Peterson and Mrs. Broaddus (who slightly changed roles).  This left big shoes to fill.
Enter Mr. Mark Santa Maria, who has become a popular addition to the upper school staff.  Recently, I got to catch up with our new upper school English teacher, who talked about his life and his journey getting to Saint Stephen's.
Q: Where did you work before SSES?
A: I worked at the Cambridge School of Weston, in Weston, Massachusetts.
Q: What made you become an English teacher?
A: I found myself taking more English courses more than anything else in college and decided there must be something to that. I then found out about a local university that had a master's degree option with a teaching certification so I decided I'd give that direction a try.
Q: A term often used at SSES is "the Saint Stephen's community." What's been your experience in the community so far?
A: My experience with the community is that it has been very welcoming. People who had no need to have helped me out from the beginning, going out of their way to see if I was understanding things.
Q: What is the coolest adventure you've been on?
A: My coolest adventure has been the adventure of the mind while teaching Moby Dick, which is my favorite novel. My head sometimes hurts in a good way after teaching class.
Q: What are you most passionate about?
A: I am most passionate about teaching Moby Dick and Kurt Vonnegut, which are my favorite book and author.
Q: What brought you to Saint Stephen's?
A: I was brought down to Bradenton for health and weather issues, and I am glad to have found such a great school and great home here in Bradenton.
Q: What do you expect from your students?
A: I expect an ever-increasing intellectual curiosity from my students.
Q: What would be your spirit animal?
A: My spirit animal would be a sperm whale, but they don't run, so when I'm running, my spirit animal is a wildebeest.
Q: Who is your inspiration?
A: My main inspirations for teaching were a former Department Chair named Mary Page, and two teachers I had when I was a kid: Mr. Martinez and Ms. Wiley.
Q: What would be a dream vacation for you?
A: My dream vacation is one that I already had many years ago and I hope to relive during spring break… beach in the morning, spring training game in the afternoon, March Madness at night… how can you beat that day?
Q: What is your favorite place you have been in the world?
A: My favorite place is my parents' house in Maine. It is right next to the Penobscot Bay and you can watch boats go by from the porch. I love changing landscapes.
Q: What is your favorite sports team?
A: My favorite sports team is Maryland Basketball. I have been a fan for over 40 years.
Mr. Santa Maria is wrapping up his second interim teaching in the Saint Stephen's Upper School. He has a wonderful bond with all of his students and is gladly being welcomed into the Saint Stephen's community.

About the Writer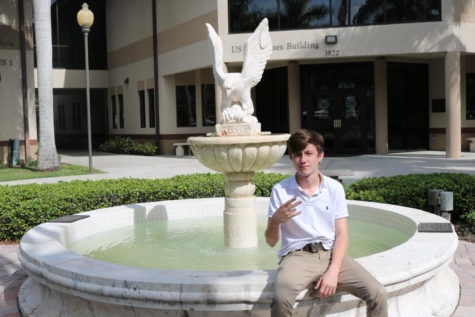 Jack Barnes, Staff Writer
Jack Barnes is new to The Gauntlet for 2018-2019. Jack likes playing soccer in his free time.