Alumni players return for fiery soccer game over break
Hang on for a minute...we're trying to find some more stories you might like.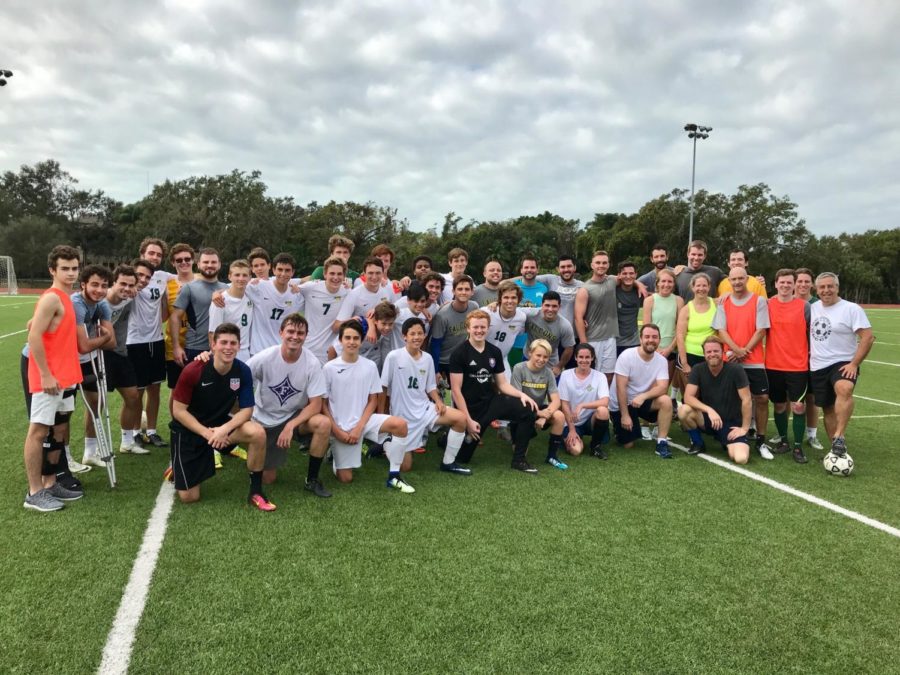 The day after Christmas one of Saint Stephen's greatest traditions continued it's dominance of the holiday break: The Alumni soccer game.
Organized by Alumni Director Laurie McFeeley, hordes of holiday-bound alumns return to play soccer out on the stadium field.  The coaches organize the games.  This year, as in years past, there was a tremendous showing of around 45 players.  In the crowd, there were sightings of Dr. Pullen, Mr. Moore, and Mr. Whelan, who came out to support the event.
"In the middle of an intense season it was nice to have a relaxing day to enjoy the game with old friends," said Junior Noah LaBelle. "We are currently undefeated and in the top 15 in the state, so the pressure is on us, but it was nice to get out and play just for fun."
The alumni game involved players ranging from the class of 2001 and up to current college freshman, like last year's captain John Boyd.
Saint Stephen's has a rich history of producing talented soccer players. The competitive side of the alumni game is always apparent; one can see the players, even after all these years, still sprinting for loose balls. Many of the alumns had played at the collegiate level, and it gave a bit of motivation to the current players who want to follow in their footsteps.
Former Falcon captain Jonathan Boyd said, "It's nice to see some former teammates. The bonds we made together while I was here are unbreakable. Its nice to know at least once a year I can see the people I've shared some of my best memories with."