The case of the missing free time…
For most Saint Stephen's students, there's still something missing... FREE TIME!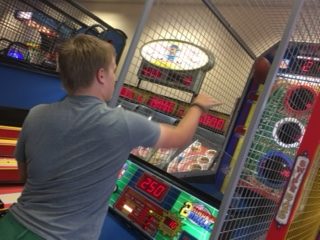 Hang on for a minute...we're trying to find some more stories you might like.
There are many positive aspects to going to school at Saint Stephen's: the smaller classes, the utilization of technology, and the good quality education that serves to prepare students for college. One thing that many Falcons find severely lacking during the school year, however, is free time. Many students find that their time during the week is completely taken up by schoolwork and after school activities, such as clubs and sports. They end up having to stay up late to socialize or watch TV, which makes them tired the next day and affects their performance at school. While most people would just tell these students to not to stay up late to do these kinds of things, everyone needs time to themselves, and some of these students can only find that time late at night. This lack of liberty affects high schoolers here at Saint Stephen's and beyond in significant ways, and this permanent state of "busy-ness" is caused by several factors.
One of the central time-consumers is the amount of homework students have every night. Because Saint Stephen's is a college prep school, classes here are usually rigorous and fast-paced. The majority of teachers assign loads of homework in the forms of worksheets, essays, and projects to help students learn the material. This homework can take up a lot of students' time every night. The Gauntlet staff sent out a survey to find out more about this. Out of the 32 Saint Stephen's high schoolers who took the survey, 13 of them said that they spend an average of 1-2 hours doing homework or studying every night, and 11 of them said that they spend an average of 3-4. There were even five students who said that they spend an average of 5-6 hours! That's a lot of time that is taken up by homework and it cuts considerably into students' free time.
Another thing that cuts into students' personal time is after school activities. All of the students who took the survey said that they participate in an after school activity that is at least an hour every day for two or more days each week. Only about a third of those who answered said that they participate in this kind of activity sometimes; the other two thirds said that they do so for the whole year. Students all across the school participate in activities like sports, clubs, and community service. After school activities are important for high school students; they allow them to have a change of pace from their busy school day and to try out new experiences. Sports allow students to push themselves in areas other than academics and can create bonds between teammates, while clubs allow students to explore their interests and work together in a less structured environment. However, they can also be a source of stress, as they leave students with less time to handle academic tasks. This paired with the large amount of homework students usually have can leave students with little to no free time, depending on the day.
Furthermore, it seems that Saint Stephen's is unique when it comes to homework. According to a 2012 article by The Huffington Post, students in the U.S. spend an average of 4 hours a week doing homework.  A week! That means that the average American teen spends less than an hour each night, which is much less than what most Falcons do. Some people would argue that SSES should follow the example of other U.S. high schools, while others argue that it's the extra homework that makes Saint Stephen's such a good school. Either way, most would agree that the problem of free time needs to be solved one way or another.
In order for students to get more free time they need to spend less time doing either homework or after school activities. Because after school activities allow them to spend time being active or exploring new hobbies, most would agree that they would much rather have less homework. Specifically, there should be less written homework for many reasons. One is that written homework is only helpful for some people. Most written homework is meant to help students learn the material that they are being taught in class. However, everyone has a different learning style, and there is no way that one form of written homework can help each and every student. The students who took the survey were asked to rate how helpful their written homework is on a scale of one to five. The most people gave it a three, showing that many students do find their written homework at least somewhat helpful. However, three people gave it a one and nine people gave it a two, showing that there are some students who do not find that it fits in with their learning style.
If what they are saying is true, they might learn better if they had more time to work with the material in a way that is helpful to them, as opposed to spending hours on written homework that isn't as helpful. While written homework should not be taken out completely, the amount of it should be reduced to allow other students more time to learn independently. Some might argue that they require a lot of written homework for practice and that they won't learn as well if they have less of it, but this can be fixed easily by introducing optional written homework, which students can complete on their own if they feel as if they need it. This way, they can be more in control of their own learning and can gain more free time in the process.
Some, however, don't agree with this. Both teachers and students argue that having required written homework is what encourages students to learn the material and that there are some students who, without this incentive, would simply not do anything to learn. Many others don't know how the problem should be handled.
Ms. Wildes, when asked what she thinks of the problem, answered that while "Free time in high school gives time for students to pursue their interests and passions," she believes that "homework gives students valuable practice of concepts and problems." She said that if students are given resources to help them learn concepts on their own, there will always be some who simply won't do anything and learn nothing as a result.
However, those who are advocates for less homework would answer by saying that learning the material is the responsibility of the student and that they shouldn't need homework to compel them to learn what they need to know for class. Dylan Zoller, a freshman on the other side of the argument, said that "Sometimes homework can be a nuisance, especially when people have to focus on extracurricular activities like sports or community service. I think that free time for students is important because it gives them some mental health time with activities that they can actually enjoy, instead of homework when the student gets stressed out and could even be doing it wrong."
He, as well as other students and teachers who agree with him, believes that too much homework can only add to a student's stress level, and that everyone needs to have some down time to think and to be themselves. Mr. Revard also agrees with Dylan. He said that he tries to give his students very little homework and mostly allows them to study concepts and vocabulary on their own and however they want. He also believes that free time is important for students of all ages and that it gives them "time to think."
While there is a lot of disagreement over how the problem should be handled, most people agree on one thing: that free time is important for all students. Everyone can agree that free time allows students to relax, explore their personalities, and pursue hobbies. While homework helps students learn school material, free time can help students learn about themselves.