How to be fashionable in dress code
Shreya's tips on how to dress in code and in style
Feeling a little uninspired on account of the Upper School Dress Code? Lucky for you, I have a few tricks up my sleeve to help you cruise into school with style and find fashion in between the lines of our everyday dress code. Whether you're a prepster or artsy, or a crazy-fun mix of styles, you won't want to miss these tips, tricks, and finds!
This year, some changes have been made to dress code that you may not have known about. Sweatshirts, sweaters, and jackets don't necessarily have to have a college logo on them. A sweater in floral print or a sweatshirt with an Under Armour logo is completely appropriate. For the ladies, you can sport blazers with a modest top of your choice, or sport a blazer on an appropriate length dress. However, shorts and skirts have to be longer than four inches above the knee. But no worries! I have just the solution for all of you high fashion and preppy trendsetters!
First things first, blazers are in. To all of our handsome men out there, a blazer shows confidence and power. And to all of our trendy ladies, a blazer screams class. Take Ben Kalish for example. Recently, he sported a formal blazer and classic white, collared shirt. Ben describes his getup as "comfortable yet classy." On the ladies' side, Sabel Duncan says her go-to article of clothing is a blazer. In preparation for a fashionable school year, Sabel purchased blazers in a variety of colors and styles. In her perspective, "the best part about blazers is that they are versatile and completely worth the investment!"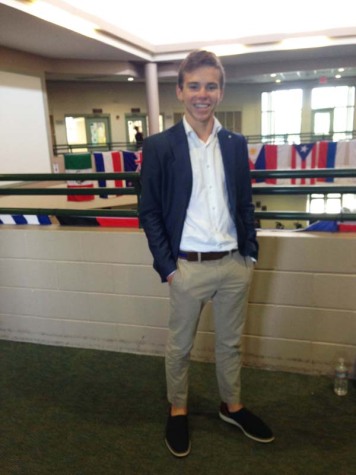 Blazers aren't the only way to spice up an outfit. Cheyenne Fauvel takes fashion into her own hands by taking risks everyday with her outfits. Mixing prints and adding pops of color to her outfits is just one way that Cheyenne stands out. In order to stay in dress code, Cheyenne wore a floral-print dress with a white, collared shirt on top, combining the best of both worlds. To accent the colors in her floral printed dress, this queen of the artsy style wore a pair of pink heels. Although many perceive heels to be too uncomfy to wear to school, Cheyenne doesn't shy from putting fashion before comfort, "at least most of the time" she said.
Life gets crazy and sometimes we're forced to choose the first thing in our closet. Sophomore Cesár Ricaud (see featured picture below) describes his style as "laid back." He threw on a comfy salmon-colored collared shirt with blue pockets, coupled with slim-fit blue pants. If you need some points, follow Cesar's daily routine of finding the colors in your shirts (or pants) to accent the bottoms. Matching colors and prints gives off the impression that you've put effort and time into the outfit, even though it took only seconds to match! Katie Pierce, 9th grade, is often rushed out of the house every morning and is on a time crunch to get to school. In order to stay comfy without losing that "chic look," she pairs a neutral-colored sweatshirt and a classic pair of blue jeans to wear to school. This look is effortless, yet seems appropriate for the college prep setting.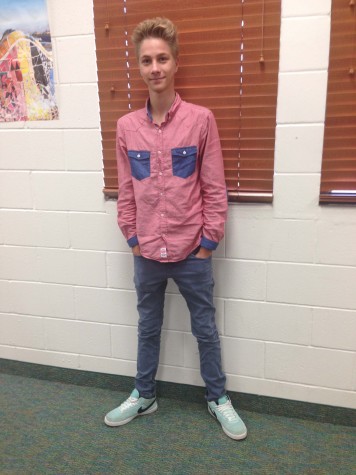 The most studious, professional style is definitely the preppy look. Senior Bryce Liebel is seen wearing pearls and oxfords on a daily basis. Bryce is a senior, and ready to clock out of the everyday school routine but it is clear that she puts effort into how she looks every morning. Another prepster, Reagan Sullivan, has also made the best of the Dress Code. Basically, if your shepshirt or sweatshirt can be folded to resemble the collar of an oxford or polo, you're good to go. Reagan makes her collared sweatshirt even more trendy by monogramming the back. Her fashion motto is, "Everyday should feel this good."
As for all of you athletes out there, whether you're a walker, runner, or swimmer, there's always time to look good. Sophomore Lindsay Leskinen is a dedicated soccer player who's is always on a time crunch. When asked what she would wear if there wasn't a dress code, Lindsay said, "I would probably wear athletic shorts and a T-shirt."
My tip for individuals in similar positions is to have pants, or shorts of appropriate length, and comfy shirts in colors that can easily be mixed and matched. Some great places to purchase versatile tops and bottoms are Nordstrom Rack, Target, and American Eagle. Lindsay, for example, wore a navy blue shirt and pink pants. This is an effortless look, yet it gives off a nautical, fashionable vibe. Even stuck in an ankle brace following a soccer injury and managed to make her look trendy and fashion-forward.
The hipster trend that's dominating the nation is less prominent at our school due to the problems it has conforming to the school dress code. To work studs and tie dye into the dress code may seem impossible, but there is always the option of sporting a studded backpack or belt and a tie dye pencil case.
Students in the Upper School have been faced with the problem of what to wear every morning. When Lane Barnes was asked what she considered when deciding what to wear in the mornings she answered, "Mr.Forrester, the weather, and color matching." Fear no more, the tips I have provided are completely in dress code, and easy to put together.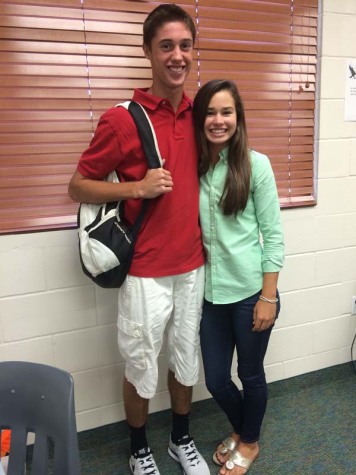 Advertisements