Falcon Spotlight: Mr. Johnson
Taking an inside look at one of Saint Stephens most interesting and fascinating teachers.
If there is one word to describe English teacher Mr. Johnson, it would be "humble." With his creative teaching style and friendly smile, Mr. Johnson stands out as one of the best teachers at Saint Stephen's.  
I, like many others, love to step into Mr. Johnson's room, lit with only lamps and the sunlight, to share about our weekends or even play a game of ping pong with him. Although students know about his teaching life, let's look at what goes on in Mr. Johnson's life beyond the Saint Stephens classroom.
At home, Mr. Johnson spends his life with his wife, Emily, and his two sons, Edgely and Leighton. Apart from being a father, Mr. Johnson has many roles in and around his community.
Mr. Johnson is committed to the 'Young Life' program, a Christian ministry reaching out to middle school, high school, and college students.
Johnson said, "'Young Life' came to Manatee when I was a senior in high school, and I did not like it." Slowly, the program grew on Mr. Johnson until he found himself volunteering, pouring hundreds of hours into this program.
In the early '90s, Mr. Johnson got his first teaching gig at Wakeland Elementary. "I was twenty-two years old and taught twenty-nine-second graders." After four years of teaching, Mr. Johnson switched from elementary school to working full time on the 'Young Life' staff. Through 'Young Life,' Johnson was able to work with kids at Manatee High School for five years.
Shortly after, Mr. Johnson started teaching at an elementary school I attended, Rowlett Elementary. "The principal at Wakeland and I were very close. While I was at 'Young Life,' Brian [the principal] started Rowlett. He hired me for just a year before I went back to 'Young Life'".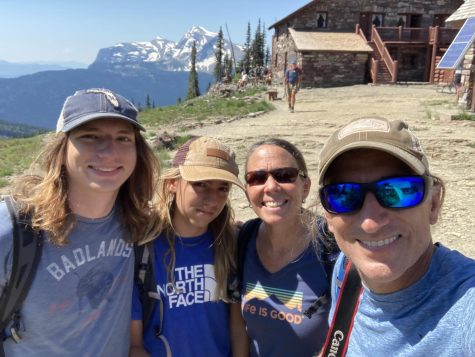 In 2015, Mr. Johnson "Decided it was time to come back into the classroom" and was "most passionate about teaching literature." Johnson taught at Southeast High School for three semesters before receiving a call from Mr. Moore, the English Department Chair for Saint Stephen's, who asked for Johnson to teach literature at SSES
The friendship between Johnson and Moore grew on Sunday mornings by playing "Ultimate Frisbee with the 'Young Life' kids on what is now the football field before it was built." 
Starting at Saint Stephen's in 2016, Johnson began as an eight grade English teacher for the Middle School. After three years of teaching there, he moved to the Upper School English department, where now he teaches a wide range of classes such as poetry, advanced placement language and composition, Nobel laureates, and directing literature. 
When asked what his favorite memory at Saint Stephen's is, Mr. Johnson confidently responded with, "The 'Pioneer Plunge' trip [a week-long overnight IQ trip in the mountains of North Carolina] with the class of 2023. It was a culmination of all the memories I had with that group starting in eighth grade." Johnson further explained, "It was such a fun moment because it was my two worlds colliding, the world I had before Saint Stephen's (working with high school kids in young life) and the Saint Stephen's kids that I feel so connected with for an amazing week."
When it comes to school, the moments that matter the most in class to Mr. Johnson are the ones "during a Harkness Discussion, and we have a moment, like there is some revelation or experience of something good, true, or beautiful." 
Mr. Johnson is notorious for only riding into school on his bike. If you get to school early enough or stay late, you can see Mr. Johnson cruising along the Saint Stephen's campus. "Riding on my bike is nice because I have my triangle." Johnson calls it, "My house, Publix, and Saint Stephen's. Getting to work every morning in the dark is a very peaceful way to get into Saint Stephens. I get to avoid all of the business and enjoy the calmness. 
On top of everything else, Mr. Johnson loves the outdoors. He can spend half of his life in the woods and still not get enough of it. When Mr. Johnson isn't teaching or volunteering his time, he spends it outside, camping by himself or with family and close friends. Mr. Johnson believes that "everyone should spend time outside. It is good for the mind, and it is good for the body".
Mr. Johnson is an exceptional teacher at Saint Stephen's and shines his optimism every day in each one of his classes. With his long teaching experience and thousands of hours worked into 'Young Life,' Johnson knows how to bring a life story into anything. 
5