Changes coming to Student Council?
Major changes could be coming to Student Council.
Hang on for a minute...we're trying to find some more stories you might like.
Student Council's role in the Upper School and across campus is something of a mystery to most. So when we heard there was some "change" brewing for the Council, we had to take a minute to figure out just what the Council is, and what those changes may mean.
Student Council is a governing body of students that acts as a liaison between the student body and administration.  It also coordinates student events throughout the year, and it helps to foster school spirit.  Effectively, if a student wants to see change, or take part in the direction of the Upper School administration, they can meet with the council or try to get on the council.  
Few people know it, but Student Council meetings are open to the public.  Meetings are every Tuesday at lunch, and if a student wishes to voice something, they may attend.
StuCo is made up of class representatives from every grade level and an "Executive Board," consisting of a president, vice president, secretary, treasurer, publicist, and member at large
Like any well-run government, StuCo has a constitution that directs its actions and identifies its functions; the constitution covers elections, meetings, fundraising, and spirit event protocols.
When I first arrived in the Upper School, I thought Student Council was pretty insignificant, just another school club, but as the years have gone on, I've realized the importance that StuCo's influence has on the student body. The student body looks to council for direction, communication, major events, and as a voice in the goings-on on campus.
As a senior class representative this year, my hope for the council is that we represent the student body as well as possible; we exist for the people, and our number one goal should be to please the people.
For many years the organization has been relatively informal, some would say unstructured, but Student Council has many responsibilities and tasks to take care of, and if they don't act effectively, everyone knows right away.
Membership on the council is an elected duty that comes with requirement to serve the student body as the student body sees fit. The council is not a dictatorial government; Student Council should act based on the will of the people.
So what are the "changes" that have been reported? 
One major change recently was the way a president is to be elected. In years past, a candidate had to serve on Student Council for at least a year before being able to run. Last year, this methodology was changed to an open election, similar to America's democratic election process (anyone could run).
Open elections are great, but they can can also lead to ill-prepared presidencies. On the other hand, the openness brings new, fresh ideas and energy to what can become a stagnant council.
Other potential changes have come on recently when senior Carter Beckstein presented a various new ideas and proposed changes to reorganize student council and revise the constitution.
According to a source in the Student Council, Beckstein suggested proposals including cutting the Executive Board to only president, vice president, secretary, and treasurer, leaving out publicist and member at large.
The publicist position would be then become a position filled by a presidential selection.
Perspectives regarding potential changes vary widely.  I think open elections are a great way to elect a president for student council; it opens the door to any good leader.  However, many think there should be regulations as to who is elected (such as that the person must be someone who can handle the responsibility). 
In terms of removing positions such as member at large and publicist… As a new member of StuCo, I would say those members are extremely important. Everyone in Student Council serves an important purpose, whether it's as a freshman class rep or senior president: we need them all.
Going forward, it will be interesting to see the direction that StuCo takes.  Vote in the polls below to add to the conversation.  Perhaps you could be the next president.

Loading ...

Loading ...

About the Writer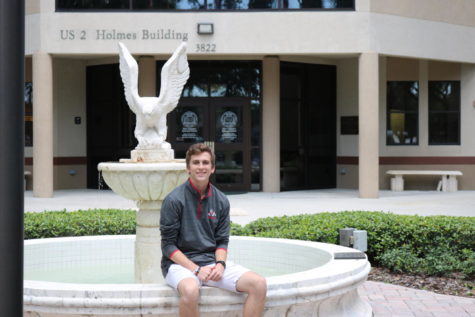 Cade Westberry, Sports Beat Writer
Cade Westberry is a new member of The Gauntlet this 2018-2019 school year. He covers all things sports for our team as the Sports Beat Writer.