Student victory in student-faculty basketball game is first in decades (photo gallery)
Wednesday in Hoagland Arena, in front of a sold out crowd of Falcons, a well-coached student basketball team finally beat the faculty in a nail-biter. Photos courtesy of Mr. Glaser and Ms. Grady.
Hang on for a minute...we're trying to find some more stories you might like.
On Thursday, the anticipated student-faculty game played out.
The entire school, ranging from the pre-k students to the seniors, sat in the stands of the Hoagland Arena and watched as the students and faculty battled for the win.
The students were led by a talented coaching staff made up of seniors Zoey Block, Truman Carlsen, Ben Tobio, and Noah LaBelle. The teachers were coached by the Varsity boys basketball coach, Mr. Dave Ruemenapp.
In the dying seconds of the first half, Senior Jarret Millican scored a buzzer-beater three-point shot to put the students up by three.
The game was close all the way to the last minute, when the student eventually edged out their learned opponents 42-39.
"The teachers couldn't handle this work," said Senior Jake Manning during a post-game interview with The Gauntlet.
Senior Rena Parent said, that "[She's] been watching the student-faculty game since pre-k, and now I got to play in it and win!"
The students secured a historic win, their first win in sixteen years.
"I was amazed by the spirit the students had, and I was surprised at how seriously the students took this game. It was loud and fun, and I had a great time," said Reverend Rich, who took part in his first game this year.
The Gauntlet asked Coach Ruemenapp how the students were able to win this year and he said, "The student team has vastly improved."
In the end, the students and faculty shook hands and took pictures together. This event is one of the best traditions at Saint Stephen's because it brings the entire school together and promotes spirit.

About the Writer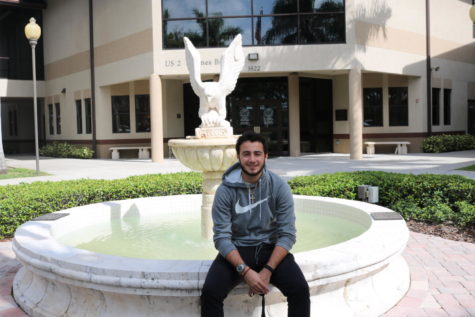 Mark Gharby, News Editor
Mark Gharby joined The Gauntlet for the 2018-2019 year. He is passionate about soccer.