Oh the places they'll go! Seniors declare college choices at Pennant Ceremony
Senior Falcons shared their college choices. Here's look in at the many places they'll go.
Neo Cho, Contributing Writer
May 5, 2017
Hang on for a minute...we're trying to find some more stories you might like.
After a long and tiresome college application process, students of the Class of 2017 are beginning to celebrate college acceptances and their last few moments here at Saint Stephen's Episcopal School. On Wednesday, April 26, the entire Upper School student body gathered in the commons for the annual "Pennant Ceremony," to commemorate and congratulate the senior class on their college acceptances.
This year, there will be 79 students who will go on to represent SSES and continue their education at colleges all over the globe, such as Yale University (Connecticut), University of St. Andrews (Scotland), HEC Montréal (Canada), University of Florida, and Newman University (Philadelphia). Congratulations Class of 2017! Below is a list of all the colleges that the senior grade has been accepted into.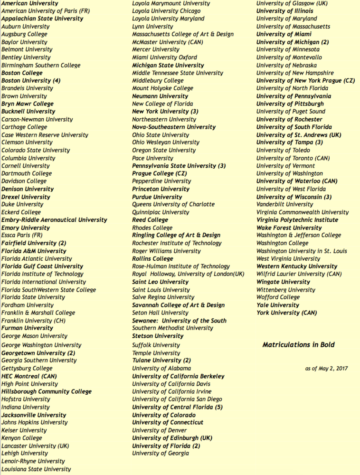 Students from the senior grade are beginning to realize that these weeks leading up to graduation will be the last with their classmates. Senior Alexa Baroncelli reflected on her years during the pennant celebration. "I think it's a cool tradition, it's fun to get to see how far away everyone is going. And it feels very surreal, for years you see everyone else graduate and it feels so far for so long until it sneaks up on you and you realize you're almost to the end." Senior events are a very emotional time for the students who have all been a key part of this tight knit community.
Of course, the senior grade couldn't have accomplished all these great results without the advice and help from college counseling's Mrs. Schumann, Mrs. Moss and Mrs. Diamond. Throughout the year, Mrs. Schumann and Mrs. Moss helped us with our college decisions by reminding us about deadlines, providing us with many forms to fill, writing recommendation letters, and helping us make decisions on where we want to go to college.
Mrs. Schumann said, "We are super proud of every single senior and the college choices they have made. I can't stress enough that the process is different for every student and we all need to celebrate the diversity of our choices!  It is fun to see the wider geographic diversity this year and that there are multiple students attending the same universities. SSES will be well represented in the Midwest and out of the US, which is a bit different and exciting."
Mrs. Schumann also shared some words of advice, "My word of advice is to stay true to yourself no matter what is happening around you. No matter where you are headed, be proud and go at with everything you've got. Don't look back or second guess yourself- it's all an adventure!"