Michael Phelps, the most decorated Olympian of all time, once said "If you want to be the best, you have to do things other people aren't willing to do." 
Freshman swimmer Blair Wootson lives by this motto every day. A dedicated swimmer on the SSES swim team, as well as a standout for the Sarasota Sharks, Wootson is already tearing things up as a 9th grader. 
Breaking high schools as a freshman doesn't happen everyday, however this year alone Wootson has broken three. He has set school records for the 100 Fly, 100 Breast, in September and he broke his own record for the 200 IM that he held for a year. 
His coach Paul Suprenand thinks highly of Wootson.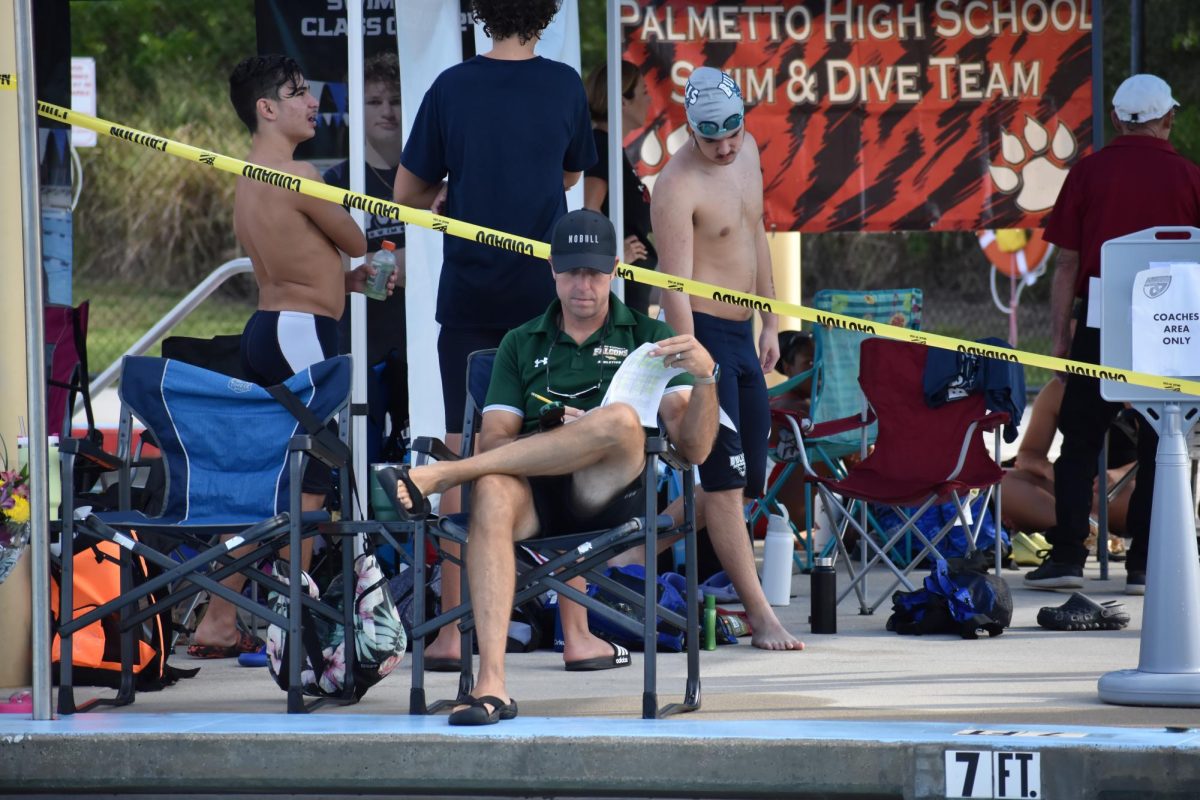 "Blair has an intensity, matched with talent, that top athletes earn through hard work, dedication, and a steadfast focus on being their best. He is an intimidating opponent," Suprenand said.   
As a Falcon swimmer, Wootson was awarded MVP last year and he has big aspirations for the future. 
Wootson started swimming when he was 13 months old, while most of us were learning how to walk. His dad, a former aquatics director, believed it made the most sense for him to learn how to swim for safety purposes. By two he could swim independently, free of all supportive devices. At four years old, he could swim freestyle and breathe for the stroke. Things just progressed from there.  
Coach Suprenand predicted that this trend is going to continue.
"By 2024, Blair will be taller, meaner, and faster than this year and maybe set another school swim record or two." 
To be great, you have to make sacrifices other people aren't willing to make. For Wootson the average school day looks like this. Wake up at three or four am depending on the day, have a two-hour practice and then begin the academic day. 
By lunch Wootson has already finished his classes and is ready for yet another two hour practice with his club team, the Sarasota Sharks, on the national team. After a long day of school and TWO swim practices Blair is ready for an early night's sleep to be prepared for the next day. 
Motivation is something Wootson excels in. When asked what motivates him to go out and swim everyday, he said it was the love of the sport. 
"I love the sport, it's always hard getting into the water but once I'm in I feel free. It's one of the things I'm really good at and I also enjoy competing against people my skill level." 
Blair isn't just making waves in the pool.  He is also a huge presence online, where he has an influential Instagram page with over 100k followers.
@swimmerblair (his Insta handle) is a reporter and influencer. On top of that, Wootson is also an activist who wants to make the world a better place.  When he was in middle school, he jump started a social movement that reached thousands of people, including Olympian swimmers.  
"When I was 12, the George Floyd incident happened," Wootson said, "and I remember wanting to do something about it. My parents weren't comfortable with me protesting so I went to the pool and sat down and made a video and called it a "Swim 50 For Change." 
The idea behind the Swim 50 for Change challenge is that you swim a 50 meter swim "with a purpose" and ask your followers to get on board with the cause, either through donations or awareness. 
Wootson says the challenge wasn't just about one cause.
 "It wasn't just for the Black Lives Matter movement," Wootson said. "It can be Save the Turtles, Save the Whales, stop polluting, and climate change."
Wootson's 50 For Change challenge received national attention, and famous Olympic swimmers such as Jamal Hill, a paralympian and Cullen Jones, the first African American male to hold a world record in swimming, have participated in the movement. They have both swum a 50 and pledged to make a change in the world. 
With all of his talent and energy, Wootson has huge aspirations for the future. 
"The end goal is Olympics. I want to make it to the Olympics by 2028. That's going to take a lot of hard work and dedication but I'm prepared for it." 
7