Senior Survival has senior Falcons highly engaged
---
Finally, after an entire school year of waiting and rule-making, the seniors finally started the senior student-led survival game. This game takes place entirely off campus and is completely separate from administration. It is not a Saint Stephen's event.
If you don't know what that is, here's an inside scoop, from a senior, on what the event is all about.
The senior challenge is a game where each senior who is participating is given a target to "eliminate" with a water gun before they are eliminated. This game has been a tradition at many high schools for a long time. It's a fun game to end off the long and somewhat difficult senior year.
The rules of engagement are:Rule 1. A player can eliminate their target with a liquid water gun, unless they are wearing swim goggles. 
Rule 2. There are safe zones. The safe zones consist of all of Saint Stephen's campus, however, the parking lots are no longer safe zones after 3:15 PM. The AP testing sites, the parking spaces to the AP testing sites and the workplace of the person are also safe zones. The parking lots to the workplaces are fair game, however. 
Rule 3. Once you eliminate your target, you must take a photo with your target and send that picture to the senior assassin Instagram page so that everyone knows who is eliminated and when they are eliminated.
Rule 4. When you eliminate your target, your target will tell you who their target was and you now have to hunt them down and eliminate them from the game.
Rule 5. There will be purge periods. A purge period is a point in time when there haven't been enough eliminations, so everyone will be forced to eliminate their target, or they will automatically be eliminated from the game and targets will be assessed to make sure everyone has one. 
Rule 6. This is the newest rule to the game, but if you do not get a picture with your target after their elimination, you must take a video of the elimination otherwise it will not be counted and you will have to try again, but this time with much harder circumstances because your target now knows you are on the prowl for them.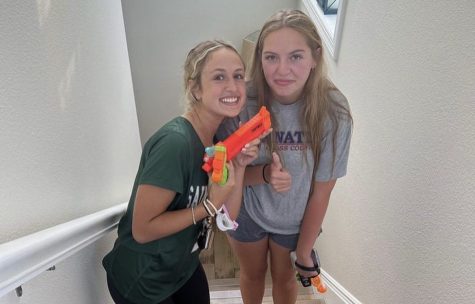 As of Tuesday morning, there have been a total of 20 eliminations so far in the 2023 game of senior survival. which features the likes of Matthew Vara, Maria Petrova, Cayden Smith, Anthony Monetti, Josh Sket, Mason Dillingham, Aquiles Gonzalez, Megan Wolfe, Vivian Phung, Elyse Skoumal, Jet Chen, Ben Long, Julia Craig, Justin Millican, Sophie Williams, Evan Christenson, James Gelvin, Connor Albrecht, Paul Yin and Meng Zhao. 
There are a total of 38 players remaining, and a purge period should be happening soon, so stay posted to see who gets eliminated and who wins the game. There will also be power rankings each week to see who completes the most hilarious and sneaky eliminations. Currently, Brandon Shirmer is ranked number 1, but we will see how that plays out with the next power rankings coming out soon!
1