Falcon Spotlight: Mr. Tate
There's a new college counselor in town. Find out all about Mr. Tate!
This year, Saint Stephen's welcomed a new staff member to its community. Mr. Jarrett Tate now serves as the school's second college counselor, beginning this position just last month. While he hasn't gotten to know many of the students yet, you've probably seen him around in the halls or the college counseling office.
I sat down for a Q&A with Mr. Tate recently, interested to learn about where he came from, what his goals and general outlook for his future at Saint Stephen's.
Q: Where are you from?
A: I was born and raised in Atlanta, Georgia. Decatur to be exact. I've moved around a bit, but spent most of my time in the state of Georgia growing up.
Q: When did you first take an interest in college counseling?
A: In 2011 I graduated from Rhodes College in Memphis, Tennessee and I got my first job at the University of Georgia in September as an admissions counselor. After meeting with some of my college counselors in Tennessee, I realized that what they did was more impactful in terms of working with students than what I was doing, which was admitting or denying students. So during my first admissions job was when I realized I wanted to be a college counselor.
Q: Do you have prior experience as a college counselor?
A: This would actually be my first time as a college counselor. I've been working as an admissions representative at various schools for the past nine years. So this is my first time on what they call "the other side of the desk," where you go from meeting with counselors and students to actually being the counselor who representatives come in and meet with.
Q: How did you find Saint Stephen's?
A: I found out about Saint Stephen's last year. There was a position open for a college counselor here at Saint Stephen's. That was the first time I had heard of Saint Stephen's and learned what it was about, and that this could potentially be a good fit. As I was going through the interview process the first time I had an accident and ended up with a mild concussion, so I wasn't even able to continue with the process at that time. Fast forward around a year and the position was open again. This time around, the timing was great and it just felt like a perfect fit based on the position, school, and the location.
Q: How has your time working at Saint Stephen's been so far?
A: I've loved it. It's very different in the midst of a pandemic, but I think that it has really required a career effort on my end to get out and meet students, which has been my biggest thing: learning about who students are since I'll be working with you all over the course of the next few years. Everyone has been incredibly welcoming and supportive across the board, and I think that's one of the things that let me know it was a great fit. Once this pandemic is over, I'm looking forward to getting even more involved in the Saint Stephen's community outside of sitting in my office and attending events from a distance.
Q: You mentioned the COVID pandemic, how has that affected your job as a counselor?
A: Connecting with students, honestly. I was actually a swim coach in Atlanta, and so that was one of my favorite aspects, interacting with students. So getting a chance to see my students on a regular basis, that's been my biggest challenge with COVID and the pandemic. From a professional side, figuring out how it's going to affect college admissions processes for a lot of students.
Q: For what things do you think students should ask you for help about?
A: I would say things they're uncertain about, just in general. Whether that's the college experience, the classes they're taking, the activities they're taking part in, how the pandemic's affected their activities or community service hours, or just their general uncertainty about the future. I think that's the most important aspect because, from those conversations, I don't have all the answers. I have my experience from college admissions to help with the admissions process, but even that's something that, as things change, will adapt and change with it. So with the amount of uncertainty that students are facing in general with high school, I think it's okay to just come in and have a conversation. Even if it's something as simple as "I don't know what I'm doing" and just be able to talk about how to work through some things and figure out how to adapt to whatever's going on.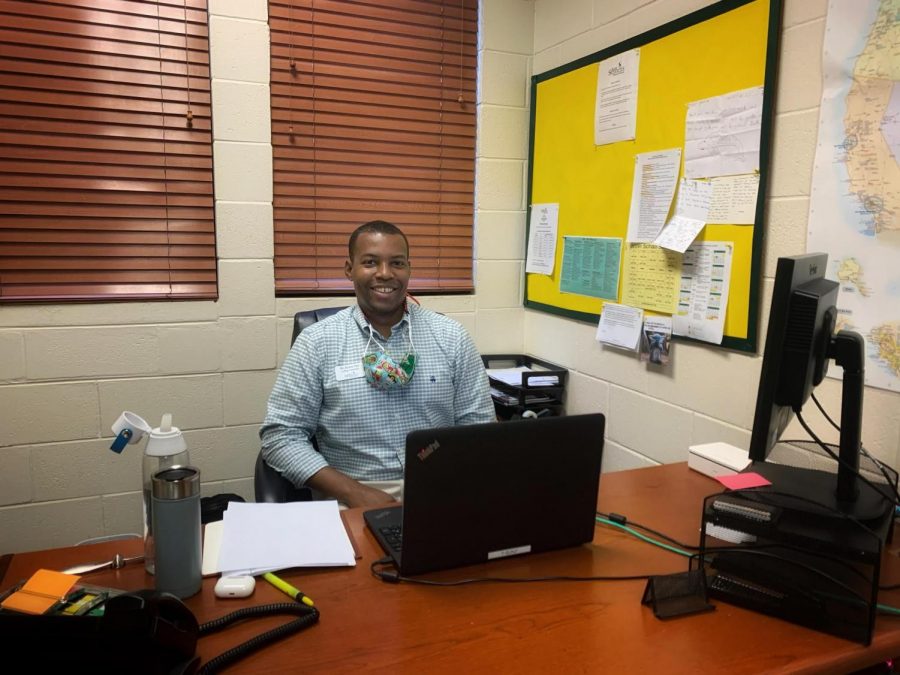 Q: What advice would you give to all the students at Saint Stephen's?
A: It takes zero effort to be a kind human being. Being kind to someone, whether it's just as simple as saying "good morning" or stuff like that, takes very little energy but it means something to that person. Exercising that little piece of kindness will create a better community, not just here, but outside of Saint Stephen's as well.
Q: What's the best part of being a college counselor for you?
A: It's you all. It's seeing you all through the ups and downs. It's being able to work with you all step-by-step through all of those life experiences and being able to advocate for you all is something that's honestly my favorite part of the job. When students go off to the school of their choice and then when they come back, and you hear about their success stories and how they're doing, that's what makes this job so special. I didn't have that when I was going through the high school experience; it was very much a singular process. We didn't have college counselors where I was, which is also part of the reason that got me into this: So I could help students figure out what they're doing, where they're going, what works best for them.
Q: What are some of your hobbies or interests outside of college counseling?
A: I'm a semi-retired swimmer, so I still swim over at GT Bray. I also do road biking, which I started getting back into, so I do have my road bike that I'll take out and go to Holmes Beach and get those 30-mile rides in. I'm really big on tech, anything technology-related. Right now I'm taking an old computer monitor and turning it into a daily schedule/weather report/news report using Raspberry Pi, which will be a fun little project. Outside that, just exploring Bradenton, which is really cliche but being brand new to Bradenton, it's one of my biggest things.
Based on my interview with Mr. Tate, it seems clear that Saint Stephen's is lucky to have him as a college counselor. As time goes on, he's sure to become a beloved member of the Saint Stephen's staff for all students and a valued part of the community.
4