Falcon Spotlight: Jordan Stacy opens up about 'thebitemykitchen'
The senior "foodie" opens up about her growing Instagram page, which features healthy lifestyle and culinary tips.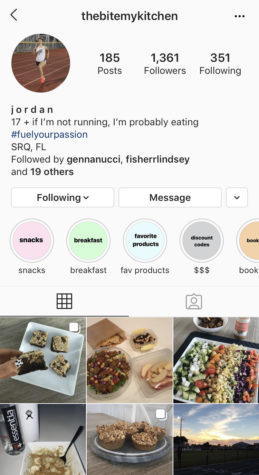 If innovative cooking and healthy eating is your thing, perhaps it's time to check out, thebitemykitchen, the Instagram page with 1,400 followers run by senior Jordan Stacy.
Posting about her vegan lifestyle through photos, recipes, and video stories, Stacy shares her culinary techniques to show how you can live a healthy lifestyle while still enjoying what you eat. With the hashtag #fuelyourpassion, Stacy encourages living a sharpened and healthy lifestyle. 
The Gauntlet sat down with the senior foodie to get an inside look at how she took her many tips, tricks and recipes and turned them into a fun and lively "foodie" Instagram page.
Q: What was your inspiration for starting the page?
A:  I went vegan when I was a freshman and I did it because of my mom; she was vegan, because she had breast cancer a few years priors to that. She mainly did it for her health, so I kind of did it to support her, and at first it was super hard, transitioning into it, and then once i figured it out I realized that I loved it and I wanted other people to love it too. 
I wanted to show everyone that you can still eat healthy and eat a vegan diet and enjoy it when you find things that are good. So I kind of just started on a whim. I was originally going to post about the food that I was making and then I eventually started sharing recipes.
Q: Describe how you first got into running thebitemykitchen?
A:  I just started posting pictures on Instagram. It wasn't a big deal at all, and then I started cooking more frequently and just thought that I should share these recipes. There was a point in time where I had an actual website for it, but I found that instagram was the best way to share recipes and pictures with people, and I kind of pull a lot of inspiration from other food bloggers, too. 
Q: What would you say is the purpose of thebitemykitchen?
A:  To show people that you can eat healthy and still enjoy the things that you're eating.  And to show how it can be accessible to all people no matter how old you are. I also show how it shouldn't have to be expensive or anything like that.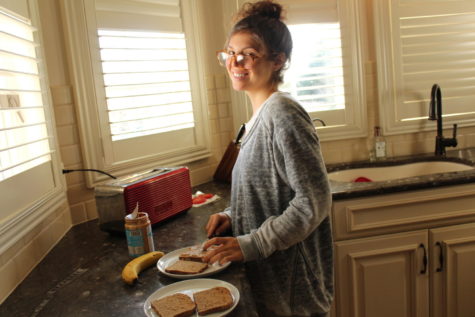 Q: What is your favorite thing about running your page?
A:  I would say it's an outlet for me. Whenever I'm cooking or posting or what not it has nothing to do with school; it's just something that I do for fun. It's just something that doesn't stress me out at all and it's something that I can devote time to because there's no pressure on it, I just do it for fun because I actually love it. 
Q: A lot of people would consider you an "influencer." What do you classify yourself as when it comes to the identity of your page?
A:  I say I would call myself a "food blogger." I feel like the term 'influencer' is super hot right now, but like I personally think an 'influencer' is being someone who has a large following. I would never really consider myself an 'influencer' because I don't really have that many people following me, not just on Instagram. But in general,I would just call myself a food blogger recreationally. 
Q: Who has impacted you most when creating your posts and how?
A:  I would definitely say my mom because a lot of the things that I cook and all the ways that I have learned to cook are from her and so I kind of take after her. A lot of things that I have made have been inspired by the things that she's made and she always helps me. I also kind of follow after food bloggers that are my age; I follow what they do, too. 
Q: What's it like managing a social media account when it comes to balancing your student-athlete life?
A:  It's just about, like, if you love something enough then you are going to make time for it no matter what. It doesn't really matter what else you have going on, I somehow always find the time, but there will be periods where I don't post for a week or two weeks, and people understand that I have a life outside this and it's not my source of income or anything.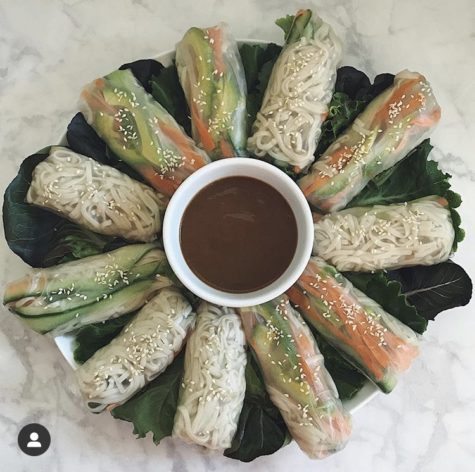 Q: What is your favorite meal you've ever made?
A:  When it comes to making my meals I would say that I'm better at making desserts, but if I had to choose one meal, I would say my spring rolls are my favorite.  They're kind of far down if you scroll on my page, but just because I was really proud of them, and I think that all Asian food in general is my favorite to cook.
Q: What are your goals for thebitemykitchen?
A:  I would say that I definitely want to become more regimented when I post my meals and stuff, but, also to up the photography to make it more professional and keep it up to what the 'fans' want to see. But yet again, that takes a lot of time. Maybe, also, I would hopefully be able to partner with other companies, form a sponsorship and just keep it up to work with bigger companies in the future.
If you're interested in trying new recipes, building better eating habits, or you just want to see some mouth-watering meals made by your classmate, then checkout thebitemykitchen on Instagram. 
https://www.instagram.com/thebitemykitchen/
Advertisements