COVID-19 Updates
LIVE COVID-19 MAP – Johns Hopkins University of Medicine
LIVE WORLD COVERAGE – The New York Times
FLORIDA CASES MAP – Florida Department of Health, Division of Disease Control and Health Protection
*This page is discontinued*
Last update: April 20, 2020 at 9:44 am
---
Update – 4/20/2020
Jan Pullen – Updated April 20th, 2020 at 8:37am
Dear Parents,
As we all continue to navigate this unprecedented time in our lives, I want to once again thank you for your continued support of how Saint Stephen's is delivering our academic program to your children. From the emails we have received from you and the calls we have made to you, it is clear that the program we have put in place is working. Actually, over this past week we feel the teachers and the students have found a good rhythm in the teaching and the learning.
Late last week, the Saint Stephen's Board of Trustees and I met to discuss 1) how things were going with our academic program, 2) the fact that the COVID-19 virus is still not contained, 3) there is no effective or efficient way to test children and teachers before they return to school, and 4) there is no vaccine in sight. As a result, the decision was made for Saint Stephen's to continue with our virtual instruction through the end of the school year. (As our Board had already decided, it was no surprise to learn late Saturday that the Governor recommended Florida schools to not reopen and virtual education to continue.)
Ever since the meeting with the Board, I have been working with the Division Directors to develop a plan to share with you how we will finish out the year in each division. Looking at the calendar, there are two weeks left until Friday, May 1st (the original end-date given). Because we did not use our hurricane days this year, we can end the school year on Friday, May 22nd instead of coming back after Memorial Day for two days, Tuesday, May 26th and Wednesday, May 27th.  This gives us only three weeks of class from Monday, May 4th through Friday, May 22nd. Seeing that we only have three weeks after the initial end-date, it reinforces why it would be best to stay with our current virtual program.
Therefore, during these next five weeks, we will continue with our distance learning and with weekly chapels. Each week will look a little different depending on the Division. Starting Monday, May 4th, the Upper School and the 8th grade will be heading into end-of-the-year reviews and assessments. For grades PK3 through 7th grade, the teaching will continue as it has. In all Divisions, the Interim Quest program will have a new look and will take place from Monday, May 18th through Wednesday, May 20th.  Our Middle School and Upper School Closings will be held virtually on Thursday, May 21st followed by the Lower School and Intermediate School Closings on Friday, May 22nd. For those students in the Upper School taking AP's this year with the new dates, IQ and Closings will be worked around the AP schedule. In addition, we are working hard to put together meaningful and memorable end-of-the-year activities and events that we traditionally celebrate each year in each Division. There will be more information sent out to you about all of these happenings.
As for the Seniors in the Class of 2020, we realize how difficult this time has been for them. Knowing we now will remain virtual until the end of the year, I want to reinforce that we will honor their request to find a time in the future, whether it be summer or fall and when it is safe, to have the events (Senior Walk, Senior Dinner, Prom, Baccalaureate, Graduation and Senior yearbook signing…) that are special to them, to you and to us. We also are going to recognize these events and other Senior specific activities in a special way on the date that is currently on the calendar. When I meet with the Seniors again this week, we will discuss these ideas with them and get their input. I promise we will do our best to make the ending as special as we can.
I know none of us ever expected this year to end this way at school, at work and at home. Through it all, we need to continue to stay strong for one another, stay socially connected, stay safe and continue to follow the guidelines set forth by the CDC and the state, and stay healthy so that we can be back together soon.
Best,
Jan
---
Update – 3/31/2020
Jan Pullen – Updated March 31, 2020 at 11:34 am
When we left for Spring Break, my hope was to not interrupt your week with any more emails. But with the latest news about COVID-19 and the mandate for social distancing to continue, I want to confirm with you that Saint Stephen's will continue to deliver our virtual instruction through Friday, May 1st.
We are very pleased with how the first two weeks came together with faculty/staff, students, and parents all doing an amazing job. Again, thank you! With us working together we will make this happen!
As we look to delivering Saint Stephen's virtually over the next month, we will ensure that the work we do will allow us to complete the school year as planned. Because we are not relying on a single technology tool, system or resource to deliver our instruction, we do not anticipate any technical problems either.
Well, please get back to enjoying your Spring Break, as best as you can!
Jan
---
Update – 3/27/2020
Andrew Forrester – Updated March 27, 2020 at 9:20 am
Families,
What a week of learning and growing as a community.  Thanks are extended to our faculty, staff, and fellow administrators for their professionalism and eagerness to always do more for our students.  Thanks to each family, too, for supporting students as we all took a different path to Spring Break.  We will return to our off-site learning after the break for a four day week and, as of today, plan to return to campus on Thursday, April 16th.
Thanks to all who have sent positive messages to our faculty, staff, and administration this week.  Knowing we are all working together has been a true testament to the strength of our program and our community.
We have been reviewing events and activities on our calendar and anticipating postponements and cancellations.  Rest assured, we will return to campus excited to complete the year.  In terms of travel, please see my letter below regarding the scheduled excursions for Interim Quest this year:
 Family Letter 3/24/20 Interim Quest 2020
In other news, our athletic department has compiled a review of our Winter Sports Awards recipients.  Congratulations to these amazing athletes!
Varsity Girls Basketball
Most Valuable Player – Sarah Stevens.  Falcon Award – Allie Serterides. Perseverance Award – Noelle Bencie
Middle School Girls Basketball
Most Valuable Player – Julia Girk. Falcon Award – Alex Call. Most Improved – Ella Dodge. Coach Award – Brooke Cosentino.
Varsity Boys Basketball
Most Valuable Player – Matthew Konkol. Falcon Award – Alex Sket. Outstanding Improvement Award – Connor Davis
JV Boys Basketball
Outstanding Improvement Award – Matt Vara
Middle School Boys Basketball
Outstanding Improvement Award – Nick Yatros
Middle School Boys Basketball Developmental
Outstanding Improvement Award – James Haley
Varsity Boys Soccer
Most Valuable Player – Diarmuid Harkin. Falcon Awards – Nolan Winterhalter & Tyler Wade. Most Improved Player – Sean Rodriguez. Hayward Leadership Award – RG Sherrill
Middle School Boys Soccer
Most Valuable Player – Jackson Pakbaz. Falcon Award – Ivan Tulupov. Offensive MVP – Giovanni Bollettieri. Defensive MVP – Gavin Winterhalter. Most Improved Player – Patrick Collins
Varsity Girls Soccer
Most Valuable Players – Janie Chatham & Stacie Burgess. Defender of the Year – Siddie Pennewill. Midfielder of the Year – Jackie Schlossberg. Forward of the Year – Elle Johnston. Freshman of the Year – Kate Baran.
Middle School Girls Soccer
Most Valuable Player – Annabelle Pullen. Falcon Award – Victoria Neiva
Enjoy spending time with family and stay safe and healthy, and if inclined,
listen to this message in song from our friends at Youth Frontiers:
  Can't Take the Sunshine Away | Dahlia at Youth Frontiers  
Yours,
Andrew Forrester
---
Remote Learning Update
Andrew Forrester – Updated March 23, 2020 at 10:25 am
I pray you are all well as we spend time in our homes with our families.  This morning we began our regular block schedule with students meeting teachers at their regular class times.  Attendance will be taken and we will be in touch if a student needs to make up an assignment or a meeting.  Attendance is essential to keep up with the workload and avoid any incomplete courses.
I met with the faculty this morning and they have been planning exciting and interactive lessons which you should take a look at if you have a chance.  The experiences our students have each day are amazing! If you see something you love, or have positive feedback for our faculty, please share with them and me as I'm compliment collecting on the journey to spring break.
Mrs. Conn and I are available for any questions you may have and Mrs. Schumann is holding her regular college counseling appointments.  If you call the school, Mrs. Dickey will still answer the phone and make sure your message is relayed to the appropriate party.  We are running at full steam.
Below are some notes regarding off-site classroom etiquette for you to discuss with your student:
Make sure you are in a quiet place for the class. People moving around and noises in the background are a distraction for others as well as for you.
Please remember to keep your appearance appropriate for screen time.
Remember that even though you may be at home during your live meetings, people in the room can see everything you are doing. Eating food while in class can be distracting to your classmates in the room.
Make sure you allow yourself enough time to connect to the live session, both audio and video, so the class can start on time and others are not waiting for you to get connected.
Remove distractions like social media or texting during live meetings so you can be fully present with your teacher and classmates.
Changing your background screens more than once or having inappropriate screens that cause distractions is not permitted.
If you are in breakout groups, please use your time appropriately for the tasks of the class and not for outside conversations that are not conducive to class discussions.
All On-campus Events
We are postponing or canceling all on-campus activities and athletics practices/games until further notice.
Spring Break – No School – Monday, 3/30-Friday, 4/3
Please enjoy family time together over Spring Break! There is no virtual school this week.
NEW RETURN DATE BY GOVERNOR'S NOTICE – Wednesday, 4/15
We are following the governor's notice and will not be returning to campus until April 15. The health and safety of our community are of the utmost importance. Please continue to look for emails from Dr. Pullen for any potential changes.
If your children are asking questions as to why we are having to temporarily change our routines, please watch this footage with them:
The Coronavirus Explained and What You Should Do
Should students be feeling unsettled or anxious, please share this video with them and discuss as a family.
5 Ways to Deal with Coronavirus Induced Anxiety
If you haven't enjoyed our informal yet informative offsite Upper School Assembly yet…. her it is – watch as a family!
Upper School Off Site Assembly 3/20/20
Have a wonderful week this week and after some solid work time, we can enjoy a peaceful spring break!
Yours,
Andrew Forrester
A Letter from Dr. Pullen
Jan Pullen – Updated March 20, 2020 at 6:25 pm
Dear Parents,
The weekend is here so enjoy a little sunshine with your family. Thank you for all you have done this week to help us–your open-minds to receive this new way of instruction, your perseverance to stick with the new program, your organizational skills to set-up school in your home and your positive attitude about making this quick change given to us last Friday. Yes, it has only been a week, but what a week! It is truly historic!
As I have sat in on classes throughout the past three days, it was exciting to see how well the students responded to the virtual lessons in each division. The students in the Upper School wanted to find a way to carry on with their weekly assembly. So thanks to seniors Jackson Dillingham and Matthew Kinkead, plus Mr. Forrester and his children, I leave you this Friday with the link to Saint Stephen's first Upper School Virtual Assembly!  If you have not seen it already—enjoy!
---
CLOSURE UPDATE
Jan Pullen – Updated March 18, 2020 at 8:00 pm
Dear Parents,
Today will be a day we will always remember. From the emails, calls and Zoom feedback that I received throughout the day, it seems as if the roll-out of our virtual learning program has gone well. Thank you, parents, for all you have done to make this work in your home and with your children. And your children have been amazing! We know there are some technology issues that we will address. We also know it will take time to get into a routine with this new way to learn.
With the teachers continuing our current curriculum via virtual instruction as we have scheduled (including having our regularly scheduled Spring Break from March 30-April 3) and with having to continue our virtual program through Wednesday, April 15,  as the Governor has mandated, Saint Stephen's is on schedule to have the school year completed by the end of May. No additional days will have to be added to the calendar.
We are still waiting to hear from the College Board regarding AP (Advanced Placement) testing, as they may seek different testing days rather than the regularly scheduled days in May.
Again, thank you for your continued patience, understanding and support. Thanks, too, for those of you who have been sending me and/or posting photos and comments from today's lessons. It puts a smile on my face to see the students working hard on their studies at home. In the end they will not only keep up with their school work but also learn meaningful lessons about life!
With warm regards,
Jan
---
CHECK ANNOUNCEMENTS PAGE DAILY
Kerry Israel – Updated March 18, 2020 at 7:50 am
Hi Students!
Kindly check the Upper School announcement page on a daily basis!
Go to SSESonline > go to your grade level advisory page > scroll to LINKS section > click SHOW ALL > click Upper School Announcements 2019-2020.
Have a wonderful online learning day!
---
A NOTE FROM MR. FORRESTER
Andrew Forrester – Updated March 17, 2020 at 9:19 pm
I have collected some information you may find useful to review as you are home with your children.
As we are using video conferencing for our class meetings, please work with your students on the location they will be studying. Consider the background and wear school appropriate clothing.
Parents will not be charged for any pre-ordered lunches during the school closure. When an order is placed it appears that we take the money, but it is actually held in the student's balance. Since we are not ordering the food, once the day passes the pre-order will go away and the balance will remain the same. No lunches will be charged and no refunds will need to be issued.
Please share photographs of your children learning off-site and send them to Dr. Pullen.
Please reach out to your classroom teachers, advisors or to me if there are any questions or to check-in.
Yours,
Andrew Forrester
---
AN UPDATE ON SCHOOL CLOSURE
Alyssa Nucci – Updated March 17, 2020 at 10:11 am
The campus will be closed Monday, March 16th – Friday, April 3rd. 
From March 16-20, teachers will communicate to students/parents how they will proceed with virtual lessons, which they will introduce Wednesday through Friday. The faculty has created a topic for each course titled:  'School Closure Unit One.' Students will be able to access class meeting times and assignments in this way.  
Students are welcome to come to the front desk Tuesday, March 13, between noon and 5 p.m. to collect items they may need to complete their assignments.
From March 23-27, the campus will remain closed and students will receive daily virtual instruction/lessons from their teachers. This week will follow our regular Block Schedule and teachers will be in classrooms (virtually) at their assigned time. Students and teachers will use Zoom, a popular meeting website. Attendance will be taken each class period and students who are unable to attend will have an opportunity to follow up with their teacher. Advisors will also conduct a daily check-in with students. 
From March 30-April 3, there is NO school as we will honor our already scheduled SSES Spring Break. 
All extracurriculars and athletic activities (games/practices) will be canceled from March 16-27.
During Spring Break, we will inform parents about whether the school will return to campus for classes on April 6, or if we will continue with virtual instruction. This decision will be based on the latest information at the time from the Governor and the CDC.
---
CORONAVIRUS AND SOCIAL DISTANCING SWEEP MANATEE COUNTY; SSES TO CLOSE THROUGH APRIL 3rd
Sully Maley – Updated March 16, 2020 at 8:08 pm
This past week, in an unusually well-coordinated collaboration of private industry and government institutions, the nation as a whole quickly decided that COVID-19 was to be taken seriously. 
The NBA, MLS, NHL, and XFL have all suspended their seasons. MLB's spring training has been canceled. March Madness has been called off, as well as the PGA Championship. New York's Carnegie Hall has canceled all performances through the end of the month, Jimmy Fallon's Tonight Show will suspend production and campaign events have been canceled by both Bernie Sanders and Joe Biden.
Over 30 million students across the country will not report to school today due to closings, including those at Saint Stephen's. At 6:51 AM Saturday morning, Head of School Dr. Jan Pullen announced that school would be closed for the next three weeks, including our already-planned spring break from March 30th to April 3rd. This cancellation came after the Florida Department of Education closed all public schools for a two-week period on Friday afternoon, advising private/independent schools to follow suit.
What does this mean for Saint Stephen's students? Over the past few weeks, numerous teachers have touched on the possibility of distance learning during school closings, but no solid plans had been laid out. What will students' responsibilities be for the next two weeks?
Upper School Director Mr. Andrew Forrester, as well as English teacher Mr. Blake Hoonhout, were able to provide some insight into what the next few weeks will look like.
Today and tomorrow (March 16-17), students will be considered off from school.  Any assignments that are on-going (or which were due Monday or Tuesday), presumably need to be attended to by students unless otherwise noted by instructors. During this period, teachers will report to school and attend meetings to layout plans for the upcoming weeks.  If a student needs to pick up supplies from their cubbies or teachers, they are permitted to arrange to pick up those items from the front desk tomorrow, Tuesday, between noon and 5 pm. 
According to Mr. Forrester, March 18-20 will be dedicated to, "…ensuring students are ready for their off-site learning experience."  Students should check into both their school emails and SSESonline in the coming days, particularly on Wednesday, to see if instructors have posted any plans or assignments.
Some teachers will introduce distance learning programs such as Zoom (an online meeting/conference call program), Google Drive assignments, SSESonline discussion boards, and Showbie, among others, starting this Wednesday. 
Teachers have also been permitted to assign continuous work to keep on track with lesson planning set up before the shutdown. Examples of "continuous work" are items such as reading assignments, on-going essays, or instructional videos to watch.
Beginning Monday of next week, the school will fully resume in a "virtual setting." From March 23-27, students will follow their normal block scheduling, dedicating their normal class time at home to "attend" each class period. Teachers will decide what to do with this time, but they have been recommended to connect with students in a live setting, whether through a full-class Zoom meeting or individual videos or individual assignments on SSESonline.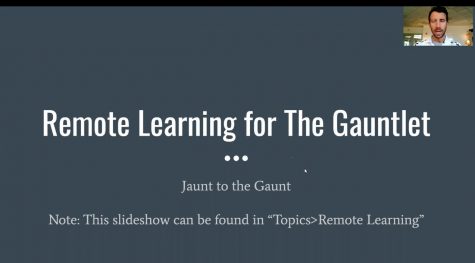 According to Mr. Hoonhout, students will be "on-call" starting next Monday. They will be expected to dedicate the same hours of their day to school as they normally would and should be ready to begin their schoolwork for the day at the normal 8 am start time.
The week of March 30, the regularly-scheduled spring break will be in effect. Students will have no daily responsibilities during this week and are free to relax as normal. However, they are advised to take necessary caution and practice good hygiene to avoid being affected by the virus. 
Students registered to take the ACT on April 4th are advised that their tests will be rescheduled to this summer. Those planning on taking the SAT on May 2nd will need to make other arrangements, as this test date has been canceled. More information on standardized testing can be found here.
As of today, school is scheduled to resume on-campus on Monday, April 6. The administration will likely contact parents with updates on the status of campus reopening in the upcoming weeks, and students can look to The Gauntlet for timely updates as new developments occur.
"I would like to commend our faculty for their efforts and willingness to adjust to these changes," says Mr. Forrester. "They have done a great job of ensuring that not a step is missed in delivering our content and completing our skill development."
---
CAMPUS CLOSED MARCH 16-27
Saint Stephen's – Updated March 14, 2020 at 12:11 pm
In order to align with the Governor's decision on Friday to close all Florida public schools for two weeks, we are instituting the following plan:
The campus will be closed on March 16-20. Teachers will communicate with students/parents about how we will proceed with virtual lessons, which will be introduced Wednesday through Friday (March 18-20). From March 23-27, the campus will remain closed and students will receive daily virtual instruction from their teachers. From March 30-April 3, there is NO school and we will honor our already scheduled spring break.
This plan allows us to carry out the Governor's decision, while also ensuring that we are not away from our academic program for three consecutive weeks. All extracurricular and athletic activities will be canceled from March 16-27.
During spring break, we will inform parents about whether we will return to campus for classes on April 6, or if we will continue with virtual instruction. This decision will be based on the latest information available.
---