For as long as most students can remember, the Intermediate School walls have been decorated by a serene mural of an ocean cafe, with beautiful green plants and nostalgic childhood toys scattered around the setting. The mural, painted by Mrs. DeZiel and her former students, covered the entire wall from one end of the IS Commons to the other.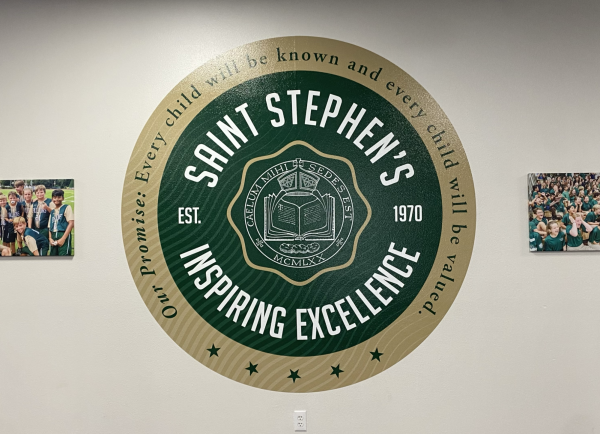 Last school year, the Intermediate School Director, Mr. Hasbrouck made the difficult decision to bring a complete renovation to those hallowed halls. In May, the painting was covered with fresh coats of white paint in preparation for the renovation that took place during summer.
This year, intermediate school students were greeted with a new design in the building. The crisp, white walls are now decorated with high definition photos of students. In the middle of the wall, the Saint Stephen's crest serves as the focal point of the common's walls.
Additionally, a large, wooden, world map was added to one of the walls of the commons. Many tables to seat the students were placed in the building as well. 
The intermediate school students are more than happy with the changes made to the building. 
Sixth grader Celia Clayton is in full support of the renovations to the commons. "I love the changes," Clayton said, "it's a lot better than it used to look."
Clayton added that the new layout is now much more convenient for students. "When we sit down for Falcon Family Friday sometimes we can sit at the tables instead of on the floor." 
Clayton then added, "When we come out here to work we have tables now."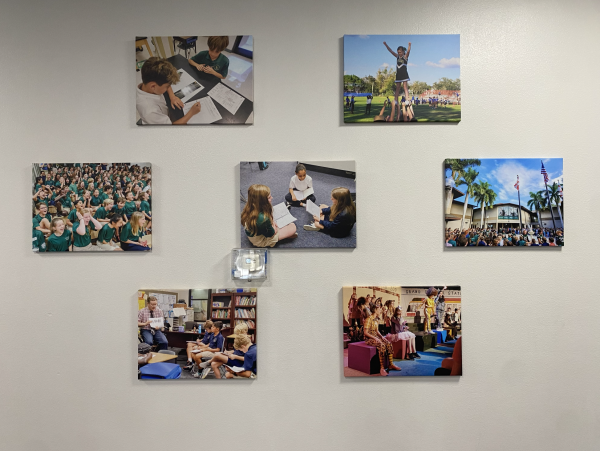 Overall, Clayton is satisfied with the revamped commons. "It's definitely a lot different, but in a good way."
Fourth grade teacher, Mrs. Sinphay, who's had seven years to admire the previous setting, said she agrees the renovations were the right move.
Sinphay shared the world map's significance to her students' learning, describing it as an important step forward for the school's global inclusion. She also added it helped her students make connections during global read-alouds.  
"The mural definitely had its importance in our school," Sinphay said, "but sometimes change is good, and all good things must come to an end."
1