When one door closes, another eagerly pops open. After the retirement of foreign language department head, Senora Maggie Gustavus, our faculty was on the search for a new Spanish teacher. Fortunately for us all, Saint Stephen's has gladly welcomed Mrs. Sharon Galligan to our family this year.
Sra. Galligan will be teaching upper school Spanish 3 and 4. Before her arrival at Saint Stephen's, Senora Galligan resided in South Windsor, Connecticut, where she worked at her old alma mater, South Windsor High School, for 12 years. Galligan's passion for education led her to get her degree in Spanish and secondary education.
The COVID-19 pandemic ended up being a significant factor in her joining the faculty here at SSES.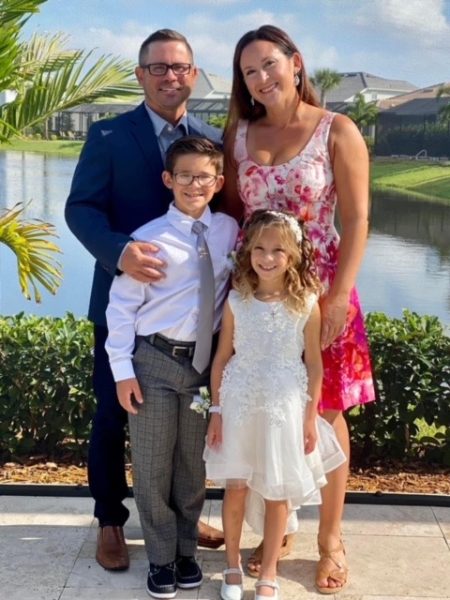 "It first started out because of Covid," Galligan said, "my kids were doing a year of online school and they hated it, I hated it, it was terrible,"
Faced with the challenges of online schooling, Galligan and her children were collectively unhappy and they were all seeking a change.
The times of the pandemic were tough for everyone, but you know what they say, every cloud has a silver lining, and despite the challenges, it ended up leading her to this opportunity.
"I decided to look for a smaller school because COVID was still happening, and I really liked how Saint Stephen's took the situation seriously as well as the smaller classroom sizes," Galligan said.
 Mrs. Galligan also mentioned the loss of her father, who passed away as a result of the Coronavirus. This event intensified her commitment to ensuring a secure and safe learning environment.
Amid her new teaching journey at Saint Stephen's, Galligan has discovered her favorite aspect – the remarkable students here on campus.
"My favorite part is the kids. You guys are awesome," For her it was her student's inviting nature and unwavering love for the school that has left a lasting mark on her heart. She is motivated by their excitement, which encourages her to create an unforgettable teaching environment filled with love and support.
Galligan said Saint Stephen's has aligned with her expectations. She said the experience has been "what she expected."
"I love that there are high expectations but there's also a relaxed feel. You keep high expectations for yourself and your students but you can also have fun and make memories, which is what high school is all about."
For Galligan, the school has a perfect balance, students are encouraged to achieve their best while also relishing in the joy of high school memories.
When asked about how she would like to be remembered by her students, Galligan came back to relationships.
"I would like them to remember me as somebody that was there for them, someone that taught them something, and I want my students to think about me when given the opportunity of studying abroad."
Galligan believes that building strong relationships with her students is key. She wants to not only fulfill the needs of her students, but go beyond the bare minimum and have a genuine connection with each of them personally.
She hopes to be remembered as a supportive presence in her students' lives and her passion lies in teaching practical skills that can be applied both in everyday situations and during future experiences.
Sra. Galligan greatly values the curriculum she teaches, as she strives to teach her students something they can actually apply to their lives. Whether that be the Spanish itself, or just how to communicate with one another.
Above all, Galligan aspires to be known as the educator who consistently encourages her students to explore the world through studying abroad, like she did in Spain.
"My travels abroad really changed my life— I was able to explore the country as well as explore the people and cultures there.  Studying abroad was one of the best things that happened to me."
2