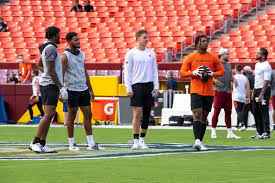 Creative Commons
Waiver Wire Pickups 
D'ernest Johnson (RB, Cleveland Browns, #30)- The running back played really well in week 7 rushing for 146 yards on 22 carries, receiving the ball for 22 yards on 2 catches, and a touchdown. He is a player that you want on your team, although if Nick Chubb plays he won't get as many carries, which it looks like he will. Johnson will take the carries that Kareem Hunt would usually get since Hunt is not playing. D'ernest Johnson definitely deserves a spot on your roster in Week 8 against the Pittsburgh Steelers, who have a just okay run defense. 
C.J. Uzomah (TE, Cincinnati Bengals, #87)- This tight-end has come forth as a solid TE1 for your fantasy teams. He has had 3 touchdowns and 107 receiving yards in the past two games. Uzomah plays against the New York Jets in week 8, which is a really good match-up for the TE. Uzomah is only 15% rostered in fantasy leagues so he should be an easy waiver pickup. 
Kenneth Gainwell (RB, Philadelphia Eagles, #14)- The running back had five rushes for 20 yards and caught 4 of his 8 targets for 41 yards and a touchdown in Sunday's loss to the raiders. The starting running back for the Eagles, Miles Sanders, suffered an ankle injury on Sunday. Gainwell is most likely to get a lot of carries and playing time against the Detroit Lions this week and it's a good waiver pick-up.
Start' em
Joe Burrow (QB, Cincinnati Bengals #9)- The quarterback is definitely a good contender for future weeks after completing 23 out of 28 pass attempts for 416 yards and 3 touchdowns, defeating the Baltimore Ravens in week 7. Joe Burrow is a must-start in Week 8 after the way he played against one of the better defenses in the league. This week he plays against one of the worst defensive teams in the league, the New York Jets, so he will be a good starting option this week.
Zach Ertz (TE, Arizona Cardinals, #86)- The tight-end, having recently just been traded from the Philadelphia Eagles to the Arizona Cardinals, had a great game in Week 7 against the Houston Texans having 3 catches for 66 yards and a touchdown. Ertz is a really solid TE projecting around 9-10 points per game, in PPR leagues, and he is a must-start as the Maxx Williams is on IR, the starter for the first 6 weeks, and his chemistry with Kyler Murry will only get better. 
Ja'Marr Chase (WR, Cincinnati Bengals, #1)- The receiver is evolving into one of the top players in the league and in fantasy. He has put up crazy numbers each week, yet to have a disappointing week. In Week 8 the Cincinnati Bengals play the New York Jets, who have the worst pass defense in the league, so Chase will likely have another really good week. 
Sit 'em
Odell Beckham Jr (WR, Cleveland Browns, #13)- The wide receiver caught 2 out of 6 targets for 23 yards in a 17-14 win over the Denver Broncos. After coming out of injury OBJ hasn't been very consistent and he hasn't really been playing well this season. Baker Mayfield is not playing in the next game is not a good sign to start the receiver. OBJ is playing the Pittsburgh Steelers this week and it's not a good matchup for OBJ. 
O.J. Howard (TE, Tampa Bay Buccaneers, #80)- The tight-end only had 37 snaps last week against the Chicago Bears having a minimal role in the game. Howard is not a good starting option for week 8 with Gronkowski coming back from injury. 
Sam Darnold (QB, Carolina Panthers, #14)- The quarterback was benched during the game against the New York Giants in Week 7, throwing for 16-25 completion for 111 yards and an interception. Darnold is not a good starting QB1 this week against the Atlanta Falcons, there are other quarterbacks that will have a more productivity week than Darnold.