Athlete of the Week: Sarah Stevens
The lady Falcon basketball team is breaking records all over the place. They seem to have the skill, and the personel, to go the distance. Sarah Stevens has earned this week's Athlete of the Week for her role in the program's development.
Sarah Stevens has led the girls varsity basketball team to smash multiple school records. For this week's Athlete of the Week, we feature senior Sarah Stevens, a key component to the now-dominant team.
This year's squad consists of two seniors, three juniors, three sophomores, and two freshmen.
The lady Falcons have earned a staggering 20 wins and 3 losses on the season so far, showing their dominance in the area with the impressive record. 
According to her coach, teammates, and the stats, Stevens has left an impact worthy of mention.
The other night the team traveled to BCS, beating them and breaking records in the process. The girls beat BCS for the first time in history and simultaneously broke their own record for most wins in a season (16, a record held by the 1984 and 1985 teams).
The team is now up to a baffling 20 wins and going strong But this isn't the only record they've broken.
The lady ballers also beat Manatee High School twice, who Saint Stephen's has never beaten before. Here are some other standout records set this year. 
They set a new school record for most points scored in a single game with 84; the original record was 81 points.  

They set a new school record for most points scored in a season. The record was 996 points and the girls currently have 1,230 points with two games remaining.

They set a new school record for average points per season with 53.5; the original record was 43.5 average points per game.

They set a new school record for best winning percentage, currently at 87%; the original record was 71% winning percentage.

They set a new school record for average margin of victory, currently at 20.3; the original record was a 9.1 margin of victory.
Of all the key Falcons on the squad this year, Stevens is a true standout. Sarah has averaged about eight rebounds per game, 12.5 points per game, and 2.5 blocks per game. 
Teammate and junior Allie Serterides said of Stevens: "She's very aggressive in the paint, she's a strong blocker, and her height gives her an advantage. She controls the court and leads us throughout the game."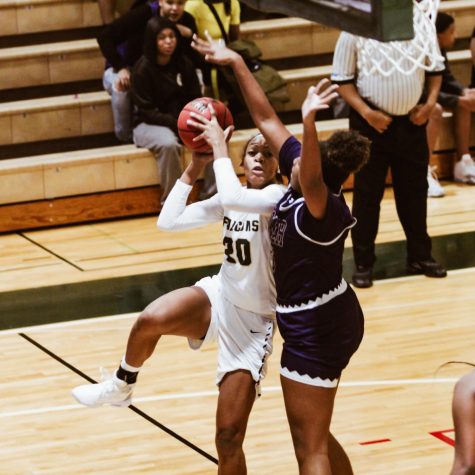 If you haven't seen them play yet, our girls will host the District semifinal game on Tuesday, Feb. 4th at 6 pm.
Head coach Mr. David Gaulman commented on Stevens as a player, calling her "an extremely hard worker." He said that was a big reason for her "tremendous improvement over the past few months." 
But it hasn't all come without adversity. 
Unfortunately, Sarah missed about half of her junior season due to an ankle fracture from volleyball. 
Despite the setback, Mr. Gaulman said "she's already gotten her legs and rhythm back. She's a game-changer. Teams have to prepare just for her, which takes a lot of pressure off her teammates, and makes my game planning much easier." 
Serterides added, "I've played with Sarah since the sixth grade, and what stands out about her most to me is her personality. She's a natural leader on the team, often making everyone laugh and lifting us up when we need it most."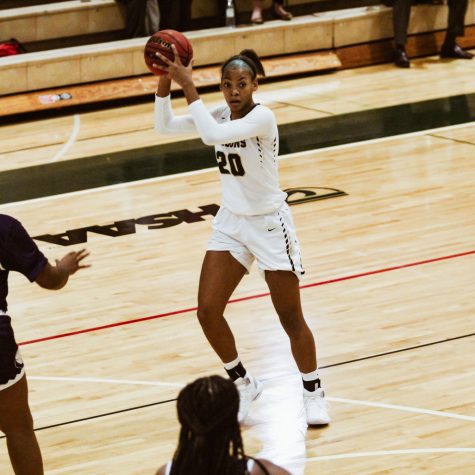 Stevens has proven herself as an impactful athlete, both to the outcome of the games and her team's overall success. We can't wait to see where the girls go with this season. It's certain to be far.  We'll see you tomorrow at the big game. 
1
Advertisements