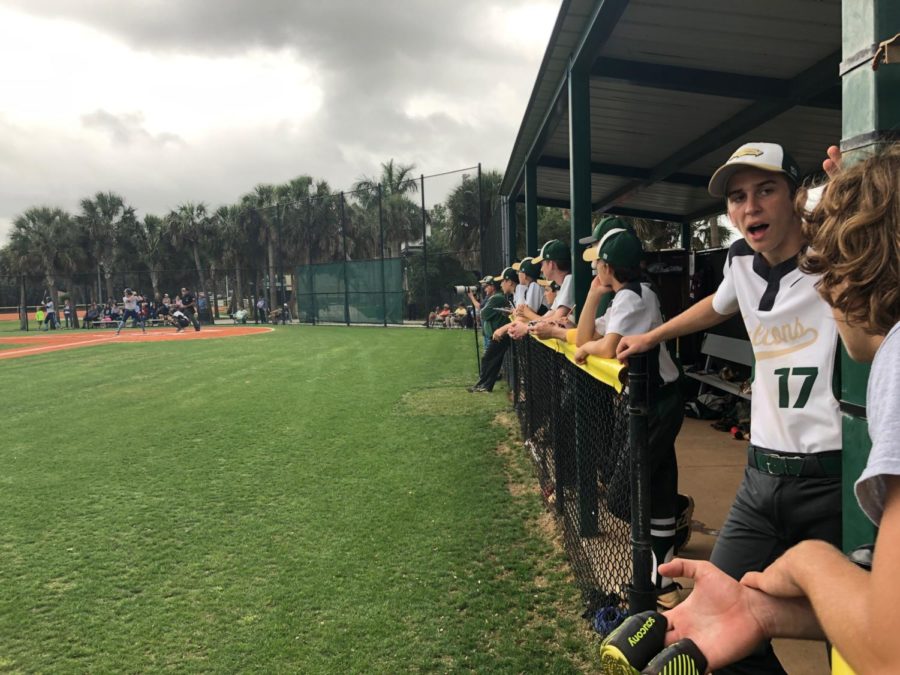 Cade Westberry
This past Saturday, April 20th, the SSES baseball team hosted their Senior Night game against BCS at 1:00pm and it was a scorcher of a game.
After two opening innings of little to no action, BCS started the scoring with a two-run homer in the top of the third. After the Panthers took a three run lead, Saint Stephen's answered and cut the deficit to one with two consecutive runs in the bottom of the third inning on passed balls.
After continuous scoring from both sides throughout the entirety of the game, the score was 8-6 favoring the Panthers in the bottom of the sixth (a high school game goes 7 innings).
After a base hit from senior Ross Springstead, senior captain Michael Madigan stepped to the plate. With pressure rising, Madigan crushed one, hitting his first career home run over the right field fence to tie the game at eight runs a side.
Entering in the sixth inning with the game tied, senior Jacob Eyre checked in to pitch. Eyre, who had not pitched his entire junior year due to Tommy John surgery, stepped onto the mound.
Jacob entered the zone, striking out three consecutive batters and then two more in the top of the seventh. After Eyre exited the game, sophomore Brock Soletti came into pitch as the game headed into extra innings.
Both teams started the tenth inning tied at eight. In the top of the inning, BCS had a runner on second with two outs. An incredibly high fly ball was hit to second base, so high the ball got lost in the sun, and what would've been a routine catch turned into a disaster as the Panthers scored their ninth run, taking the lead.
In the bottom of the tenth, senior Ben Schnur was hit by a pitch and after a passed ball, he was able to take second.
After exiting in the fourth in his first game back since suffering a sprained ankle, senior captain Ben Tobio re-entered the game to hit. With the Falcons against the wall, Tobio, the seven-year varsity veteran, delivered a double, tying up the game.
BCS intentionally walked the hot-hitting Michael Madigan which brought up sophomore sophomore Brock Soletti. After watching two pitches, Brock hit an absolute shot that glided over the right field fence for a homerun, winning the game for the Falcons.
About the shot heard round the MAC, Soletti said, "It was an amazing feeling. I kind of knew when I hit it that it had a chance to get out, but I was just happy I was able to help us win the game."
With a 12-5 record, the Falcon baseball team looks poised for a run in districts with only three regular season games remaining.