8 things to take away from this year's CFB season
Three weeks out from the end of the 2018-19 college football season, the Gauntlet's Sully Maley reflects on this season's highlights and stories.
Hang on for a minute...we're trying to find some more stories you might like.
This year's college football season was an exciting one, with plenty of exciting games, storylines, and upsets. As we begin the seven-month wait for its return, let's look back on some of the best stories of the season.
1) The Trevor Lawrence hype is real…
After just one partial season of play, the NFL community is buzzing with talk of "tanking for Trevor."  Clemson's talented true freshman QB has clearly demonstrated that he possesses the "it" factor, the "eye", whatever you prefer to call it: the ability to make good decisions under pressure and put the ball right in the hands of a member of WRU's elite receiving core.
YouTube: ESPN
Just look at this play from the national championship game. Bama's D-Line brings a five-man rush and gives Lawrence's protection a run for their money, but he doesn't let the pressure get to him. Instead, he puts the ball right in the hand of true freshman Justin Ross with perfect placement, making it possible for only the receiver (and neither of the two Alabama backs covering him) to catch the ball. Despite any shortcomings Lawrence may have (and none have become obvious), he already has that unteachable quality of quarterbacking and 2-3 more years to perfect the rest.
2) …and the Tua hype may not be.
Yes, Tua tore up plenty of defenses throughout the season, playing a "strong" schedule of teams like Arkansas State and the Citadel. But when he faced teams with a decent defensive unit, he didn't look so great. The true sophomore looked lackluster (10 for 25, 164 YDS, 1 TD, 2 INT) in a near-disaster match-up with Georgia, and Jalen Hurts had to come in and save the game. He couldn't seem to get anything going against Clemson, either, and threw a pick-6 on the opening drive.
YouTube: Dub Highlights
But I think the play that best shows his immaturity as a quarterback is shown in the clip above. It only took a simple six-man blitz to pressure Tagavailoa into throwing the ball to a triple-covered Jerry Jeudy. There's no receiver, even a Biletnikoff Award winner, who should've been targeted in that scenario. Add that the ball was dramatically overthrown, and you have a live ball that can only be caught by Clemson corner back Trayvon Mullen. Maybe we'll see some improvement next season, but if I was Nick Saban, I'd be watching my freshman QBs – including Tua's younger brother, Taulia – very closely in the spring game.
3) Texas is back…
YouTube: DONJUAN
Texas looked better than they have in many years, playing their first 10-win season since 2009. No, they couldn't beat Oklahoma to win the Big 12, but they were able to defeat them earlier that season. Despite some hiccups like an opening week loss to Maryland, they ended up with a better season than they've had in a long time, winning a New Year's Six bowl against Georgia. They've shown through their Sugar Bowl win and defeat of OU Week 6 that they have the ability to defeat the caliber of talent required to make a CFB playoff. And although it seems like a big stretch, if next season turns out anything like the last time a Texas QB said the Longhorns would be back, Texas could bring home a championship for the first time since '06.
4) …and Florida is, too.
4-7 to 10-3 in one year? Dan Mullen said he was going to "bring the fun back to Florida football," and there were high expectations, but I don't think anybody could've expected this big of an improvement. Yeah, there's been some trouble on offense. But the 2019 roster will see the return of dual-threat freshman Emory Jones after a four-game redshirt, and according to Kyle Trask's father Michael, he'll be 100% for spring ball after a season-ending foot injury. This season did have a few hiccups, like an upset loss to Mizzou, but things are looking up for Florida football. And after embarrassing Michigan 41-15 in the Peach Bowl, I think we can expect big things in Gainesville next year.
5) An elite class heads to the draft…
This year's class is stacked defensively, with the likes of Nick Bosa, Quinnen Williams and Deandre Baker projected to go in the first round. But that's not to say this draft is weak offensively. Dwayne Haskins, Marquise Brown and Josh Jacobs are just some of this year's playmakers to move up to the big leagues. Add on Kyler Murray's recent decision to go to the NFL instead of play baseball, and we're looking at a very interesting draft. For a rundown of first-round prospects, check out ESPN's Mel Kiper's Mock Draft 1.0.
6) …with replacements that might just eclipse them.
YouTube: MaxPreps
The class of 2019 is just plain amazing. You've probably already seen electric highlights from offensive playmakers like Spencer Rattler, Bru McCoy, and Jadon Hasselwood. Add defensive stars such as Antonio Alfano, Derek Stingley, and Bradenton local Nolan Smith, and we're in for an exciting 2019 season.
Speaking of local, it's a big year for Bradenton powerhouse IMG, who produced three 5-star recruits, five 4-star recruits, and 15 3-star recruits. Just for reference, SSES alum Sydney Brown '18, who started this year at Illinois, was a 3-star prospect. IMG is sending two QBs and two RBs to division 1 schools. One of those RBs, 5-star Trey Sanders, is seen on the cover of the MaxPreps video linked above, where you can see some of the best prospects to look forward to next year.
7) Conference championships may not be relevant…
Many have made the argument after this season that teams shouldn't have to play conference championships as they punish successful teams by forcing them to play a great opponent before playoff competitors are decided. I don't know if I agree with eradicating these games, but I would definitely agree with the playoff selection committee not considering them. Why should Georgia be knocked out of the playoff because they had to play Alabama—a team they otherwise wouldn't have faced in the regular season—as a result of their successful year? Conference championships are an argument that needs to be discussed, and it'll be interesting to see if a change will occur.
8) …but a bigger playoff is.
If there's one thing this year taught us, it's that there are more than four teams that deserve a shot at a championship. Georgia was snubbed of a playoff spot after only taking two losses, one of them being from the additional SEC Championship game they were forced to play against Alabama. Michigan showed promise throughout the season but slipped out of the CFP after losing to rival Ohio State. Ohio State had a stellar season save for one upset loss to Purdue. Similar cases can be made for many other teams ranked lower than 4, and ideas have been proposed for 5, 6, 8, and 12-team playoff structures. Not that it'll ever happen, but more teams making the playoff definitely needs to be considered.

About the Writer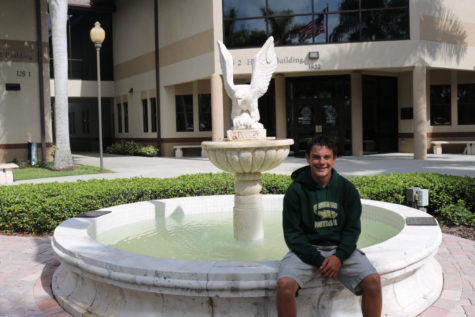 Sully Maley, Design Editor
Sully Maley is new to The Gauntlet for the 2018-2019 school year. Sully enjoys listening to music and playing video games in his free time and is a member...