Students find their passion for racing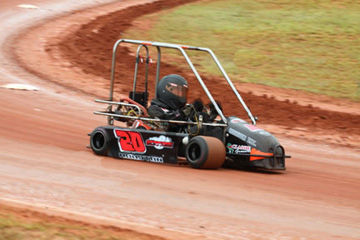 Hang on for a minute...we're trying to find some more stories you might like.
For some, the very thought of go-kart racing may bring back adolescent memories of racing around the track at Pirate's Cove Adventure Park.
However, for both junior J.R. Houston and freshman Morgan Healey, go-kart racing is so much more than racing small vehicles around an adventure park track. In fact, these two high school students have found their passion in the sport and have dedicated a tremendous amount of time and effort as they currently compete at the state and national levels.
Houston and Healey agreed they feel the surge of adrenaline rush through their bodies each time they race around the track in small, open, four-wheeled vehicles. To them, the feeling they experience while racing is like no other.
"I thought it was just cars going around in circles and in a sense it is, but I totally fell in love with it, [with] just how powerful they are," Healey said. "It may seem like a total individual sport, but it is just as much of a team sport."
Both high school students first found their passion for racing in a similar way. Houston was 10 years old when he realized that he wanted to take to the race track after watching NASCAR, while Healey also at age 10 said she knew it was something she wanted to participate in after going to an Indianapolis 500 race.
Houston said the competition seems to heat up on the track.
"Whenever I go to a race," he said,  "I am usually racing guys and gals that are in their 20s, 30s and some even 40s. So, just being able to run with those guys that have been racing so long and be competitive with them is a big deal to me."
Healey agreed. "These are some of the best kids in the world. Just going to a local race is equal to going to a national race," she said.
Keeping up with the stiff Florida competition and the heavy demands of both school and sport has its challenges and proves to be a balancing act for Houston and Healey. While trying to commit a sufficient amount of time to her studies and home life, Healey races and practices every weekend at Andersen RacePark in Palmetto, Florida.
Houston races less frequently, practicing once or twice a month. However, both students compete in race competitions regularly at state and national levels.
Houston said, "Racing at the national level, like I do, is still one of my greatest achievements."
His races have taken him all over the southern part of the United States in the past year including Florida, Tennessee, Alabama, Georgia and South Carolina.
Healey said her year has been filled with triumphs and achievements.
"Being able to finish 2nd in Rotax Junior and 4th in TAG Junior in the state this year was an amazing accomplishment. Also, being awarded the Most Improved Driver in the state by the officials was a great honor."
Both students also reap the various rewards of racing.
Houston said, "Knowing your vehicle to where other people are is a big deal while driving on the road, obviously."
Healey said, "I've learned that one distraction can lead to a big disaster in [an instant]."
So, what's next for these rising racers?
Houston said, "With the passion for racing that I have, I would love to continue racing as a hobby, but as you increase levels and the competition gets higher, the price tag also increases. I would enjoy racing [as] a hobby but would much rather be an engineer to one of those cars you see on the racetrack on TV."
Healey has her sights set on the Indianapolis 500, the race that first sparked her interest in the sport.
She said, "I will definitely try everything I can to reach the Indianapolis 500, but if I don't make it there as a driver, I would like to become a crew chief or an engineer for a team."