Shot in the foot: Dr. Asplen's shameful termination
The Sarasota County School Board's shameful decision to negotiate an end to Dr. Asplen's career as superintendent shows the dangers of partisanship in education.
On Tuesday, November 29, after nearly five hours of citizen comment and discussion, the Sarasota County School Board voted 4-1 to negotiate a separation agreement for the county's Superintendent, Dr. Brennan Asplen. It was the wrong choice.
Hired in summer of 2020, Dr. Asplen has led Sarasota County Schools as a steady hand, guiding the district as it confronted the challenges posed to students, parents and teachers by pandemic masking, hurricanes, inclusivity and the debate over Critical Race Theory.
Dr. Asplen had served with the number one-rated school district in the state, St. Johns County, and brought that expertise to Sarasota, maintaining Sarasota County's A rating even as student performance slid due to the pandemic. Reflecting this strong performance, the School Board extended his contract for four additional years in June, rated Dr. Asplen with an A rating, and reported his performance as "highly effective."
But in recent weeks, soon after the swearing in of new board members Robyn Marinelli and Tim Enos on the Tuesday before Thanksgiving, instead of rewarding Dr. Asplen for his service, the Sarasota School Board set a surprising agenda for their next meeting to discuss terminating Dr. Asplen's contract. 
Standing in the room, I watched for nearly five hours last Tuesday as district teachers, parents and students overwhelmingly stood up for and spoke to defend Asplen's effective record. A sea of red-clad citizens, both inside and outside the Landings Building on US 41 in Sarasota, reminded the board and the county of his technocratic and personable leadership style, as well as the dangers that would come from removing a Superintendent with so little process and discussion.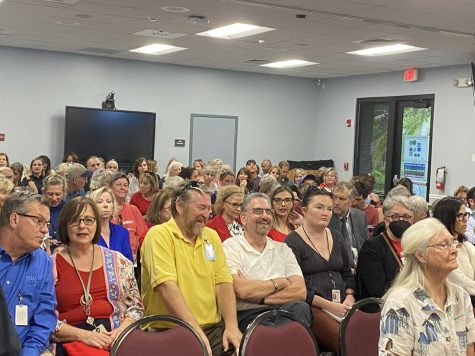 Because of Florida's unique "Sunshine" law that prohibits school board members from discussing board topics without public access to their meetings, the school board couldn't discuss Asplen's conduct and performance outside of Tuesday's meeting. However, the speed at which Chair Ziegler and Vice Chair Karen Rose moved to terminate the contract prompted accusations that the members had had secret discussions to remove Asplen "outside of the Sunshine." 
As criticism and praise came from the public and the board members to his left, Dr. Asplen sat stoically on the dais, staring out at the citizen speakers, slowly rocking his chair and silently considering the potential end to his career in Sarasota. Indeed, he had already written to the district's parents and staff, saying he "accepted the fact that I [he] will soon be separated by the School Board, as a collaborative relationship does not appear to be attainable". 
Finally, after citizens' comments died down, Chair Ziegler turned the floor over to Asplen. Dr. Asplen took nearly 30 minutes to defend his record and decried his removal as politically motivated, claiming that Sarasota's "school district could be number one, but we shoot ourselves in the foot every time" with the politics. 
He attacked the board members for hypocrisy and not engaging with his work productively. He reiterated the concerns about the aforementioned potential Sunshine Law violations if board members had conversed regarding his removal outside of board meetings, leaving Chair Ziegler visibly embarrassed. 
"
Sarasota "school district could be number one, but we shoot ourselves in the foot every time" with the politics."
— Dr. Brennan Asplen
Now, with the board voting to negotiate an end to his contract and no avenue for continuing a productive relationship, it is evident that the Sarasota School Board shot itself in the foot not just with its decision to terminate Superintendent Asplen, but through its mismanaging of the process, irreparably damaged nonpartisan education in the county.
It is not a question why this drive to remove Asplen is starting now. Education has been at the front of the national Culture Wars during the pandemic, with partisan divides between Democrats and Republicans drawn on masking in schools, the role of parental rights and Critical Race Theory in education. Republicans seized on conservative anger at the perceived state of education in the country, and they led campaigns to elect new conservative school board members. Governor Ron Desantis even took the unprecedented step of endorsing Ziegler and Enos in their nonpartisan races this August.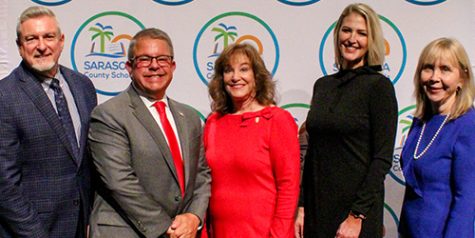 Across the country, newly elected members of school boards have injected politics into school administrations. In Berkeley County, South Carolina, the board terminated the superintendent, board lawyer and instituted conservative policies in the same vein as the recent Florida education laws. In Brevard County, Florida, the board dismissed their superintendent also for political gain.
With Ziegler stumbling through her agenda, Marinelli voicing her confusion about the meeting's direction, and Rose unable to make her own motion to negotiate a termination agreement without help from the board's attorney, the chaotic meeting was a means to a partisan goal: remake the district in a partisan image. The lone dissenter, Tom Edwards was furious about the confused direction the board was taking.
As they argued, it was clear that, in their decision making, it did not matter if Asplen's career or district operations or student learning was disrupted. 
According to his contract, Asplen is the chief executive officer, mainly responsible carrying out board policy, not creating it for the district as superintendent. Even if disagreements can be had over his approach to masking or his establishment of a Cultural Proficiency Committee, the new board should have offered its critiques and investigated any wrongdoing fully, giving ample due process and opportunities to work with him constructively.
Instead, Ziegler and her board listened to angry, armchair board members, and saddled the district with immense, partisan induced problems, without the steady hand of Dr. Asplen to fix them. 
If the termination proceeds, taxpayers will be responsible for Asplen's severance package, which may be potentially over $90,000. Add to that the extensive cost to find a new superintendent, involving a taxpayer funded search committee. With their betrayal of Asplen, whose record appeared inarguably effective, I doubt the board will find many volunteers to replace him.
With this decision, teachers will think twice about joining the district if their professionalism could be questioned if a few administrative roles changed hands. As a result of it all, students will learn in schools with intensifying political tension between teachers, staff and administration.
While insulated from school district choices and unpredictable policy changes as a student at Saint Stephen's, our student body will not go unaffected by situations such as the one now unraveling in the Sarasota County School system. I think of my younger brother at Sarasota's Pine View School, my neighbors, and my friends, whose schools will become known for political bias and malfeasance. Education should put children first, but with Sarasota County School Board's actions, its politics first and children last. 
13