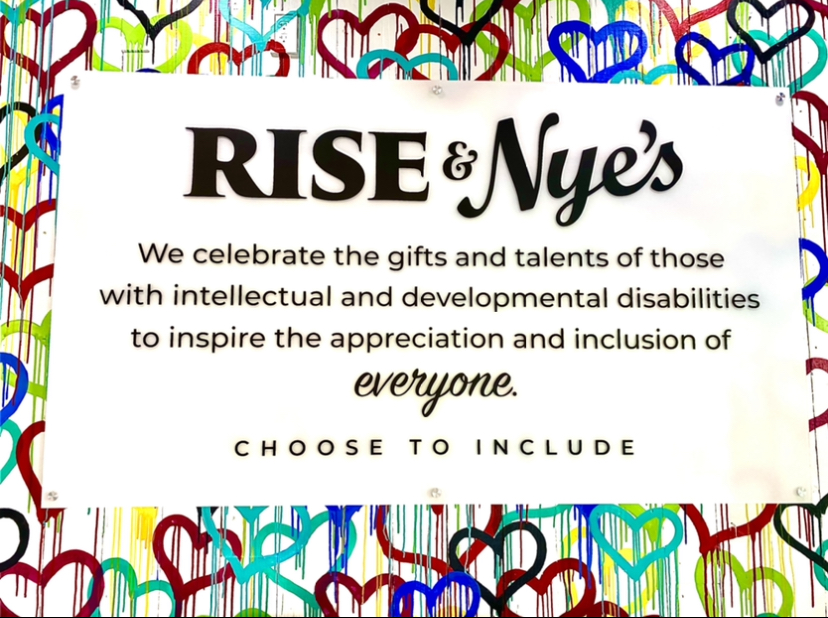 Ansley Morris
Inclusion. Jobs. Dignity. These are the three defining characteristics of one of Sarasota's newest ice cream shops, Rise & Nye's.
After some complications due to COVID that set the opening date back a couple of months, the shop officially opened back in December of 2020.
Rise and Nye's menu consists of fresh-made ice cream flavors, locally brewed coffee, homemade baked goods such as bagels and cookies to make an ice cream sandwich, and many more options.
The hip new dessert and coffee shop is located on State Street, in downtown Sarasota, and their products are a real treat for the tastebuds. But, what really makes this new business stand out among other typical ice cream shops is that all the employees are people with intellectual and developmental disabilities.
One of the founders, Beaver Shriver, has always held a special place in his heart for people with disabilities as he grew up in a family with the same passion for helping out in the community. According to Shriver, roughly 80% of people with a disability are unemployed and Shriver is making strides to change that.
For many of Shriver's employees, this is their first official job, so training and easing into a workplace environment to make a smooth transition is something Rise and Nye's takes into consideration. One way that employees can train for the real deal is through a virtual reality program via a company called Three Six and Zero. This VR training course allows the user to go into a setting that looks and feels exactly like the shop itself, all the way down to the way the coffee grinders work.
"It's great. Since this is such a new experience for so many of these guys, the life-like VR technology helps a lot before going into the field for real, " says Shriver.
Shriver understands that there can be judgment and unfair treatment shown towards people with disabilities, but he hopes that customers being served by his employees will be able to see that his staff has so many more abilities than they do disabilities. "I want people to look past the surface and see the ability in these guys," Shriver said.
While this is a fantastic aspect of Rise & Nye's, it's only one of them. Not only will the story behind the shop inspire you, but the delectable treats will have you coming back for more. Nye's Cream has been a popular ice cream brand for a while, and the fact that the ice cream is made fresh, in-house every day makes it all that much better. You can choose from a plethora of flavors and in a variety of combinations, from a classic single scoop to a scoop sandwiched in between two freshly baked cookies of your choice. And that's just scratching the surface of the deliciousness that their menu has to offer.
On top of that, the environment is definitely one-of-a-kind. Walls are filled with fun art pieces, the coffee section of the store is adorned with TVs and a pretty impressive coffee grinder set-up, and while you're waiting for your ice cream or coffee you can watch your treat be made right there in front of you. Not to mention that once you're ready to eat, there's a fantastic, open seating area ready right outside the shop.
Rise & Nye's will not only leave your tastebuds cold and happy but your heart warm. So, grab your wallet and your appetite and head on down!