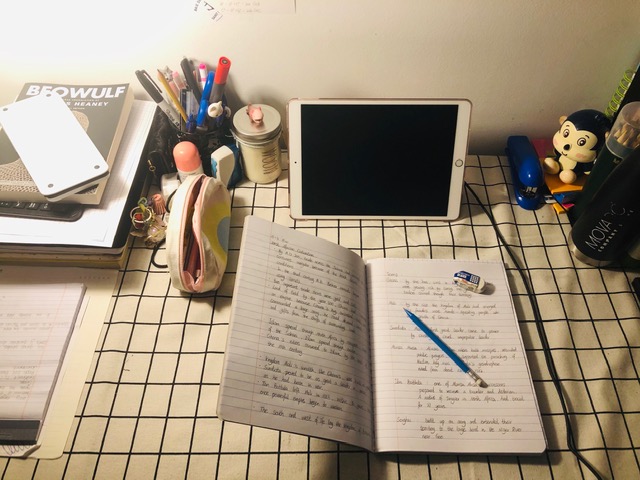 Amna Li
A buzz fills the air as students enter the classrooms precisely at the ring of the bell; there is talk among friend groups, and teachers type away at their laptops determined to finish last-minute touches on their work. Meanwhile, the Saint Stephens's Virtual Students (SSVS) wrap up breakfasts at home, give their pets a hug, and wait to be admitted into their Zoom rooms for their morning classes.
Due to the pandemic, eighty-one Saint Stephens's students elected to go virtual, at least for the first interim. There are a variety of reasons why someone might choose this option, from exposure to someone who tested positive for the virus, to having an underlying illness, or due to the need to protect loved ones.
So how is the virtual education experiment going, really?
While virtual students have the opportunity to Zoom in to classes, participate in daily "check ins" with their advisories, participate in Zoom assemblies and chapels, and discuss opportunities with college counseling, studying remotely doesn't come without some challenges.
SSVS wasn't the original plan for freshman Sarabeth Wester, who chose this temporary option due to her direct exposure to someone who tested positive for Covid-19. While thankful for the option and grateful for the opportunity to have less commute time and more sleep, SSVS wasn't a perfect match for her preferred style of learning.
"For me, virtual seemed to work better for some classes than others," Wester said. "Some of the technical issues were frustrating. For example, the wifi at school went down for almost 30 minutes one day, and it doesn't seem like all the teachers are comfortable with Zoom."
Eighth-grader Audrey Yanevich chose to learn virtually because three of her family members are immunocompromised. Though Audrey explained how she misses her in-person interactions with friends, she is thankful for the extra time she now spends connecting with her family. As an added bonus, she loves having the ability to grab a cup of coffee between classes. "I will pioneer through this," Audrey said of the virtual experience.
Sophomore Paul Yin's experiences have been a mix of up and downs. He and his family chose the SSVS option because they believed it was safer for their family overall.
Yin also described some of the technical difficulties as challenging, but stands by his choice. "Sometimes when teachers are recording notes on the whiteboard, they are difficult to see and the camera isn't always pointed in the right direction," said Yin. "Finding out which assignments are due has become a longer process for me, but staying safe and being able to study from my room is a big positive."
Just as virtual students are adjusting to this new form of learning, faculty is adjusting to a new form of teaching. Online  learning, in different forms, has been around for over around 20 years.
Saint Stephen's students have regularly used online programs like Membean, Google Classroom, Nearpod, Quizlet, and Edmodo, but in the past, these platforms have been used to reinforce concepts.
Now with some students doing online learning full-time and the majority attending in-class learning, teachers are trying to find a balance.
Math teacher Mr. Tyler Cotton explained that teaching in person while simultaneously zooming with virtual students requires an extra bit of creativity and creates an interesting dynamic. "Making sure that everyone is set up correctly and can hear me is the hardest part. However, the kids have been great and are doing everything they need to do in order to be successful," Mr. Cotton commented.
Biology teacher Jessica Angelo agrees with that sentiment. "It has certainly been a challenge trying to navigate technology, virtual students, and in-class students all at the same time. I rely heavily on discussion, group work, and collaboration in my classes, so trying to figure out a way to bring virtual and live students together on this is something I'm still trying to work out how to do."
Ms. Angelo may be on the right track. Keeping students connected while virtual might end up helping them learn critical new skills in the long run, especially as the workplace begins to shift more and more to online platforms.
According to the Cornell Daily Sun, Ivy League schools such as Brown, Columbia, Princeton and Harvard have already committed to significantly minimizing on-campus students this year, and keeping a majority of classes virtual for at least two semesters.
And the remote learning and working model doesn't stop in the education arena. The Wall Street Journal reports several large companies are now considering a permanent shift to remote work as a result of the Covid-19 outbreak. For example, Facebook has announced plans to enable up to half of their employees to work from home within the next 10 years, while Twitter Inc. now allows all employees to work from home indefinitely.
Overall, the pandemic has forced many businesses and colleges, large and small, to rethink the possibilities and efficiencies of virtual work. Could remote work be the new normal one day?
Though SSVS was born out of necessity, it might just turn out to be an interesting experiment in preparing for the future. This inaugural group of students and teachers are paving the way for new innovation and a more versatile way of learning and communicating. Though it may never replace the in-person experience, online interaction is here to stay and Saint Stephen's is leading the way to success.